Rhodiola


Jun J. Mao, MD, MSCE

Jyothirmai Gubili, MS
The ASCO Post's Integrative Oncology series is intended to facilitate the availability of evidence-based information on integrative and complementary therapies commonly used by patients with cancer. In this installment, Jun J. Mao, MD, MSCE, and Jyothirmai Gubili, MS, present information on Rhodiola rosea, an herb with a long and varied history in traditional medicine.



Scientific Name: Rhodiola rosea
Common Names: Golden root, rose root, hong jing tian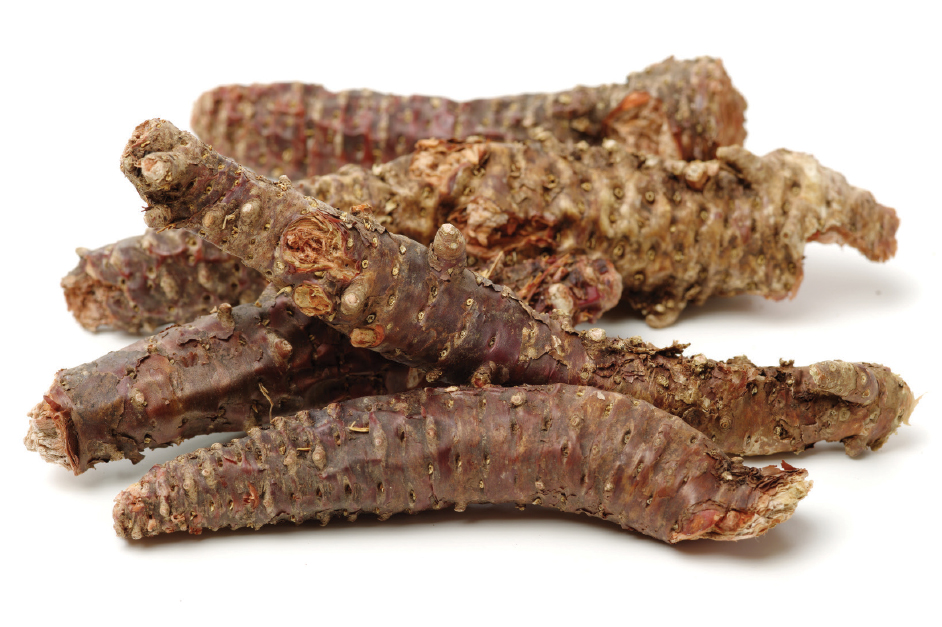 Overview 
A perennial plant prevalent in the mountainous regions of Europe and Asia, Rhodiola rosea has a long medicinal history. It has been used in traditional folk medicine to increase endurance, work performance, tolerance to high-altitude sickness, and longevity, as well as to treat nervous system disorders.
Preparations of rhodiola are hugely popular, especially in Russia and Scandinavian countries, and have been extensively researched in those countries. First recommended in Russia in 1969 as a stimulant to fight fatigue, rhodiola is currently used to treat neurotic and psychological disorders as well. Rhodiola extracts have gained worldwide acceptance over the past few decades and are used primarily to relieve stress and support immune function, as well as to improve strength, stamina, and physical and mental performance. 
The Science
Salidroside, a phenylpropanoid glycoside, has been identified as one of the active compounds in rhodiola. It has demonstrated anti-inflammatory,1,2 neuroprotective,3,4 and anticancer effects5 in vitro. 
Clinical data indicate that supplementation with rhodiola improves physical endurance,6 mental performance,7,8 and stress symptoms9,10 and alleviates stress-induced fatigue.11,12 Rhodiola may be effective in the treatment of mild to moderate depression as well13; noteworthy findings from a 2015 randomized trial involving 57 patients indicate that although it is not as effective as the conventional antidepressant sertraline, rhodiola, taken over a 12-week period, was better tolerated, with fewer side effects.14 A review that included two randomized trials and seven open-label studies also suggested a favorable benefit-to-risk ratio of rhodiola extracts in the short-term, compared to prescription antidepressants, for the treatment of depression.15
Further, preliminary results show rhodiola extracts to be effective against generalized anxiety disorder16 and in alleviating stress-associated burnout symptoms.17 In addition, salidroside was reported to confer cardioprotective effects in breast cancer patients receiving treatment with epirubicin.18 Larger trials are needed to confirm such effects.
OF NOTE
Simultaneous use of antidepressant agents with rhodiola can cause tachyarrhythmia.
The mechanisms by which rhodiola exerts beneficial effects are being investigated. Available data show that rhodiola inhibits monoamine oxidases A and B, suggesting antidepressant effects.19 In addition, salidroside significantly decreases proinflammatory cytokines in serum and neurotransmitters such as norepinephrine and 5-hydroxytryptamine in the prefrontal cortex, while elevating expression of the antidepressant, brain-derived neurotrophic factor, and tropomyosin-related kinase B.20
In other experiments, salidroside was reported to alleviate diabetic neuropathic pain by attenuating nociception likely via inhibiting neuroinflammation and P2X7 receptors1 and to lower inflammation and memory loss through the sirtuin 1/nuclear factor kappa B signaling pathway.21 It also conferred neuroprotective effects by inhibiting the nitric oxide pathway,4 and by inducing antioxidant enzymes thioredoxin, heme oxygenase 1, and peroxiredoxin 1; downregulating proapoptotic Bax protein; and upregulating antiapoptotic Bcl-XL proteins.3 In breast cancer cells, salidroside induced cell-cycle arrest and apoptosis via mechanisms as yet unidentified but independent of the estrogen receptor.5
Interestingly, rhodiola and salidroside were shown to have dose- and time-dependent effects on the modulation of T helper cell type 1 and 2 cytokines, key mediators of inflammation, in a murine model.22
Adverse Reactions
Dizziness and dry mouth16 have been reported following the use of rhodiola. Concurrent intake of rhodiola with an antidepressant resulted in tachyarrhythmia in a 26-year-old woman.23
Contraindications
Antidepressant medications: Simultaneous use of antidepressants with rhodiola can cause tachyarrhythmia.23
Herb-Drug Interactions
Cytochrome P450 and P-glycoprotein substrates: Rhodiola was shown to inhibit the cytochrome P450 enzymes CYP2C924 and CYP3A4,25 as well as P-glycoprotein,25,26 and may therefore interfere with the metabolism of substrate drugs.
Because rhodiola has monoamine oxidase inhibitory activity, it may enhance the serotonergic side effects of antidepressant drugs, increase the hypotensive activity of antihypertensive agents, and exacerbate side effects associated with central nervous system stimulants.19
Summary
Current evidence suggests that rhodiola may be safe and has mild antidepressant activities; however, robust data are lacking. ■
Dr. Mao is Laurance S. Rockefeller Chair in Integrative Medicine, Chief, Integrative Medicine Service, Memorial Sloan Kettering Cancer Center, New York. Ms. Gubili is Editor, Integrative Medicine, Memorial Sloan Kettering Cancer Center.
DISCLOSURE: Dr. Mao and Ms. Gubili reported no conflicts of interest.
REFERENCES
1. Ni GL, Cui R, Shao AM, et al: Salidroside ameliorates diabetic neuropathic pain in rats by inhibiting neuroinflammation. J Mol Neurosci. July 24, 2017 (early release online).
2. Wei Y, Hong H, Zhang X, et al: Salidroside inhibits inflammation through PI3K/Akt/HIF signaling after focal cerebral ischemia in rats. Inflammation 40:1297-1309, 2017.
3. Zhang L, Yu H, Zhao X, et al: Neuroprotective effects of salidroside against beta-amyloid-induced oxidative stress in SH-SY5Y human neuroblastoma cells. Neurochem Int 57:547-555, 2010.
4. Li X, Ye X, Sun X, et al: Salidroside protects against MPP(+)-induced apoptosis in PC12 cells by inhibiting the NO pathway. Brain Res 1382:9-18, 2011.
5. Hu X, Zhang X, Qiu S, et al: Salidroside induces cell-cycle arrest and apoptosis in human breast cancer cells. Biochem Biophys Res Commun 398:62-67, 2010.
6. De Bock K, Eijnde BO, Ramaekers M, et al: Acute Rhodiola rosea intake can improve endurance exercise performance. Int J Sport Nutr Exerc Metab 14:298-307, 2004.
7. Darbinyan V, Kteyan A, Panossian A, et al: Rhodiola rosea in stress induced fatigue: A double blind cross-over study of a standardized extract SHR-5 with a repeated low-dose regimen on the mental performance of healthy physicians during night duty. Phytomedicine 7:365-371, 2000.
8. Shevtsov VA, Zholus BI, Shervarly VI, et al: A randomized trial of two different doses of a SHR-5 Rhodiola rosea extract versus placebo and control of capacity for mental work. Phytomedicine 10:95-105, 2003.
9. Edwards D, Heufelder A, Zimmermann A: Therapeutic effects and safety of Rhodiola rosea extract WS® 1375 in subjects with life-stress symptoms: Results of an open-label study. Phytother Res 26:1220-1225, 2012.
10. Ishaque S, Shamseer L, Bukutu C, et al: Rhodiola rosea for physical and mental fatigue: A systematic review. BMC Complement Altern Med 12:70, 2012.
11. Spasov AA, Wikman GK, Mandrikov VB, et al: A double-blind, placebo-controlled pilot study of the stimulating and adaptogenic effect of Rhodiola rosea SHR-5 extract on the fatigue of students caused by stress during an examination period with a repeated low-dose regimen. Phytomedicine 7:85-89, 2000.
12. Olsson EM, von Scheele B, Panossian AG: A randomised, double-blind, placebo-controlled, parallel-group study of the standardised extract SHR-5 of the roots of Rhodiola rosea in the treatment of subjects with stress-related fatigue. Planta Med 75:105-112, 2009.
13. Darbinyan V, Aslanyan G, Amroyan E, et al: Clinical trial of Rhodiola rosea L. extract SHR-5 in the treatment of mild to moderate depression. Nord J Psychiatry 61:343-348, 2007.
14. Mao JJ, Xie SX, Zee J, et al: Rhodiola rosea versus sertraline for major depressive disorder: A randomized placebo-controlled trial. Phytomedicine 22:394-399, 2015.
15. Amsterdam JD, Panossian AG: Rhodiola rosea L. as a putative botanical antidepressant. Phytomedicine 23:770-783, 2016. 
16. Bystritsky A, Kerwin L, Feusner JD: A pilot study of Rhodiola rosea (Rhodax) for generalized anxiety disorder (GAD). J Altern Complement Med 14:175-180, 2008.
17. Kasper S, Dienel A: Multicenter, open-label, exploratory clinical trial with Rhodiola rosea extract in patients suffering from burnout symptoms. Neuropsychiatr Dis Treat 13:889-898, 2017. 
18. Zhang H, Shen WS, Gao CH, et al: Protective effects of salidroside on epirubicin-induced early left ventricular regional systolic dysfunction in patients with breast cancer. Drugs R D 12:101-106, 2012.
19. van Diermen D, Marston A, Bravo J, et al: Monoamine oxidase inhibition by Rhodiola rosea L. roots. J Ethnopharmacol 122:397-401, 2009.
20. Zhu L, Wei T, Gao J, et al: Salidroside attenuates lipopolysaccharide (LPS) induced serum cytokines and depressive-like behavior in mice. Neurosci Lett 6066:1-6, 2015.
21. Gao J, Zhou R, You X, et al: Salidroside suppresses inflammation in a D-galactose-induced rat model of Alzheimer's disease via SIRT1/NF-κB pathway. Metab Brain Dis 31:771-778, 2016.
22. Lin SS, Chin LW, Chao PC, et al: In vivo Th1 and Th2 cytokine modulation effects of Rhodiola rosea standardised solution and its major constituent, salidroside. Phytother Res 25:1604-1611, 2011.
23. McGovern E, McDonnell TJ: Herbal medicine—sets the heart racing! Ir Med J 103:219, 2010.
24. Thu OK, Spigset O, Nilsen OG, et al: Effect of commercial Rhodiola rosea on CYP enzyme activity in humans. Eur J Clin Pharmacol 72:295-300, 2016. 
25. Hellum BH, Tosse A, Hoybakk K, et al: Potent in vitro inhibition of CYP3A4 and P-glycoprotein by Rhodiola rosea. Planta Med 76:331-338, 2010.
26. Spanakis M, Vizirianakis IS, Batzias G, et al: Pharmacokinetic interaction between losartan and Rhodiola rosea in rabbits. Pharmacology 91:112-116, 2013.
---