Cancer on the Global Stage: Incidence and Cancer-Related Mortality in Benin
World Health Organization Region: Africa, Country: Benin

The ASCO Post is pleased to continue this special feature on the worldwide cancer burden. Each installment focuses on a country from one of the six regions of the world, as defined by the World Health Organization (ie, Africa, the Americas, South-East Asia, Europe, Eastern Mediterranean, and Western Pacific). In this issue, we feature a close look at the cancer incidence and mortality rates in Benin.
GUEST EDITORS

Chandrakanth Are, MBBS, MBA, FRCS, FACS

Bria Meyer, MD
Benin is a West African country that borders the Atlantic Ocean in the Gulf of Guinea. It lies between Nigeria to the east and Togo to the west. Formerly known as Dahomey, this small country gained power in the 1600s and 1700s for its influence and involvement in the slave trade to the Western world. Today, the country has a population of 10.7 million people, with almost 65% of the population younger than age 25. It has the 13th highest population growth rate worldwide.
Despite Benin's annual gross domestic product growing at an average of 5% the past 3 years, approximately 40% of the population lives below the poverty level. Nearly 46% of children as young as 5 to 14 years old are employed in mines, quarries, farms, or work as domestic servants and, as a result, never finish schooling. This translates into a literacy rate of 38.4% for the country. 
A socioeconomic issue that the country faces is lack of universal access to health care and preventive services. Communicable and infectious diseases are a large burden on the country, with the top cause of death in the country being lower respiratory tract infections followed by malaria. Benin also has a high burden of human immunodeficiency virus/acquired immune deficiency syndrome. Recently, with improved access to antiretrovirals, people are living longer with the disease, and there are fewer mother-to-child transmissions during childbirth.
Table 1: General Facts
Population

10.7 million (2016)

Median age

18 years (2016)

Population growth
rate


2.75% (2016)

Birth rate per 1,000
population


35.5 (2016)

Death rate per 1,000
population


8 (2016)

Life expectancy
at birth


61.9 years (2016)

Health expenditure
as % of GDP


4.6% (2014)

Physicians per 1,000
population


0.15 (2013)

Obesity prevalence
rate


8.1% (2014)

Mobile telephones

9.3 million (2015)

Land lines

194,666 (2015)

Internet users

6.8% (2015)
Another health issue that has been getting more awareness in Benin is the increasing burden of cancer and the inadequate resources available to tackle the rising burden. Currently, the top three cancers by incidence in Benin are breast, cervical/uterine, liver and by mortality are liver, cervical/uterine, and breast. It is predicted that the cancer burden will continue to increase over the next 20 years, with an estimated incidence and mortality of 11,396 and 8,462 cases by the year 2035, respectively.
Benin spends 4.6% of its annual gross domestic product (GDP) on health care. This places them on the lower end of the worldwide ranking (154th of 191 countries). There is a shortage of health-care facilities and personnel in Benin. It is estimated that there is less than 1 physician (0.15) and less than 1 hospital bed (0.5) per 1,000 people. Although there are 40 hospitals countrywide, few of them have specialized cancer treatment services or doctors who specialize in oncology.
There are no radiotherapy machines in Benin, so only those who are wealthy are able to travel to another country for radiation therapy. According to the World Health Organization (WHO), chemotherapy is also not universally available in the public health system. In addition, for those with advanced cancers, oral morphine and home health-care services are not universally available in the public health-care system.
As noted, liver cancer is one of the top three cancers for incidence and mortality in Benin. This could be due to the high levels of aflatoxins present in the main staple food items, such as maize and groundnuts. Aflatoxins are considered carcinogens, and consumption of aflatoxins is known to be associated with an increased incidence of liver cancer.
According to WHO, clinical breast examinations and mammograms are currently available through the public health-care system. Although screening programs are available for breast cancers, few cancers are detected on radiography. The majority (more than 75%) of breast cancer cases are diagnosed in an advanced clinical stage with large masses. This underscores the importance of further education and awareness campaigns on the importance of self-breast exams and seeking early care for an abnormal finding.
A few years ago, the Benin Ministry of Health recognized the importance of the rising cancer burden. The country enlisted the help of the International Atomic Energy Agency's Programme of Action for Cancer Therapy to assess Benin's current cancer care landscape. It is hoped that these efforts, combined with other similar efforts, will help to tackle the rising cancer burden in Benin. ■
Note to Readers: If you are interested in participating in this continuing series on the global cancer burden and have an interesting perspective to share about a particular region of the world, contact Dr. Are at care@unmc.edu.
DISCLOSURE: Drs. Meyer and Are reported no conflicts of interest.
Additional Readings
1. http://www.who.int/gho/countries/ben.pdf?ua=1
2. http://www.who.int/cancer/country-profiles/ben_en.pdf?ua=1
3. https://www.cia.gov/library/publications/the-world-factbook/geos/bn.html
4. http://globocan.iarc.fr/Pages/burden_sel.aspx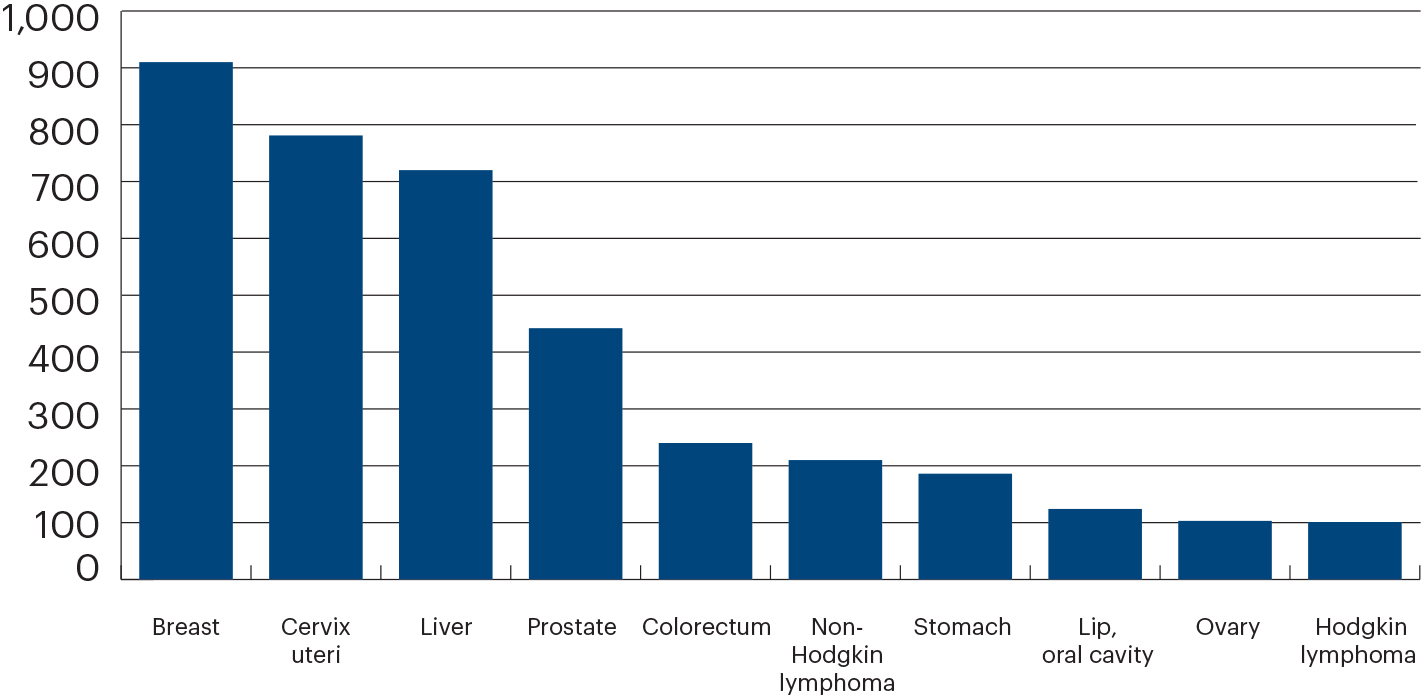 Figure 1: Top 10 Cancers by Incidence—Current Rates in Benin.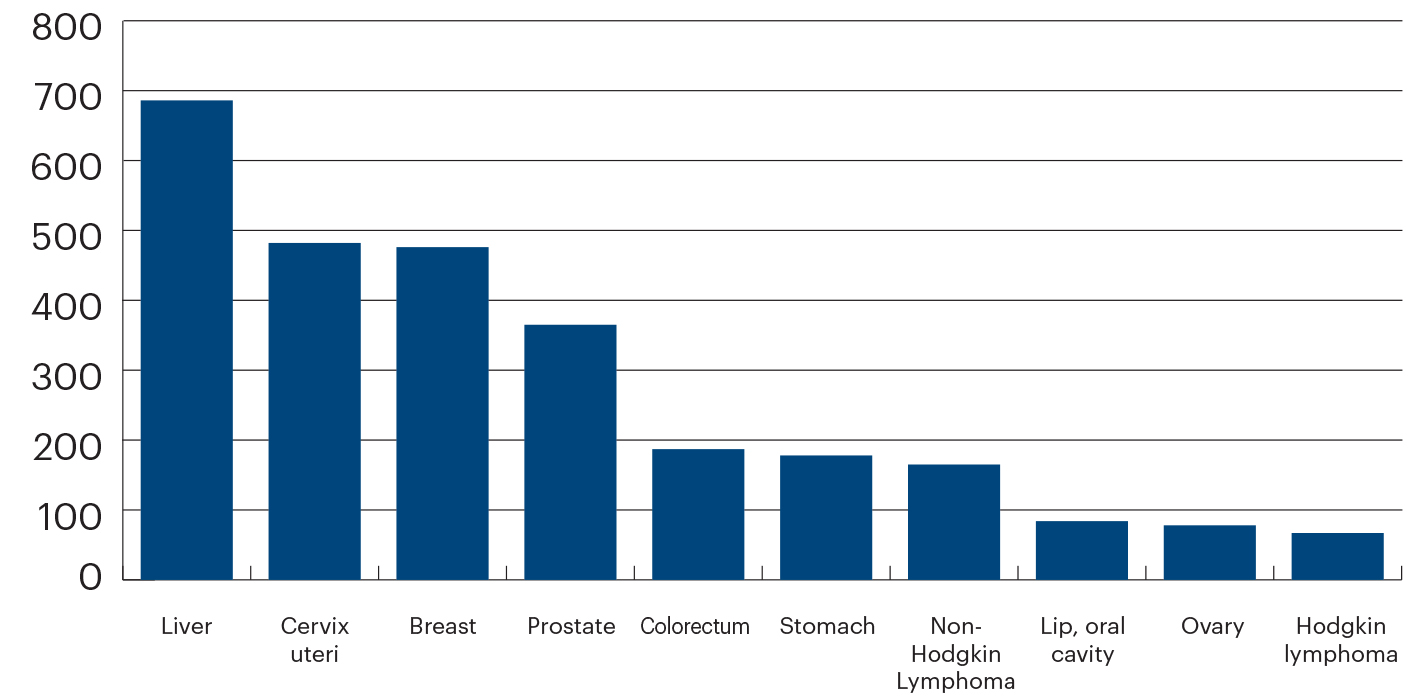 Figure 2: Top 10 Cancers by Mortality—Current Rates in Benin.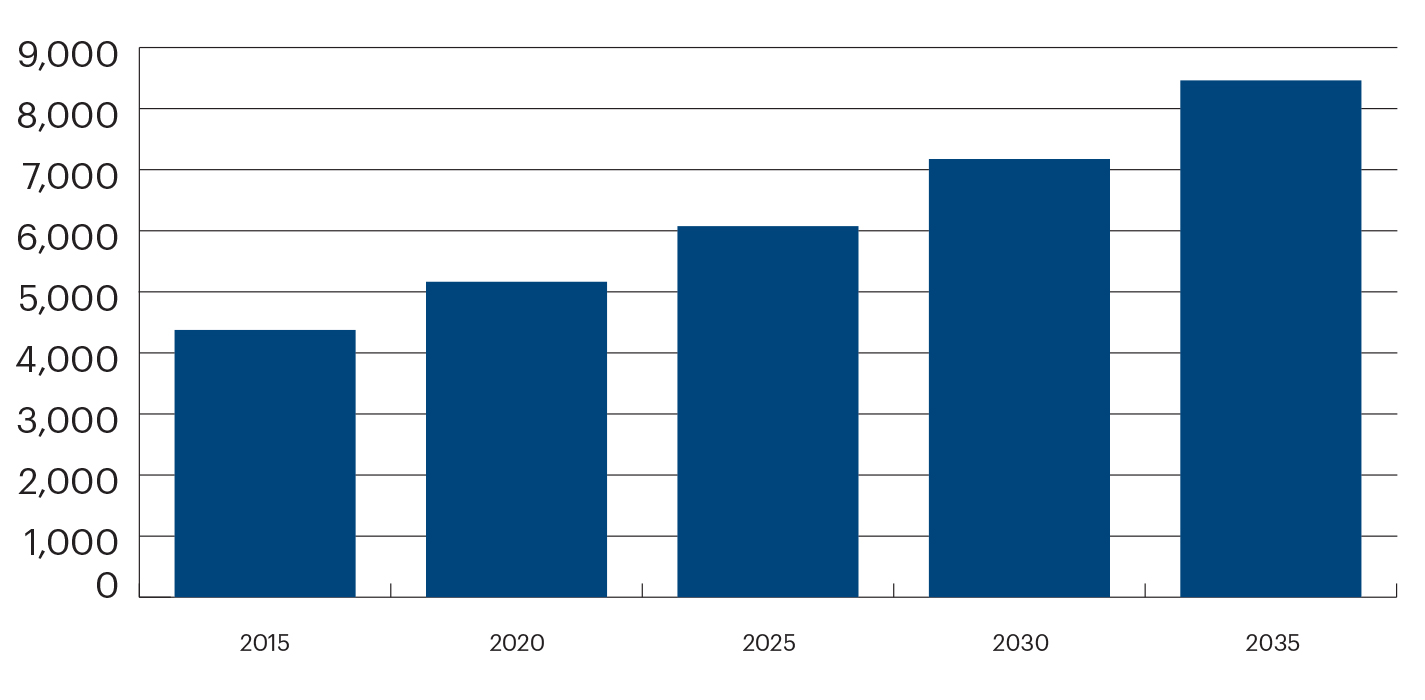 Figure 3: Trends in the Incidence of New Cancer Cases in Benin: 2015–2035.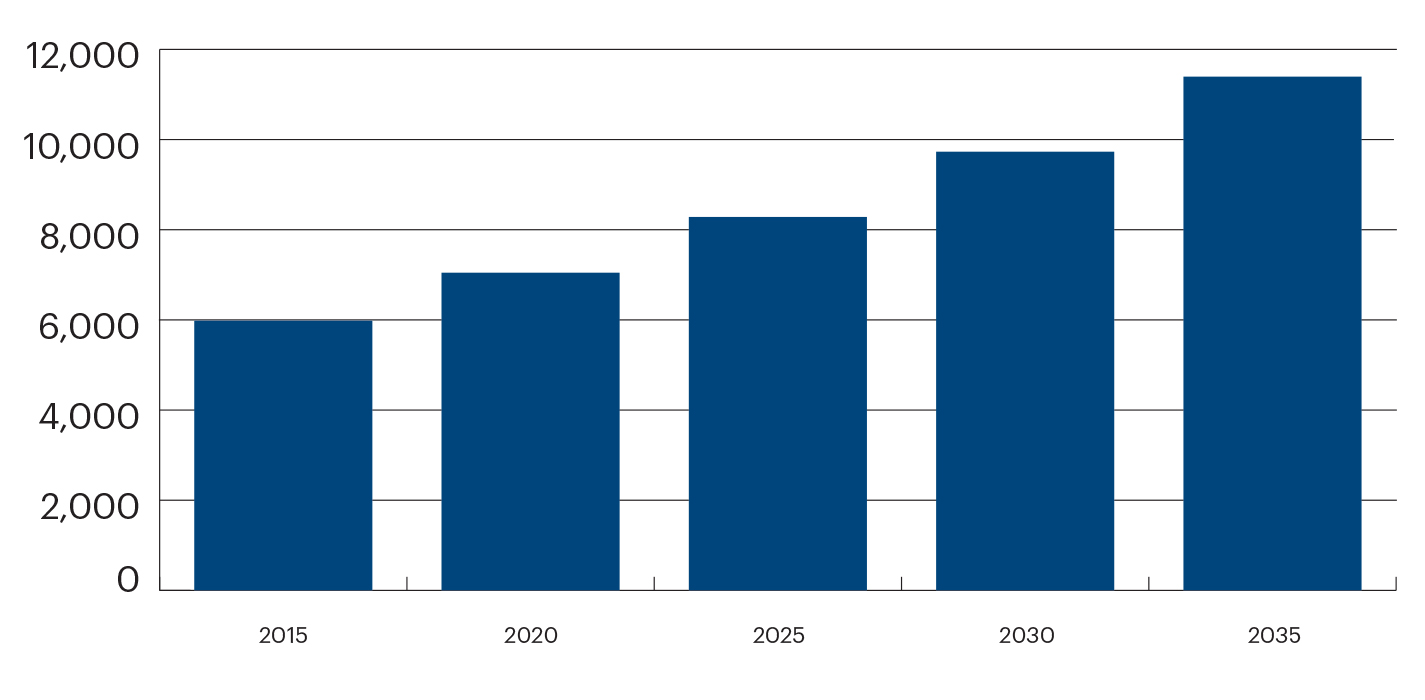 Figure 4: Trends in Cancer-Related Mortality in Benin: 2015–2035.
---