Cancer Moonshot Blue Ribbon Panel Recommends 10 Ways to Speed Cancer Advances

Earlier this month, members of the National Cancer Moonshot Initiative's Blue Ribbon Panel submitted an ambitious list of 10 recommendations on the scientific approaches that are most likely to accelerate progress against cancer to the President's National Cancer Advisory Board. The panel's suggestions for making a decade's worth of progress in cancer advances over the next 5 years include:
1. Establish a network for direct patient engagement to provide patients with a genetic profile of their cancer and allow them to "preregister" for clinical trials, so they can be contacted when an eligible trial opens. Researchers will be able to access patient outcomes reported in the network database to conduct studies on what treatments work, in whom, and in which types of cancer.
2. Create a clinical trials network devoted exclusively to immunotherapy to help scientists understand why this promising new therapy is effective only in some patients. Establishing clinical trials networks devoted exclusively to immunotherapies for pediatric and adult cancers could lead to new vaccines to prevent cancers of all types in children and adults.
3. Identify therapeutic targets to overcome drug resistance through studies that determine the mechanisms leading cancer cells to become resistant to previously effective treatments. This recommendation calls for the establishment of multidisciplinary research teams to learn how drug resistance develops and to find ways to prevent tumors from resisting the drugs meant to kill them.
4. Build a national cancer data ecosystem for sharing and analyzing data, so researchers, clinicians, and patients will be able to contribute data to help facilitate efficient data analysis.
5. Intensify research on the major drivers of childhood cancers to improve researchers' understanding of fusion oncoproteins in pediatric cancers and use new preclinical models to develop inhibitors that target them.
6. Accelerate the development of guidelines for the routine monitoring and management of patient-reported symptoms to minimize debilitating side effects of cancer and its treatment and to help patients stay on their drug regimens and improve their quality of life.
7. Reduce cancer risk and cancer health disparities through approaches in development, testing, and broad adoption of proven prevention strategies. This recommendation also calls for increasing the testing for hereditary cancer syndromes in people with certain types of cancer and their family members, so those identified as at high risk can begin early prevention or screening efforts.
8. Mine past patient data to predict future patient outcomes. Analyzing existing tumor tissue stored at biobanks from patients who have received standard-of-care treatment may enable the discovery of genetic and other factors that distinguish which patients would benefit from standard care vs experimental treatment in a clinical trial.
9. Create a three-dimensional cancer atlas of genetic lesions and cellular interactions in tumor, immune, and other cells in the tumor microenvironment that maps the evolution of tumors from development to metastasis to enable researchers to develop predictive models of tumor progression and response to treatment.
10. Develop new cancer technologies to characterize tumors and test therapies, including implantable microdosing devices (which deliver drugs directly into a tumor), to test their effectiveness and advanced imaging technologies to study cancers at extremely high resolution, to deliver smarter, more effective therapies to patients.
The Next Steps
These recommendations have been accepted by the National Cancer Institute's Acting Director ­Douglas Lowy, MD, and will be submitted to the Cancer Moonshot Task Force, chaired by Vice President Joe Biden, for approval. Funding opportunities for the proposals will depend on Congressional appropriations for fiscal year 2017.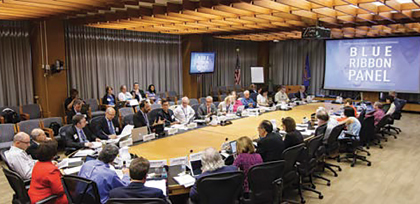 Members of the National Cancer Moonshot Initiative's Blue Ribbon Panel met earlier this month and developed a list of 10 recommendations on scientific approaches most likely to accelerate progress against cancer. The list was submitted to the President's National Cancer Advisory Board.
"The panel's thoughtful work makes an important contribution to the Cancer Moonshot Initiative," said ASCO President Daniel F. Hayes, MD, ­FASCO, in a statement. "The recommendations could significantly expedite our nation's progress against cancer if implemented. For this to happen, it is crucial that Congress provide the necessary funding to support the priority projects identified by the Blue Ribbon Panel, and those we will hear about from the Task Force and the Vice President's Executive Reports later this year. We applaud the Blue Ribbon Panel for its work and the National Cancer Institute's National Cancer Advisory Board for convening the panel. In addition, we are most grateful to President Barack Obama and Vice President Joe Biden for conceptualizing and launching the Cancer Moonshot Initiative. ASCO stands ready to help implement this report's findings, along with the other efforts of the Cancer Moonshot Initiative when they are announced in October." ■
Disclosure: Drs. Lowy and Hayes reported no potential conflicts of interest.
---