An Ovarian Cancer Expert's Guide Offers Insight, Wisdom, and Hope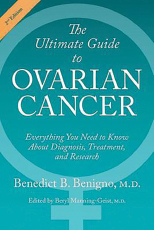 Bookmark
Title: The Ultimate Guide to Ovarian Cancer, 2nd edition
Author: Benedict B. Benigno, MD; edited by Beryl Manning-Geist, MD
Publisher: Sherryben Publishing House
E-book release date: June 27, 2016
Price: $7.59, e-book, 252 pages
There have been numerous books explicating the information a physician or patient needs to know about our current clinical state in the diagnosis and treatment of ovarian cancer. Many of them are good, but rare is a well-written book in the cancer genre that offers solid scientific hope exceeding our current expectations. Benedict B. Benigno, MD, founder of the Ovarian Cancer Research Institute, has published that rare book, titled The Ultimate Guide to Ovarian Cancer.
In his foreword, Dr. Benigno explains that he founded the Ovarian Cancer Institute 16 years ago to devote himself to research. The goal was the discovery of a highly accurate diagnostic test for ovarian cancer, which they believe will be 100% sensitive and 100% specific. "Every oncologist who has ever encountered a 34-year-old woman newly diagnosed with an advanced cancer of the ovary has dreamed of such a test," writes Dr. Benigno.
He makes his objectives about prevention clear from the outset, explaining that in his entire 4 years in medical school, there was not a single lecture devoted to the prevention of illness. "The heroes were those who performed the longest and most difficult surgical procedures. Ultimately, it is the patients who pay the price for this. Many of them can survive an advanced cancer but at a terrible price."
Chemotherapy is the glove on the hand of surgery, as it is very unusual for a patient with ovarian cancer to be told she does not need postoperative treatment.

— Benedict B. Benigno, MD




Tweet this quote



Dr. Benigno sets an optimist's tone underpinned with reality. More than 20,000 women in the United States will develop ovarian cancer this year, and the overall survival is not a whole lot better than it was 20 years ago. Yes, he points out, there is a longer interval between diagnosis and death, but little has changed in the overall cure rate.
"We are not doing as well as we ought to be doing…. In fact, I am tired of reading journal articles that announce a several month improvement in progression-free survival in a small cohort of patients where the results are not statistically significant," notes Dr. Benigno. That hard-to-swallow fact is an underlying theme, but it is buoyed by science-based faith in our ability to detect and prevent the vast majority of ovarian cancers.
Personal Accounts and Case Histories
The book is divided into 29 chapters, with enticing titles such as "The Husband Factor," "A Tolstoy Moment," and "Hey Bud, Can you Spare a 100K, It's for a Good Cause." The author intersperses interesting personal accounts and case histories throughout, not just to put a face on ovarian cancer, but also to illustrate critical clinical issues.
For instance, Dr. Benigno discusses the first ovarian patient he gave bevacizumab (Avastin) to after she failed several chemotherapy regimens. She had presented with a CA-125 level over 5,000 units/mL and a large, firm mass that extended from the left side of her ribcage down to her pelvis. Everything was going well until she developed the rare stroke-like syndrome associated with bevacizumab. Dr. ­Benigno chose to stop the treatment, which was a poignant moment in his doctor-patient relationship, one that every oncologist can relate to. Like most patients with cancer, she desperately wanted to continue treatment, despite the warnings from the manufacturer about fatal stroke.
His patient died, leaving him to ponder his own decision: "I often think of what might have happened if I had continued treating her with bevacizumab. The work of the oncologist is often more of a crapshoot than we'd like to admit…. Her response to this drug was nothing short of miraculous and she did tell me she'd take the chance…. The what ifs and the what might have beens after a patient has died need to be placed in some sort of sealed bin or we would all go mad."
This brutally honest case history is woven into chapter seven, "The Drugs," in which Dr. Benigno discusses, with remarkable clarity, the treatments available for ovarian cancer. In this chapter, he highlights a review published in Cell titled, "The Hallmarks of Cancer: The Next Generation," which he describes as "an extraordinary insight into the complex mechanisms whereby a cancer cell develops…. They suggest this process is analogous to Darwinian evolution…."
This section is a thoroughly interesting and educational read. Moreover, Dr. Benigno's writing is brisk, fluid, and stylish. For instance, he writes: "Chemotherapy is the glove on the hand of surgery, as it is very unusual for a patient with ovarian cancer to be told she does not need postoperative treatment." The analogy at the beginning of the sentence lifts his writing from pedestrian to literary—one more reason to love this book.
Hope Amid Despair
Recurrence is the nightmare of patients with cancer and their oncologists. In chapter 12, "The Recurrence," Dr. Benigno begins: "This will be a short and rather uplifting chapter." Indeed it is; the book's shortest, less than three pages. Yes, recurrent cancer is terrifying, often spelling a grim prognosis, but there is hope.
To illustrate why patients and doctors must keep hope alive, Dr. Benigno uses one of his favorite patients, a woman named Carla, who he met "in 1998 when her abdomen was stacked to the top with ovarian cancer." Readers of The ASCO Post will appreciate the description of this brave woman's clinical battle, ending with, "It is now almost 18 years since her original diagnosis…and as of the writing of this paragraph, she is planning her next cruise!"
Out-of-the-Box Treatments and More
In chapter 17, Dr. Benigno explores what he calls out-of-the-box treatments, which are often a necessary addition to an oncologist's tool kit. Therapies such as cryoablation, hyperthermic intraperitoneal chemotherapy, and dendritic vaccines are analyzed for their pro/con profiles, offering a succinct look at approaches rarely discussed at length.
He ends this chapter with a sojourn about one of history's legendary physicians, Moses Maimonides. He notes that it is foolish for a modern physician to speculate on how a physician of another era would behave today. But Dr. Benigno is certain that "Moses Maimonides would never turn away a Medicare patient." That statement about Maimonides speaks volumes about the author himself.
The book glides to an elegant and value-added close, with fine chapters on alternative measures (here Dr. ­Benigno is informative and never judgmental), two beautifully rendered patient stories, a section on frequently asked questions, and an epilogue that speaks to the author's own introspections while writing the book and caring for sick patients. "Let me end by paraphrasing something the great Susan Sontag said: Death is inevitable, but degradation is not on the dance card," the author writes. The Ultimate Guide to Ovarian Cancer should be on everyone's dance card. It is a must read for the The ASCO Post audience. ■
---