Immune Checkpoint Inhibitor Nivolumab Is Active in Patients With Heavily Pretreated Advanced Non–Small Cell Lung Cancer


Scott N. Gettinger, MD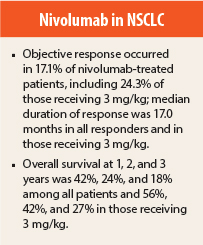 Nivolumab in NSCLC
Nivolumab monotherapy produced durable responses and encouraging survival rates in patients with heavily pretreated NSCLC.

—Scott N. Gettinger, MD, and colleagues
In a phase I cohort expansion trial reported in the Journal of Clinical Oncology, Scott N. Gettinger, MD, of Yale Cancer Center, New Haven, Connecticut, and colleagues found that monotherapy with the anti–programmed cell death protein 1 (PD-1) checkpoint inhibitor antibody nivolumab (Opdivo) produced durable responses and promising survival rates in patients with heavily pretreated non–small cell lung cancer (NSCLC).1 Nivolumab is being evaluated in phase III trials in NSCLC.
Study Details
In the study, 129 patients with advanced NSCLC enrolled from 12 U.S. sites between November 2008 and January 2012 received nivolumab at 1, 3, or 10 mg/kg intravenously once every 2 weeks in 8-week cycles for up to 96 weeks. Tumor burden was assessed (RECIST version 1.0) after each cycle. Eligibility requirements included one to five prior systemic treatments for advanced NSCLC, disease progression on at least a platinum- or taxane-based regimen, and at least one measurable lesion.
Patients had a median age of 65 years (range = 38–85 years), 61% were male, and 98% had Eastern Cooperative Oncology Group performance status of 0 or 1. Histology was nonsquamous in 58% and squamous in 42%.
The number of prior systemic treatments was one or two in 46% and a minimum of three in 54%. Prior treatment included platinum-based therapy in 99%; tyrosine kinase inhibitors in 28%; surgery in 66%; radiotherapy in 58%; and hormonal, immunologic, or biologic therapy in 12%.
EGFR mutation status was mutant in 9%, wild-type in 43%, and unknown in 47%. KRAS mutation status was mutant in 16%, wild-type in 28%, and unknown in 56%.
Response Rates
Median follow-up was 39 months. Across all nivolumab dose levels, the objective response rate was 17.1% among all patients, including response rates of 16.7% in patients with squamous histology and 17.6% in those with nonsquamous histology. Response rates in patients receiving the 3-mg/kg dose selected for further development were 24.3% among all patients, including 22.2% in those with squamous histology and 26.3% in those with nonsquamous histology.
Median duration of response among all responders was 17.0 months (range = 1.4+ to 36.8+ months), including median duration not reached in patients with squamous NSCLC, 14.2 months in those with nonsquamous histology, and 17.0 months in those receiving 3 mg/kg.
Eleven (50%) of the 22 responses were documented at the first 8-week tumor assessment. Median progression-free survival in responders was 20.6 months (range = 4.7+ to 40.3+ months). Response was ongoing in 41% of responders at the time of ­analysis.
Among 18 responders who discontinued nivolumab for reasons other than disease progression, 9 (50%) had responses longer than 9 months after the end of treatment. Stable disease of at least 24 weeks was observed in an additional 10% of patients.
Overall Survival
Median overall survival across all doses was 9.9 months, with 1-, 2-, and 3-year rates of 42%, 24%, and 18%. Among patients with squamous and nonsquamous histology, median overall survival was 9.2 months and 10.1 months, with 1-, 2-, and 3-year rates of 41%, 24%, and 19% and 42%, 27%, and 16%. Among 37 patients receiving 3 mg/kg, 1-, 2-, and 3-year survival rates were 56%, 42%, and 27%.
Immune-Pattern Responses
Unconventional immune-pattern responses—ie, persistent reduction in target lesions in the presence of new lesions or regression of target lesions after initial growth—were observed in an additional six patients (5%). Overall survival in these patients was 7.3, 11.2, 16.7, 26.7, 34.5+ , and 54.3+ months at the time of analysis.
Toxicity
The most common treatment-related adverse events of any grade were fatigue (24%), decreased appetite (12%), and diarrhea (10%). Treatment-related grade 3 or 4 adverse events occurred in 14% of patients, with fatigue (3%) being most common. Any-grade treatment-related adverse events of special interest included skin events in 15% of patients, gastrointestinal events in 12%, and pulmonary events in 7%. Grade ≥ 3 pneumonitis occurred in four patients (3%). Death considered related to treatment occurred in three patients (2%), in association with pneumonitis in each patient.
The investigators concluded: "Nivolumab monotherapy produced durable responses and encouraging survival rates in patients with heavily pretreated NSCLC. Randomized clinical trials with nivolumab in advanced NSCLC are ongoing."
Ongoing phase III trials include comparisons of nivolumab vs docetaxel in previously treated advanced squamous and advanced nonsquamous NSCLC and a comparison vs platinum-based therapy in previously untreated advanced PD ligand 1 (PD-L1)-positive disease. ■
Disclosure: The study was supported by Bristol-Myers Squibb and Ono Pharmaceutical. For full disclosures of the study authors visit jco.ascopubs.org.
Reference
1. Gettinger SN, Horn L, Gandhi L, et al: Overall survival and long-term safety of nivolumab (anti–programmed death 1 antibody, BMS-936558, ONO-4538) in patients with previously treated advanced non–small-cell lung cancer. J Clin Oncol 33:2004-2012, 2015.
---