September Is Conquer Cancer Foundation Challenge Month
All Donations Will Be Matched 2-to-1 by Raj Mantena, RPh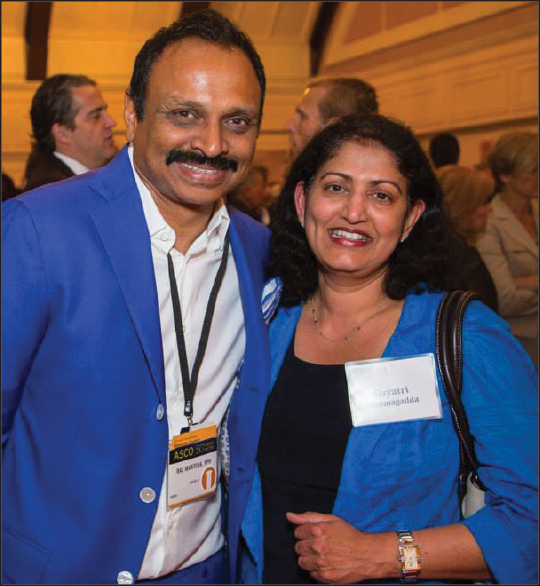 Conquer Cancer Foundation Board Member Raj Mantena, RPh, with Gayatri Nimmagadda, MD, at the 2014 Conquer Cancer Foundation Celebration Dinner. Mr. Mantena will match all individual donations to the Foundation 2-to-1 during the month of September.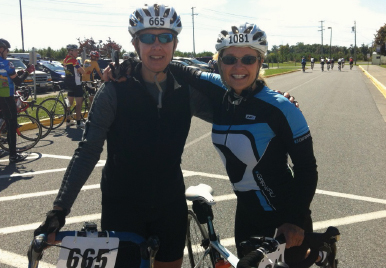 Kirsten Goldberg (left) and Kristin Ludwig (right) biked a combined 150 miles and raised more than $5,000 for the Conquer Cancer Foundation.
At the 50th Annual Meeting of the American Society of Clinical Oncology, Conquer Cancer Foundation Board Member Raj Mantena, RPh, announced that for the coming year he would match individual donations to the Conquer Cancer Foundation up to $1 million, allowing meeting attendees the opportunity to double their gifts in support of the Foundation's Mission Endowment.
This September, for a limited time Mr. Mantena is stepping up his challenge even further, offering a matching gift opportunity unique to the Foundation's history. From September 1 to September 30, 2014, he will match all donations 2-to-1, effectively tripling their impact. To take advantage of this inspiring challenge, the Conquer Cancer Foundation has set the ambitious goal of raising $50,000 before September 30.
Donors can direct the additional support wherever they feel they can make the biggest difference—whether that's by supporting the Conquer Cancer Foundation Grants and Awards Program; the patient information site Cancer.Net; or helping to develop CancerLinQ, ASCO's Rapid Learning System. As always, donors can also choose to support the Foundation's "Area of Greatest Need."
Donors can make gifts in support of the matching gift challenge at www.conquercancerfoundation.org/match, or by mailing a check to the Conquer Cancer Foundation at PO Box 896076, Charlotte, NC 28289-6076. Mail donations must be postmarked by September 30, 2014, to qualify for the 2-to-1 match. ■
#WeConquerCancer
The Matching Gift Challenge will also apply to donations made via the #WeConquerCancer peer-to-peer platform, making September the perfect time to set up a personalized online fundraising campaign in honor of a loved one, special event or athletic endeavor. Visit support.conquercancerfoundation.org to get started! 
---