Immunotherapy Research of James P. Allison, PhD,  Has Led to a Paradigm Shift in the Treatment of Cancer


James P. Allison, PhD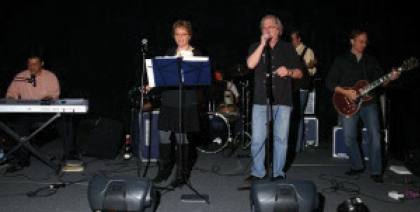 James Allison performs with The Checkpoints.
I was a basic scientist, a mouse guy, but I had the feeling that this type of therapy, which totally ignored the tumor cell and was completely reliant on the immune system, was a new approach to treating cancer.

—James P. Allison, PhD
James P. Allison, PhD, has been bucking the status quo since he was a teenager growing up in the small agricultural town of Alice, Texas, in the 1950s and 1960s. He first butted heads with authority figures when he was in high school and learned that his biology class had omitted the teaching of evolution for religious reasons. He refused to take the class.
"I had the sense that trying to teach biology without Darwin was like trying to teach physics without Newton, and I said, 'I'm not going to do it,'" said Dr. Allison. The incident caused such an uproar, the matter was taken up by the school board.
Eventually, a compromise was reached when a trusted school counselor suggested that Dr. Allison, then a senior, take a correspondence course in biology from The University of Texas. Although the incident was eventually settled amicably, the controversy did not make Dr. Allison popular with the other students or teachers. Studying alone in a classroom near the school gymnasium, he was often berated and taunted by coaches as he passed through the halls.
That sense of independence, dogged determination, and refusal to accept conventional wisdom would later lead Dr. Allison to scientific discoveries that have altered the treatment of cancer.
Early Influencers
Born on August 7, 1948, to Albert and Constance Allison, Dr. Allison is the youngest of three brothers. While Dr. Allison credits his father, an eye, ear, nose, and throat specialist, with sparking an early interest in medicine, it was the influence of his 8th grade math teacher and his high school guidance counselor that steered him to a career in science. "Growing up in a small rural town that did not foster a lot of academic interest, I was really lucky to be inspired by these two people," said Dr. Allison.
At the age of 15, Dr. Allison was accepted into a National Science Foundation–funded summer science-training program at The University of Texas at Austin (UT Austin) and graduated from high school the following year. Although he had planned to study medicine at UT Austin, a part-time job he got washing glassware in the college laboratory convinced him to switch to science.
"I realized that going the premed route meant memorizing a lot of information, and as a doctor, you can't make mistakes—you have to know what to do," said Dr. Allison. "As a scientist, you are supposed to make mistakes and hypothesize, then test the hypotheses. To me, that was a hell of a lot more fun than following algorithms, so I dropped premed. Plus, my grades in organic chemistry sucked," he laughed.
Family History of Cancer
Dr. Allison lost his mother to lymphoma when he was 11, followed by the deaths of her two brothers (one to lung cancer and the other to melanoma) a few years later. Although he maintained that the experience did not inspire him to specialize in cancer research, he admits that witnessing the devastation wrought by radiation and chemotherapy later led him to consider immunotherapy as a much more effective and less toxic weapon against the disease.
"My mother had years of radiation therapy that left her skin burned and her body gaunt," said Dr. Allison. "I then watched my uncle who had lung cancer waste away on chemotherapy. Another uncle who had melanoma refused therapy altogether because he had seen what happened to his sister and brother. So I was acutely aware of how ugly cancer therapy can be. As I got interested in immunology, I thought, 'I bet we can use the immune system to treat cancer.'"
Dr. Allison would lose another family member, his brother Mike, to prostate cancer in 2005, and received his own diagnosis of the disease that same year.
Rebel With a Cause
After earning his bachelor's degree in microbiology and his doctorate in biological sciences from UT Austin, Dr. Allison went to Scripps Clinic and Research Foundation near San Diego, for his postdoctoral fellowship. He returned to Texas the following year to take a faculty appointment at MD Anderson's Science Park in Smithville, where he stayed for 8 years, studying the immune system.
In 1982, while working at The University of Texas System Cancer Center, Dr. Allison made a pivotal discovery that has become the cornerstone of his life's work: he identified the T-cell antigen receptor, which allows T cells to recognize an unusual protein on the surface of another cell. Six years later, while a Professor in the Division of Immunology and Director of the Cancer Research Laboratory at the University of Berkeley in California, Dr. Allison demonstrated that the molecule CD28 is the "gas pedal" that T cells need for activation.
"Ron Schwartz, MD, PhD [Chief, Laboratory of Cellular and Molecular Immunology, and Chief, T-Cell Activation Section of the National Institutes of Health's National Institute of Allergy and Infectious Diseases] and Marc ­Jenkins, PhD [Distinguished McKnight University Professor at the University of Minnesota Medical School's Microbiology, Immunology, and Cancer Biology Program] had postulated that the T-cell antigen receptor signal was not sufficient to activate T cells. They needed costimulatory signals," said Dr. Allison. "I took clues from that and decided to test the notion, based on work by Jeff ­Ledbetter, PhD [Research Professor of Medicine, Division of Rheumatology at the University of Washington Medicine] and Craig Thompson, MD [President and Chief Executive Officer at Memorial Sloan Kettering Cancer Center], that CD28 might be the cosignatory receptor. I found that it was."
In 1996, Dr. Allison and another investigator, Jeffrey Bluestone, PhD [Executive Vice Chancellor and Provost at the University of California, San Francisco] identified CTLA-4 as an inhibitory checkpoint molecule, which restricted activated T-cell responses. Dr. Allison then proposed that blocking CTLA-4 would enhance activation of T-cell responses against cancer, essentially taking the brake off the immune system, which it did.
While most researchers investigating cancer immunology were advocating vaccines to turn "on" T cells to drive antitumor immune responses, Dr. Allison was proposing the opposite—to block the "off" signal. In murine studies of an antibody he developed against CTLA-4, Dr. Allison found that 90% of the cancers in the treated mice disappeared. That discovery led to a paradigm shift in immunotherapy research.
A human version of the antibody he used in his laboratory studies became ipilimumab (Yervoy), the first of a new class of drugs known as immune checkpoint inhibitors. In 2011, after a large randomized phase III trial of ipilimumab in patients with advanced melanoma showed a huge survival benefit—the first drug ever to do so—the U.S. Food and Drug Administration approved ipilimumab in the treatment of metastatic melanoma.
While statistics show that about 25% of patients with advanced-stage melanoma who took ipilimumab in clinical trials have lived 5 years or longer, more recent studies show prolonged immune responses and longer overall survival in some patients, especially when ipilimumab is combined with the investigational drug nivolumab. A study presented at last year's ASCO Annual Meeting found that patients with advanced melanoma who were treated with a combination regimen of ipilimumab and nivolumab had a nearly 50% response survival rate.1
New Treatment Approach
In 2004, Dr. Allison left Berkeley to become Chair of the Immunology Program and Director of the Ludwig Center for Cancer Immunotherapy at Memorial Sloan Kettering Cancer Center in New York, because he wanted to be involved in the human trials for ipilimumab being conducted at the cancer center—and gain credibility in the field.
"I was a basic scientist, a mouse guy, but I had the feeling that this type of therapy, which totally ignored the tumor cell and was completely reliant on the immune system, was a new approach to treating cancer. All of our mouse studies showed that the tumors grew before they regressed, because you are not treating the tumors, you are treating the immune system. I went to Memorial because I felt that if I didn't insinuate myself into the process in an institution that had credibility, I would always be an observer and not a participant," said Dr. Allison.
In 2012, he moved back to Texas to become Professor and Chair of the Department of Immunology, Executive Director of the Moon Shots Immunotherapy Platform, and Deputy Director of the David H. Koch Center for Applied Research of Genitourinary Cancers at The University of Texas MD Anderson Cancer Center. Dr. Allison and his colleagues are now investigating ipilimumab and other immune checkpoint inhibitors in the treatment of melanoma, lymphoma, and lung, breast, gastric, kidney, and prostate cancers.
Dr. Allison has been recognized for his breakthrough research in cancer immunology with numerous awards. In 2013, Science magazine named cancer immunotherapy its Breakthrough of the Year, citing Dr. Allison's work as crucial to immunotherapy's rapid advancement, and The Economist honored him with its Innovations Award in Bioscience. Most recently, Dr. Allison received the Szent-Györgyi Prize, the Canada Gairdner International Award, the American Association for Cancer Research GHA Clowes Memorial Award, and the first Tang Prize for Biopharmaceutical Science, for opening "a new therapeutic era in medicine."
Immunologist Turned Rock Star
When Dr. Allison is not in the lab, he is playing harmonica and singing backup with The Checkpoints, a rock/blues band made up of other prominent immunologists and oncologists, including Thomas Gajewski, MD, PhD, Professor in the Department of Pathology at The University of Chicago, Rachel W. Humphrey, MD, Senior Vice President, Head of Immuno-Oncology at Astra-Zeneca, Dirk Spitzer, PhD, Research Instructor of Surgery at Siteman Cancer Center, Pat Hwu, MD, Chair and Professor in the Department of Melanoma Medical Oncology at MD Anderson Cancer Center, and Keith Bahjat, PhD, Director, Laboratory of Immunologic Monitoring at Earle A. Chiles Research Institute.
In June, while the band members were in Chicago for ASCO's Annual Meeting, they got together to play at the Society for Immunotherapy of Cancer's 2014 Cancer Immunotherapy Fundraiser at the House of Blues. The event was sold out.
Dr. Allison's love of music dates back to his postdoctoral days at the Scripps Clinic and Research Foundation in San Diego, when he played harmonica with the Texas Honky Tonk Band at the Stingaree bar. The highlight of his music career came when country legend Willie Nelson appeared at the Stingaree and invited Dr. Allison to accompany him on "Blue Eyes Crying in the Rain," a single from Nelson's hit album The Red Headed Stranger.
"It was only that one song and that one night, but I'll never forget it," said Dr. Allison. ■
Reference
1. Wolchok JD, Kluger HM, Callahan MK, et al: Safety and clinical activity of nivolumab (anti-PD-1, BMS-936558, ONO-4538) in combination with ipilimumab in patients with advanced melanoma. 2013 ASCO Annual Meeting. Abstract 9012. Presented June 2, 2013.
---