Management of a Patient with Relapsed and Refractory Hodgkin Lymphoma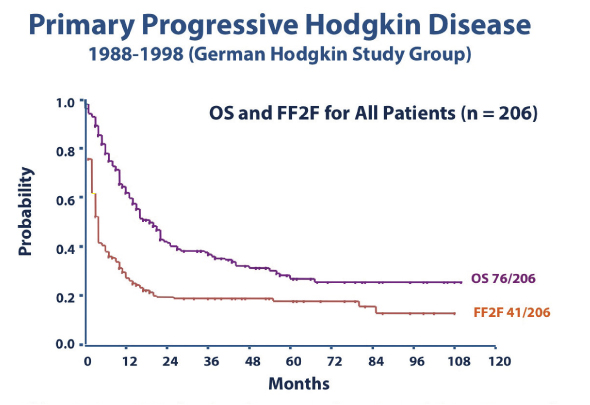 Fig. 1: Overall survival and freedom from second treatment failure (FF2F) in primary progressive Hodgkin disease. Josting A, et al: Blood 96:1280-1286, 2000.1 ©2000 by American Society of Hematology.
Case Summary presented by Andreas Engert, MD, Chairman, German Hodgkin Study Group, University Hospital of Cologne, Cologne, Germany
This is a case report of a 23-year-old female patient who was diagnosed with Hodgkin lymphoma in January 2009. She received two cycles of ABVD (doxorubicin, bleomycin, vinblastine, dacarbazine) and had progressive disease. She was therefore switched to an escalated BEACOPP regimen (bleomycin, etoposide, doxorubicin, cyclophosphamide, vincristine, prednisone, procarbazine) and had a short temporary partial remission.
Primary Progressive Hodgkin Lymphoma
The question is, how do we best treat patients with primary progressive Hodgkin lymphoma? This group of patients has a rather poor prognosis, with 5-year tumor control of less than 20% and overall survival of less than 30% (Fig. 1).1 Importantly, the most effective treatment for these patients is high-dose chemotherapy, even in a situation of disease refractory to first-line regimens. Most groups use a non–cross-resistant regimen to mobilize stem cells, such as DHAP (dexamethasone, high-dose cytarabine, cisplatin), ICE (ifosfamide, carboplatin, etoposide), or IGEV (ifosfamide, gemcitabine, vinorelbine). In most cases the high-dose chemotherapy regimen used is BEAM (carmustine [BiCNU], etoposide, cytarabine, melphalan).
Our patient had one cycle of ICE with progressive disease again and was followed with two cycles of DHAP including stem cell mobilization. High-dose BEAM chemotherapy was administered and stem cell transplant was performed in September 2009, and this was followed by additional radiotherapy. Unfortunately, the patient experienced another relapse/progressive disease in early 2010. This is when she presented at our center for further treatment.
Prognosis in Patients Who Relapse following High-dose Chemotherapy
From a large international collaborative project, data have emerged on the prognosis of patients relapsing after high-dose chemotherapy.2 Those relapsing within 3 months after transplant have a particularly dismal prognosis, with an overall survival of approximately 6 months. Most of these patients are treated with palliative intent, receiving either single-agent chemotherapy or best supportive care. Only patients with a suitable donor and very good response to treatment might be considered candidates for an allogeneic transplant. However, very few of these patients refractory to high-dose chemotherapy were successfully allotransplanted.
Thus, there is a strong need for alternative agents with different modes of action. To this end, the new ­anti-CD30 antibody-drug conjugate brentuximab vedotin (Adcetris) (Fig. 2) has shown extremely impressive results in both phase I and phase II studies.3 In patients with relapsed and refractory Hodgkin lymphoma who had received prior high-dose chemotherapy and autologous stem cell transplant, the response rate was 75% overall, with 34% of these patients achieving complete remission. The tolerability was excellent, with only a few patients experiencing clinically relevant neutropenia. Relevant peripheral neuropathy (grade 3) was observed in 9% of patients; there was no grade 4 peripheral neuropathy.
At the time the 23-year old female patient presented at our center, brentuximab vedotin became available in a named patient program. The patient received four cycles of treatment and responded extremely well (Fig. 3). Subsequently, she received a haploid allogeneic transplant and achieved a complete remission.
This is a remarkable case of a patient with a very aggressively growing tumor that is not responding to any chemotherapy or radiotherapy. She responded very well to brentuximab vedotin and achieved nearly a complete remission with this drug, and that enabled her to undergo an allogeneic transplant. ■
References
1. Josting A, Rüffer U, Franklin J, et al: Prognostic factors and treatment outcome in primary progressive Hodgkin lymphoma: A report from the German Hodgkin Lymphoma Study Group. Blood 96:1280-1286, 2000.
2. Arai S, Fanale M, deVos S, et al: Defining a Hodgkin lymphoma population for novel therapeutics after relapse from autologous hematopoietic cell transplantation. Blood, submitted 2012.
3. Younes A, Bartlett NL, Leonard JP, et al: Brentuximab vedotin (SGN-35) for relapsed CD30-positive lymphomas. N Engl J Med 363:1812-1821, 2010.
4. Younes A, Gopal AK, Smith SE, et al: Results of a pivotal phase II study of brentuximab vedotin (SGN-35) for patients with relapsed or refractory Hodgkin lymphoma.  J Clin Oncol 30:2183-2189, 2012.
---
Related Articles
 Dr. Armitage: It is no surprise that brentuximab vedotin is really an exciting agent, and it gives us a new opportunity in treating classical Hodgkin lymphoma. What if this person Dr. Engert just presented was at the same point with nodular lymphocyte-predominant lymphoma and no CD30 positivity....