Novel BRAF Inhibitor Receives FDA Approval in Metastatic Melanoma
BRAF targeting reduces mortality by 63%.

Vemurafenib (Zelboraf) received FDA approval on August 17, 2011, for treatment of metastatic or unresectable melanoma, based on the results of the phase III BRIM3 trial.1 BRIM3 compared vemurafenib to dacarbazine in 675 untreated patients with the BRAF V600E mutation. Vemurafenib targets the mutation, which is present in approximately 50% of patients with advanced melanoma. A companion diagnostic test called the cobas 4800 BRAF V600 Mutation Test was concurrently approved.
Omid Hamid, MD, of The Angeles Clinic and Research Institute (www.theangelesclinic.org), Los Angeles, reviewed data from BRIM3 and BRIM2 at the Best of ASCO meeting in Miami, Florida.1,2 "With vemurafanib we see an initial separation between the arms [vemurafenib vs dacarbazine] that continues. There are durable and ongoing responses. The data in both the first-line [BRIM3] and second-line [BRIM2] settings seem extremely promising," said Dr. Hamid.
Pivotal BRIM3 Trial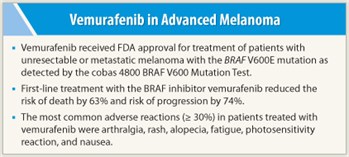 BRIM3 enrolled 675 patients, including 337 patients who were assigned to vemurafenib, 960 mg orally twice daily, and 338 who were assigned to dacarbazine, 1,000 mg/m2 intravenously, every 3 weeks. Treatment continued until disease progression, unacceptable toxicity, and/or consent withdrawal. All patients had an ECOG performance status of 0 or 1, and 95% of patients had metastatic disease. The major endpoints of the trial were overall and progression-free survival.
Survival Data
The first interim analysis found progression-free survival to be 5.3 months with vemurafenib vs 1.6 months with dacarbazine, a 74% reduced risk (P < .0001).  Overall survival at 6 months was 84% vs 64%, respectively, a 63% reduction (P < .0001). Overall responses were observed in 48.4% vs only 5.5%, respectively, and all subgroups benefited.
The most common grade 3 adverse event in patients treated with vemurafenib was cutaneous squamous cell carcinoma, which was treated by excision. Other common adverse reactions were arthralgia, rash, alopecia, fatigue, photosensitivity reaction, and nausea.  
Next Steps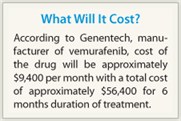 Future studies, Dr. Hamid said, should evaluate vemurafenib in combination, and sequentially, with MEK inhibitors, PI3K and mTOR inhibitors, insulin-like growth factor receptor inhibitors, immunomodulators, and cytotoxics. Simultaneous inhibition of BRAF and MEK has been associated with resumption of response in patients who progressed on a prior BRAF inhibitor.
The recommended dose of vemurafenib is 960 mg orally twice daily. ■
Disclosure: Dr. Hamid reported receiving consulting and speaking fees from Bristol-Myers Squibb and Roche, and research funding from Bristol-Myers Squibb, GlaxoSmithKline, and Roche.
SIDEBAR: Using the New Melanoma Drugs in the Clinic

References
1. Chapman PB, Hauschild A, Robert C, et al: Phase III randomized, open-label, multicenter trial (BRIM3) comparing BRAF inhibitor vemurafenib with dacarbazine in patients with V600E BRAF-mutated melanoma. 2011 ASCO Annual Meeting. Abstract LBA4. Presented June 5, 2011.
2. Ribas A, Kim KB, Schuchter LM, et al: BRIM-2: An open-label, multicenter phase II study of vemurafenib in previously treated patients with BRAF V600E mutation-positive metastatic melanoma. 2011 ASCO Annual Meeting. Abstract 8509. Presented June 4, 2011.
---
Related Articles

With two effective new treatments for advanced melanoma, the question has become how to best use them and how to manage their toxicities. 
Vemurafenib (Zelboraf) and ipilimumab (Yervoy)1 have different pharmacokinetics, which lend themselves to different patient types. Omid Hamid, MD, of The...