Long-term Data Show Benefit of Degarelix Beyond 3 Years in Advanced Hormone-dependent Prostate Cancer
PSA suppression and the effects on PSA progression free survival remained consistent over the long term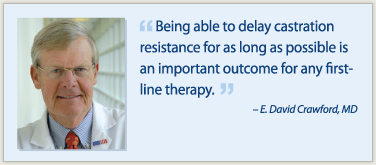 Degarelix (Firmagon) is effective and well tolerated beyond 3 years in patients with advanced prostate cancer, according to a recent study published in The Journal of Urology.1 The new study (CS21A) extends the conclusions of the pivotal phase III study (CS21) in which the risk of prostate-specific antigen (PSA) failure or death was significantly lower in patients on degarelix compared to leuprolide up to 1 year. The extension study has now shown that for patients who remained on degarelix, PSA suppression and the effects on PSA progression free survival (PFS) remained consistent over the long term (42 months).
"Being able to delay castration resistance for as long as possible is an important outcome for any first-line therapy," said study author E. David Crawford, MD, Head, Section of Urologic Oncology and Professor of Urologic and Radiation Oncology, University of Colorado Denver. "The data from the phase III extension study demonstrate that [degarelix] provided prostate cancer patients with fast and effective testosterone and PSA control over the long term, which may in turn delay castration resistance.
In addition, the study looked at patients who crossed over from leuprolide to degarelix after 1 year. At a median follow up of 27.5 months the data showed that the risk of PSA PFS had decreased (P = .003).1
CS21A was designed to collect extended safety and tolerability data on degarelix. Following the close of the phase III trial, all patients were offered the option to receive degarelix as part of the extension study. All patients who had received degarelix continued with their treatment and those who had previously been treated with leuprolide were switched to receive degarelix. ■
Reference
1. Crawford ED, Tombal B, Miller K, et al: A phase III extension trial with a 1-arm crossover from leuprolide to degarelix: Comparison of gonadotropin-releasing hormone agonist and antagonist effect on prostate cancer. J Urol 186(3):889-897, 2011.
---