Lifestyle Changes Can Benefit Patients with Cancer
But may often be ignored by oncology providers

Oncologists may successfully manage their patients with cancer by following treatment guidelines, but they come up short when it comes to prescribing simple measures to enhance their patients' health, according to Ann Partridge, MD, MPH, of Dana-Farber Cancer Institute, Boston, who spoke on the topic at the recent Best of ASCO meeting in Miami.
"This is the softer side of oncology, and we don't pay as much attention to it as we should, but in our practices these are the things that patients often ask us about," she said. "Helping patients modify health-related behaviors should be viewed as an important part of our job."
Psychosocial Problems Are an Unmet Need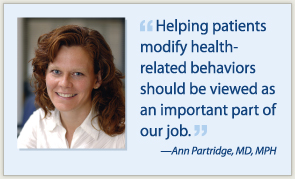 Psychosocial problems and their accompanying impairments are common among patients and survivors. "Some would argue that stress is the 6th vital sign," she said. Psychosocial distress not only takes an emotional toll, but can also reduce treatment compliance, thus [resulting in poorer outcomes] as well," she said.
But clinicians rarely look for signs of psychosocial distress. At most, 15% or so of clinicians report using validated scales. "We care about this on paper, but studies show we are not routinely screening," she said. "We need to ask the patient, 'How are you doing with this [distress]?'—the same way we ask about smoking."
Guidelines and recommendations already exist to help clinicians identify psychosocial distress. "We just need to generate interest among providers in adopting them," Dr. Partridge suggested.
Nutrition, Exercise: What Patients Should Know
Oncologists might have one-third fewer patients if the public adopted a healthier lifestyle, according to the American Institute of Cancer Research and the World Cancer Research Fund. Their analysis has shown that about one-third of cancers are preventable through lifestyle modifications of diet, physical activity, body size, and alcohol intake—not including smoking, injection drug use, and bacterial/viral infections. The percentage that are preventable rises to 70% for endometrial cancer, 69% for esophageal cancer, and almost 50% for stomach and colon cancers.
In terms of nutrition, the bulk of the evidence pertains to primary cancer prevention, though data are emerging to show benefits in survivorship and guidelines are being developed to reflect that. In fact, the health benefits of good nutrition among cancer patients have gone from being hypothetical to becoming measurable and established, according to Kimberly Robien, PhD, who discussed the topic at an ASCO educational session.
For breast cancer, at least in the Nurses Health Study population, postdiagnosis weight gain was associated with a 40% to 60% increased risk of recurrence, breast cancer mortality, and all-cause mortality.1 In the Women's Intervention Nutrition Study (WINS), an intervention counteracted this: A low-fat diet significantly reduced not only weight but recurrence rates, especially in the estrogen-negative population.2 While a lack of beneficial effect was seen for a low-fat diet in the Women's Healthy Eating and Living (WHEL) study, a healthful diet at baseline may have been responsible for this.3
As for exercise, at least in colorectal cancer, moderate activity has been associated with a 40% to 50% reduction in recurrence, disease-specific mortality, and all-cause mortality.4
Altogether, according to Dr. Partridge, the evidence strongly suggests that a healthy diet protects against comorbidity and is probably beneficial in preventing recurrent or progressive disease. There are possible effects on depression, fatigue, adverse body composition changes, and functional decline.
The data for the value of exercise are stronger: Clear effects are seen on adverse changes in body composition, functional decline, and comorbidity; probable benefits are observed on recurrence/progression and fatigue; and possible benefits are seen in depression.
Oncologists can now, therefore, emphasize to cancer survivors the value of following dietary and physical activity guidelines, Dr. Partridge said.
"The problem is that although it's a no-brainer to recommend that people try to eat well and exercise, it's hard for our patients to do," she acknowledged. "We need to figure out how to help them."
Alcohol and Supplements
Reports of a link between alcohol and breast cancer have raised patients' concerns; drinking has also been linked to renal and head and neck cancers. The data are conflicting regarding the effect of alcohol on breast cancer recurrence: some studies show little to no effect, while others show a dose-related effect of increasing alcohol intake on increasing risk of recurrence. To further confuse matters, alcohol may be cardioprotective.
"We generally recommend one glass of wine or less per day to our patients," she said. She does not recommend vitamin supplements, as no reliable body of data yet show a beneficial effect for their use.
Unfortunately, despite excellent recommendations, the average patient demonstrates unhealthy lifestyle practices and behaviors, Dr. Partridge concluded, citing the following prevalence rates:
Overweight or obese: 59%–71%
Diet includes < 5 daily servings of fruits and vegetables: 52%–58%
Moderate to heavy alcohol intake: 16%
Sedentary lifestyle: 70%
These figures only accentuate the mandate for oncologists. "Cancer incites a teachable moment for lifestyle change," she said. "We can have a positive impact on health behaviors of survivors and family members." ■
References
1. Kroenke CH, Chen WY, Rosner B, et al: Weight, weight gain, and survival after breast cancer diagnosis. J Clin Oncol 23:1370-1378, 2005.
2. Blackburn GL, Wang KA: Dietary fat reduction and breast cancer outcome: Results from the Women's Intervention Nutrition Study (WINS). Am J Clin Nutr 86:878S-881S, 2007.
3. Pierce JP, Natarajan L, Caan BJ, et al: Influence of a diet very high in vegetables, fruit and fiber and low in fact on prognosis following treatment for breast cancer: The Women's Healthy Eating and Living (WHEL) randomized trial. JAMA 298:289-298, 2007.
4. Meyerhardt JA, Heseltine D, Niedzwiecki D, et al: Impact of physical activity on cancer recurrence and survival in patients with stage III colon cancer: Findings from CALGB 89803. J Clin Oncol 24:3535-3541, 2006.
---