ASCO's Immediate Past President Helps Build Future of Cancer Research and Care by Supporting Conquer Cancer Foundation

George W. Sledge, Jr, MD, has been treating patients with breast cancer, and pursuing research in the field, for more than 30 years—the last few electrified by a rapid proliferation of knowledge.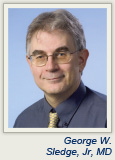 "We have so much to offer our patients today," says Dr. Sledge, who serves as Ballve-Lantero Professor in the Department of Medicine and as a Professor in the Department of Pathology at the Indiana School of Medicine, as well as Co-leader of the Breast Cancer Program at Indiana University's Melvin and Bren Simon Cancer Center. "Advances in genomics, proteomics, computational biology, and other disciplines have come together all at once over the past decade, allowing us to leapfrog ahead at an incredible rate."
Fostering Collaboration
Dr. Sledge has helped lead the way in creating opportunities to use those new discoveries to advance cancer research and treatment. In addition to his own work in the clinic and in the laboratory, Dr. Sledge has been active in many roles within ASCO—starting with committee work early in his career, and culminating with the completion of his tenure as President in June. At every level, he has found the organization a nourishing source of inspiration.
"Science is not a solitary enterprise," Dr. Sledge says. "It requires immense amounts of collaboration. The wonderful thing about ASCO is that you can bring people together very easily to talk about new goals, new research, whatever's on your mind. At the ASCO Annual Meeting, you can stand on a corner for 20 minutes and see everyone in your field walking by," he notes.
"Having grown up in Wisconsin," he says with a chuckle, "I think of ASCO as a great smorgasbord. It offers lots of tasty things, and you always go home fulfilled."
Creating a World Free from the Fear of Cancer
One of the most meaningful ways in which every ASCO member can come to the table, says Dr. Sledge, is by supporting its affiliated charitable arm, the Conquer Cancer Foundation.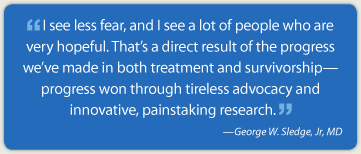 "ASCO does a lot of important things, but if you ask me what is the most important thing we've done over the past 20 or 25 years—the most important, long-term contribution we make to society—it's working through the Conquer Cancer Foundation to act as a catalyst for the careers of clinical and translational scientists. We're building generations of researchers who are going to cure cancer one day."
The Foundation's mission is to conquer cancer worldwide by funding breakthrough research and sharing cutting-edge knowledge, with the ultimate vision of creating a world free from the fear of cancer. It's a goal that resonates deeply for Dr. Sledge.
"I see far fewer patients who have waited to seek care than I did 15 or 20 years ago," he says. "I see less fear, and I see a lot of people who are very hopeful. That's a direct result of the progress we've made in both treatment and survivorship—progress won through tireless advocacy and innovative, painstaking research."
The Conquer Cancer Foundation supports the ASCO Annual Meeting, the award-winning website Cancer.Net, and other programs and initiatives that benefit ASCO's 30,000-plus members and the patients they treat. The Foundation also supports a robust Grants and Awards Program that provides critical funding to researchers, with a unique emphasis on supporting the work of early-career clinical and translational investigators. In 2011, the Foundation awarded more than $7 million in grant funding to more than 70 investigators.
Seeding the Future of Cancer Care and Research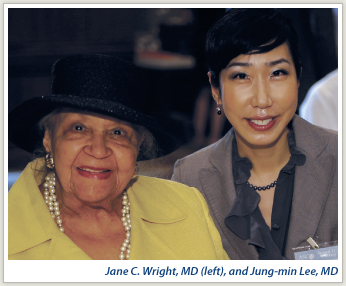 Dr. Sledge met one of those researchers at an NCI lecture earlier this year. Jung-min Lee, MD, who is researching sequence-specific DNA damage with PARP inhibition and carboplatin in women's cancers at NCI, was the first recipient of the Jane C. Wright, MD Young Investigator Award, established in 2010 to honor ASCO cofounder and chemotherapy pioneer Jane C. Wright, MD. The award is funded by generous, personal contributions from members of the ASCO and Conquer Cancer Foundation Boards of Directors.
"Dr. Lee was so proud that she had received the Jane C. Wright award, and I was so proud that we had selected her—especially because, as a member of the Board, I had directly contributed to the award," says Dr. Sledge. "She feels part of this wonderful tradition of excellence in research that is supported by the Foundation, and she really embodies our commitment to supporting the next generation."
It wasn't the first time Dr. Sledge had such an experience. "I often run into people who have received a Young Investigator Award. They frequently tell me that it was the first award they had ever received, and that it had had a huge impact in terms of convincing them to stay in the field. The Conquer Cancer Foundation has kick-started the careers of a lot of great junior faculty," he says.
"We raise money to support the grants, and we bring in top-notch international talent to review the work of these outstanding folks—and the requirements we place on their host institutions raise the bar in terms of mentoring," Dr. Sledge continues. "There's not a lot of early-career funding available, especially for clinical and translational researchers, and it's something the Conquer Cancer Foundation does uniquely well."
Paying It Forward
Dr. Sledge believes that one motivation for supporting the Conquer Cancer Foundation hits close to home. "In addition to its work at the national and international levels, the Conquer Cancer Foundation is a major supporter of our state societies," he notes. "Strong state societies, which help us stand up for patients and provide physicians and allied health personnel with the recognition they deserve, are critical to our work."
But there's also the big picture.
"Like many scientists, I've always taken as a guiding principle the famous quote by Sir Isaac Newton: 'If I've been able to see further, it was only because I stood on the shoulders of giants.' We owe so much to those who came before us. But we also owe something to those who will follow. I view my support of the Conquer Cancer Foundation as an important means by which I can pay it forward," says Dr. Sledge.
"We're all links in a very long chain—a chain that's far more valuable than any individual link." ■
---