Rising After Struggle: Surviving My First ASCO Breakthrough in Japan

After a year of hard work preparing a strong abstract for the prestigious 2023 ASCO Annual Meeting, I finally received an acceptance letter from the scientific committee. I was overjoyed to see the efforts of our multinational team being rewarded. A few moments later, I received the decision regarding the 2023 Conquer Cancer Merit Award from the Scientific Program Committee; our work was not selected! My joy quickly vanished as I realized that presenting a paper at this meeting would demand a substantial budget, covering travel expenses from Morocco to the United States, participation fees, and accommodation costs. Ultimately, I made the difficult decision to cancel our participation. I recalled how I had taken the entrance exam for medical school three times, always telling myself: "Let's try again and never give up."
I submitted the abstract once again to the 2023 ASCO Breakthrough (#ASCOBT23), another great ASCO event that highlights the transformative impact of technologic advances in precision oncology, biomedical engineering, and artificial intelligence on cancer care. Our work was accepted, and I was selected to receive a 2023 Conquer Cancer Merit Award.1 This time, I was thankful first to the Conquer Cancer Foundation for its funding program aimed at supporting young cancer researchers and second for my resilience and striving for excellence. The monetary support was highly appreciated, as it facilitated the expenses of my journey to Japan. Although the sum proved insufficient to cover most of the expenses, it significantly mitigated the financial toxicity associated with this type of major oncology event.
Meeting Highlights
As I arrived at the Pacifico Yokohama Conference Center for #ASCOBT23, I made it a priority to visit and extend my greetings to the dedicated ASCO team that carefully ensured the success of every detail for the event. The opening ceremony was inaugurated with a keynote lecture on "Innovative Technology in Oncology" delivered by Hiroshi "Mickey" Mikitani, who serves as Vice Chairman of the Board and Co-Chief Executive Officer of Rakuten Medical.
In his presentation, this entrepreneur shared his insights and vision regarding how starting with a small team can ultimately lead to transformative global impacts. His inspiring story of his father's death from pancreatic cancer was the core driver of his commitment to investing in exploring therapeutic breakthroughs for cancer. His team's technology of investigational photoimmunotherapy showed promise in treating several cancers with poor outcomes.2
The initial pharmaceutical product originating from the Alluminox platform (known as ASP-1929), has obtained approval from the Japanese Ministry of Health, Labour, and Welfare.3 It is currently undergoing a worldwide phase III clinical study in the treatment of recurrent head and neck cancer (ClinicalTrials.gov identifier NCT03769506). Mr. Mikitani is not a medical expert, but he could "see around the corner" that this innovative therapy may change the future of cancer care.4
One of the other keynote sessions that attracted my attention during #ASCOBT23 was a lecture by Maryellen Giger, PhD, distinguished Professor of Radiology at the University of Chicago, with more than 30 years of research on computer-aided diagnosis. Her lecture showed that artificial intelligence (AI) is not just a global trend, but a real practice-changer in oncology. Her research was a breakthrough in AI-assisted diagnosis of breast cancer. The U.S. Food and Drug Administration cleared the QuantX product, a machine-learning driven system that aids in cancer diagnosis that was built based on decades of research by Dr. Giger's team.5
Every moment at #ASCOBT23 was a breakthrough. I was surprised by the quality of research presented by young oncologists who are reshaping the landscape of global oncology innovations, all for the enhanced well-being of our patients with cancer. I also had the opportunity to meet ASCO President Lynn Mara Schuchter, MD, FASCO, an exceptional woman with a visionary commitment to fostering leadership and ensuring global access to proper cancer care.
Gender Inequities in Cancer Research Across North Africa
At #ASCOBT23, I presented the results of our GEORGiNA study,6 which mapped gender inequities in academic cancer research across North Africa. Our research has illuminated the current state of gender disparities in the region and highlighted the implications for enhancing policies and advocacy to support women in oncology. Indeed, North Africa has been historically perceived as a "male-dominant" environment in all fields.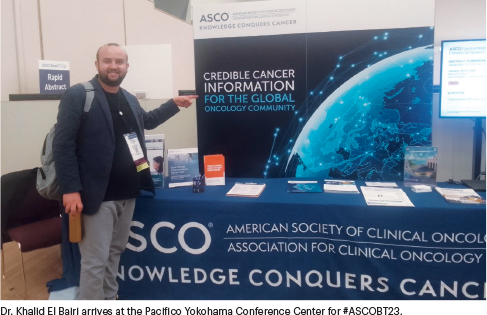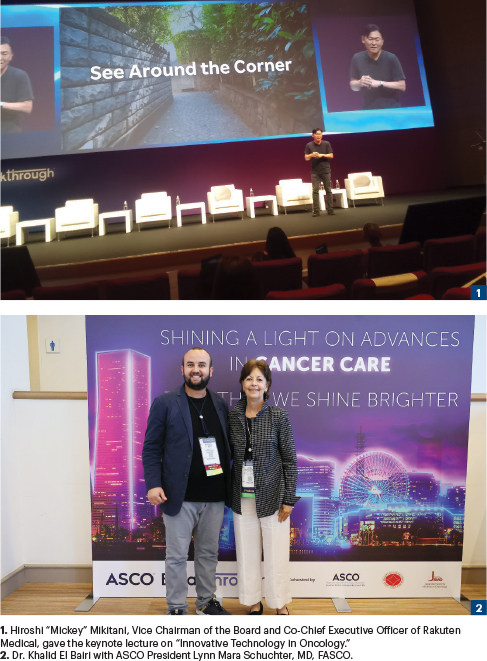 Our study analyzed articles published by North African researchers in oncology (from Morocco, Algeria, Tunisia, Libya, Egypt, and Sudan) from 2018 to 2020. Our findings revealed that women represented 52.5% of first senior authors, but disparities still exist in certain countries of this African region. Remarkably, Tunisia showed equity progress, with 72.6% of female first authors, whereas Sudan and Libya had male dominance, with 62% and 70% male first authors, respectively. Moreover, male researchers were more commonly found as principal investigators and tended to receive more funding and publish more open-access research. On the other hand, female-led original articles were more likely to disclose funding sources, and women in first author positions had higher female coauthorships.
Our study showed that women in North African cancer research seem to be fairly positioned as senior first authors as compared with other African regions,7,8 but differences persist. Barriers such as lack of funding and limited engagement in international collaborations hinder gender equity in this region. It is promising to note that these findings may serve as a catalyst for progress toward achieving greater gender equity in cancer research.
One ongoing project related to this research aims to develop an online application for automatically identifying the gender of authors in oncology publications and providing statistics on gender distribution. Indeed, #ASCOBT23 provided an excellent platform to discuss these findings with oncologists and gather their constructive feedback, which will further enhance the study's outcomes. This valuable evaluation was anticipated and greatly appreciated within the context of this significant oncology event.
The updated results of this study will soon be presented at the European Society for Medical Oncology (ESMO) Congress 2023 in October in Madrid. We hope our GEORGiNA findings will increase awareness about research integrity and tailor policy interventions for a more diverse and inclusive cancer research community in North Africa and beyond.
Closing Thoughts
This trip to #ASCOBT23 in Yokohama not only provided me with the opportunity to attend the conference, but also allowed me to explore Japan for the first time. Yokohama, a vibrant city with a rich history, offers a combination of modern and cosmopolitan lifestyles. The Japanese people are renowned for their friendliness and openness. I loved how people in this country work hard and in silence!
"We hope our GEORGiNA findings will increase awareness about research integrity and tailor policy interventions for a more diverse and inclusive cancer research community in North Africa and beyond."

— KHALID EL BAIRI, MD




Tweet this quote



My final hours in Japan were spent with a young student who has not yet finished high school but is highly motivated to pursue a career in medicine. I valued every moment spent with him, discussing life in both Japan and Morocco.
Finally, my message to all young oncologists and cancer researchers, especially those in low- and middle-income countries: "Stay strong! Rejections, bad news, unsuccessful projects, and so on are only temporary states. Every problem should be viewed as an opportunity to evolve."
Acknowledgment: Dr. El Bairi's journey to Japan for -#ASCOBT23 would not have been successful without the support of Prof. Rhizlane Belbaraka (medical oncologist, Morocco), Dr. Sadaqat Hussain (medical oncologist, UK), Dr. Ayoub Kharkhach (surgical oncologist, Morocco), and Dr. Hind Kadiri (nanotechnology, France). He also would like to acknowledge the significant contributions of all GEORGiNA collaborators and the funding provided by the Conquer Cancer Foundation. 
DISCLOSURE: Dr. El Bairi has received fees and honoraria from the National Community Oncology Dispensing Association, Techspert, Elsevier, and Springer; and has received publishing grants from the Cancer Research Institute in Morocco.
REFERENCES
1. Conquer Cancer announces 2023 Breakthrough Merit and Abstract Award Recipients. Available at https://www.conquer.org/news/conquer-cancer-announces-2023-breakthrough-merit-and-abstract-award-recipients. Accessed August 18, 2023.
2. Kobayashi H, Choyke PL: Near-infrared photoimmunotherapy of cancer. Acc Chem Res 52:2332-2339, 2019.
3. Rakuten Medical: With the establishment of India Entity, Mickey Mikitani, Co-CEO of Rakuten Medical visits respected medical institutions in India. September 28, 2022. Available at https://rakuten-med.com/us/news/press-releases/2022/09/28/7597/. Accessed August 18, 2023.
4. ASCO Daily News: Flash of hope: Keynote speaker will focus on power of innovation in photoimmunotherapy for future oncology care. July 19, 2023. Available at https://dailynews.ascopubs.org/do/flash-hope-keynote-speaker-focus-power-innovation-photoimmunotherapy-future-oncology. Accessed August 18, 2023.
5. Medical Product Outsourcing: FDA-cleared artificial intelligence breast cancer diagnosis system launched by Paragon Biosciences. September 12, 2019. Available at https://www.mpo-mag.com/contents/view_breaking-news/2019-09-12/fda-cleared-artificial-intelligence-breast-cancer-diagnosis-system-launched-by-paragon-biosciences/. Accessed August 18, 2023.
6. El Bairi K and GEORGiNA study collaborators: Systematic mapping of gender disparities in oncology publications of north African countries: The GEORGiNA study. 2023 ASCO Breakthrough. Abstract 112. Presented August 3, 2023.
7. Mutebi M, Lewison G, Aggarwal A, et al: Cancer research across Africa: A comparative bibliometric analysis. BMJ Glob Health 7:e009849, 2022.
8. Baobeid A, Faghani-Hamadani T, Sauer S, et al: Gender equity in health research publishing in Africa. BMJ Glob Health 7:e008821, 2022.
---