An Aggressive Type of Non-Hodgkin Lymphoma Threatened My Life
Three months after receiving CAR T-cell therapy, there was no evidence of disease, and today I remain cancer-free.

I was just 31 and about to give birth to my fourth child, Yitzchok, when I received a diagnosis of primary mediastinal large B-cell lymphoma. The news was terrifying and crippling. For months, I had been experiencing shortness of breath, coughing, and a pain in my left shoulder, all of which were explained by allergies, raising three young children, preparing for the birth of my next child, and working full-time as a visiting nurse in Brooklyn, New York, so the symptoms were easy to brush off. My obstetrician waved them away, too. "You're pregnant," she said, emphatically.
However, a few days later, after taking care of a patient, I felt ill. When I checked my blood pressure and saw that it was elevated, I called my doctor to tell her I was concerned. When she heard how out of breath I was, she sent me for a battery of laboratory tests. A cardiologist I saw also recommended a chest x-ray, which my obstetrician was reluctant to do at first because of my pregnancy. Finally, the cardiologist insisted on the test, which showed a large mass, 17 cm × 9 cm, on the left side of my chest. A biopsy confirmed the mass was primary mediastinal large B-cell lymphoma.
Coping With Cancer
Within a week of the diagnosis, I had a cesarean section to deliver Yitzchok and immediately started six rounds of the chemotherapy regimen R-EPOCH (rituximab, etoposide, prednisone, vincristine, cyclophosphamide, and doxorubicin). The treatment was grueling and kept me in the hospital for 4 days of continuous chemotherapy. We had to move our family into my mother's house, so she could help take care of my three older children, and we hired a baby nurse to care for Yitzchok.
"Not being able to care for my newborn son was the worst part of my cancer ordeal. I remember telling my husband that I missed out on the first year of Yitzchok's life. A year that I will never get back."

— Devorah Aschendorf




Tweet this quote



Even when I was recuperating at home in between rounds of chemotherapy, I was so exhausted and weak from the therapy, I could only hold Yitzchok for a few minutes at a time while cradling him in bed. I was too afraid and dizzy to hold him while walking around the house. Not being able to care for my newborn son was the worst part of my cancer ordeal. I remember telling my husband, Moshe, that I missed out on the first year of Yitzchok's life—a year that I will never get back.
Losing my hair during treatment was another huge emotional blow. Even though as an Orthodox Jewish woman I cover my hair with a wig when I am outside of my home, seeing clumps of hair fall out while showering was devastating, and I couldn't look at myself in the mirror.
CAR T-Cell Therapy Saved My Life
Despite the aggressive treatment, which initially put me in remission, several months later, the cancer recurred. My oncologist then recommended two rounds of high-dose R-IVAC (rituximab, ifosfamide, etoposide, and cytarabine) salvage chemotherapy to prepare me for an autologous stem cell transplant, but that treatment, too, was unsuccessful. In hindsight, it was a blessing that the treatment failed to get me to a remission for the transplant.
Next, my oncologist said my only option was treatment with a recently approved chimeric antigen receptor (CAR) T-cell therapy, axicabtagene ciloleucel. Although I didn't have some of the serious central nervous system side effects of CAR T-cell therapy, such as mental confusion, I did experience fever, tachycardia, and lethargy. After a 2-week hospital stay, I was well enough to go home and take care of my family. Three months later, a positron-emission tomography scan showed no evidence of disease, and today I remain cancer-free.
A Different Perspective on Life
As a young mother of four children, having an aggressive lymphoma that threatened my life has altered how I now view the world. I switched my job as a visiting nurse to doing office case management to reduce my stress level. I'm satisfied with having more time to be with my kids and taking care of my family. I want to be here to watch my children grow and become responsible adults. I'm no longer concerned about having a high-intensity professional life. I'm just glad to be alive and able to be with my family.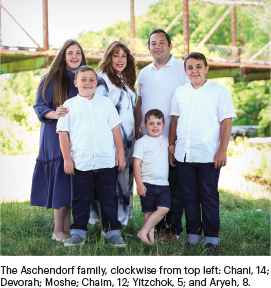 Throughout my cancer journey, what helped me maintain a positive attitude, even during the difficult days following my cancer relapse, was the optimism of my oncology team. My oncologist assured me all along the way that I would have a good outcome, and his reassurance kept me moving forward without falling into despair. Giving patients encouragement goes a long way to helping them get to the other side of survivorship.
I'm grateful to my oncology team and to my family—especially my husband—for helping me get back to the life I love. I don't take their effort and support for granted. Every day is precious to me, and I live each one to the fullest. 
Ms. Aschendorf lives in Brooklyn, New York.
Editor's Note: Columns in the Patient's Corner are based solely on information The ASCO Post received from patients and should be considered anecdotal.
---