Gastrointestinal Oncologist Focuses on Both the Art and Science of Treating Patients With Cancer

Chloe Atreya, MD, PhD, was born and reared in Ann Arbor, Michigan. Her mother is a poet, and her father is a planetary physicist and a professor at the University of Michigan. "Some of my early memories that influenced my decision to go into medicine stem from conversations I had with my father about space and science," shared Dr. Atreya. "Although I'd thought about becoming an artist, which is still a big part of my life, I ultimately decided to do something more grounded in helping people. Moreover, as a kid, I read about this doctor who was an MD-PhD and remember thinking that it was something I'd like to do also, so that kind of set my path forward."

Chloe Atreya, MD, PhD
Early Exposure to Science
During high school, Dr. Atreya was fortunate to have husband-and-wife biology teachers who helped nurture her love of science by facilitating some summer experiences working in the laboratory with luminaries such as Drs. Francis Collins and Betsy Nabel. "I didn't do anything remarkable during that time, but just being around scientists of that caliber further excited my love for medicine and research," she commented.
After graduating from high school, Dr. Atreya entered Princeton University for her undergraduate work. "I worked in visual arts, doing zinc etching, which was across the hall from the chemistry lab, where I was working with Dr. Kevan Shokat. He was one of the pioneers of kinase chemistry in the 1990s; at the time, most in the field thought that designing specific inhibitors was not feasible. An inspirational mentor, Dr. Shokat suggested I choose a path either in graduate school or in medicine because bridging the two was unlikely to be successful, but I pursued it anyway. I chose Yale University to pursue my MD-PhD, in large part because of its terrific art school—I was active in the New Haven art scene all through my studies," said Dr. Atreya.
Decision to Pursue Oncology
During medical school, Dr. Atreya knew that she wanted to pursue a specialty that involved whole-person care in challenging clinical settings. "I was toggling between infectious disease or cancer, and it was ultimately meeting patients with cancer that steered me into oncology. I was also fortunate to have a couple of mentors on my thesis committee who were oncologists and cancer researchers, and their explanations of the field really helped seal my decision. Oncology offered an opportunity to pursue the science that I loved and be involved in intimate whole-person care," said Dr. Atreya.
Also during medical school, Dr. Atreya suffered the tragic death of her partner. She then followed a previously talked about path out west, where she matched for residency at the University of Washington (UW). "Residency at UW was a great experience. It gave me the opportunity to get out into the natural world in the Pacific Northwest, which truly gave me the chance to replenish during a difficult period. When I moved to Seattle, I thought I would be settling there; however, I didn't find a mentor as compelling as Kevan Shokat, so I interviewed at the University of California San Francisco (UCSF) with Kevan, who'd moved there. I finally decided that it was the right fit for me and my career objectives. I did my medical oncology fellowship here and never felt the desire to go elsewhere," said Dr. Atreya.
Back to Normal, Slowly
Dr. Atreya noted that her daily work life at UCSF is beginning to regain its prepandemic shape, although the process is still evolving. "Like everyone else, my work during the pandemic was guided by a lot of Zoom meetings and clinical interactions. But now that we've moved past the worst of the lockdown procedures, I've gone back to seeing patients and focusing on research, as my career bridges clinical medicine and research. Although I don't have a dedicated lab, I work in collaboration with an assortment of terrific scientists from the ­university and the pharmaceutical industry. I love biking around town, meeting with different individuals, and sparking ideas that might lead to a project," she said.
Dr. Atreya continued: "For me, it is truly exciting to explain to my patients with cancer about the research that is driving the novel treatments they might be receiving in a way that makes sense to them. On the other side, I also find it rewarding to tell researchers about the experiences of patients with cancer who are receiving treatments, which is an important component in the bigger picture of research; after all, we do it for our patients."
Bridging Science and Medicine
Dr. Atreya explained that, in her early days working in the laboratory with Dr. Shokat, she thought she'd continue in bench research and eventually run her own laboratory. "I wrote a K08 grant, but as soon as I submitted it to the National Cancer Institute, I had an inner conversation; I realized I was interested in the science and analysis but didn't want to devote myself to conducting experiments, doing Western blots and cell culture, and so forth. It got funded, and we conducted the research. However, it was a turning point in that it really defined the collaborative approach to research I eventually decided on," she reflected.
Dr. Atreya's current research focuses on BRAF and KRAS mutations in colorectal cancer. "In colorectal cancer, until recently, the evolution of biomarkers has been primarily to inform who not to treat rather than to identify patients who will benefit from treatment. That is starting to change, but single targeted therapies tend not to work. So, my research looks at optimizing combination strategies," she explained.
Dr. Atreya is also the principal investigator on several clinical trials. Her current projects span studying the impact of the gut microbiome on the metabolism of oral chemotherapy, novel strategies for targeting genetically defined subsets of metastatic colorectal cancer, and the Being Present mindfulness meditation program for patients with advanced cancer and caregivers.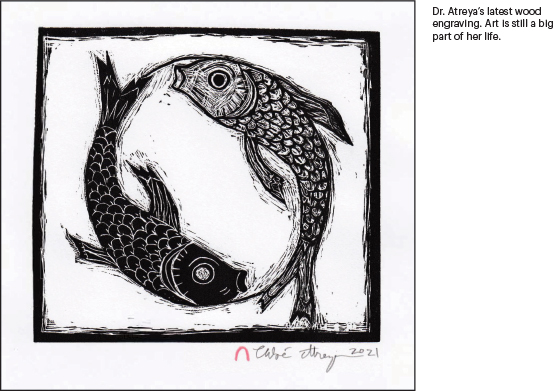 Helping Patients to Live as Well as Possible
"I'm very involved in mentoring, which is another way that I can contribute to efforts that reduce cancer care disparities and challenges in inequity and inclusion within the oncology community. I also have come to recognize that the arc from scientific ideas that will ultimately help patients is very long, which is typically not in the lifetimes of my patients. To that end, I co-direct the Integrative Oncology Program at UCSF, which is a way to help patients with cancer live as well as possible. Given that most of my patients have metastatic colorectal cancer, my goal is to help them have the best quality of life possible. Patients' experiences living with cancer also impact their families and communities for years to come," shared Dr. Atreya.
What does a busy leader in oncology do to decompress? "I bike with friends and am involved with the meditation community here in the Bay Area, so that helps me decompress. I also have maintained my visual arts practice, which is totally immersive. Although I'm very busy and have a challenging career, I love what I do, so that itself produces its own form of harmony." 
DISCLOSURE: Dr. Atreya has received institutional research funding from Bristol Myers Squibb, Merck, Novartis, Gossamer Bio, Guardant Health, and Kura Oncology; and has served as an advisory board member for Pionyr Immunotherapeutics, Pfizer, Inivata, and Array BioPharma.
---