Former Medical Director at Princess Margaret Cancer Centre to Lead New Commission on Global Cancer Care

Mary Gospodarowicz, MD, FRCPC, former Medical Director of the Princess Margaret Cancer Centre, will co-chair a new The Lancet Commission on cancer and health systems as it examines global cancer care and health systems. The Commission will work over the next 2.5 years, drafting a final report with recommendations. Its task is to identify pathways that improve access to technology and innovations that provide more equitable cancer control while also strengthening health systems to be better prepared for challenges that include future pandemics.
Dr. Gospodarowicz held the leadership post at Princess ­Margaret Cancer Centre for more than 15 years, until 2020. She will lead the group of 33 commissioners together with Felicia Knaul, PhD, Professor at the Miller School of Medicine and Director of the University of Miami Institute for Advanced Study of the Americas, and Patricia Garcia, MD, MPH, PhD, Professor at the School of Public Health at Cayetano Heredia University in Lima and the past Minister of Health in Peru.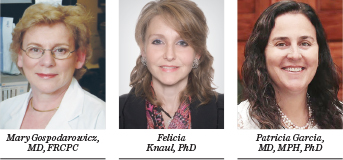 Cancer and COVID-19
Dr. Gospodarowicz said the COVID-19 pandemic has spurred change in health systems around the world as they grappled with the disease, large patient volumes, and rapid vaccine development. That energy and innovation can be harnessed to prepare for a growing wave of cancer cases anticipated in the coming years, she noted. "COVID-19 came and everyone banded together to fight it," she said. "But because cancer is complicated and also requires a lot of resources, it has been largely ignored…. The Commission will advocate for better cancer systems and improved outcomes that also strengthen the health systems."
With more than 400 different types of cancer and constantly evolving technologies and research, as well as geographic disparities when it comes to available treatments, the Commission will also focus on equity. "The issues may be different in Canada than in South Africa, or Ghana, or Brazil," Dr. Gospodarowicz noted. "We're going to try to determine what we can learn from each other." 
---