Conquer Cancer Names Inaugural Recipients of ASCO Registry Research Grants

Conquer Cancer, the ASCO Foundation, is pleased to announce the recipients of its 2021 ASCO Registry Research Grants. 
Conquer Cancer established the ASCO Registry Research Grant to support research using data derived from the ASCO Survey on COVID-19 in Oncology Registry (the "ASCO Registry"). The ASCO Registry informs the cancer community about the patterns of symptoms and severity of COVID-19 among patients with cancer, as well as how COVID-19 is impacting the delivery of cancer care and patient outcomes.  
The award is designed to provide funding to qualified clinical oncology, health services, or data science researchers to support the rapid analysis of ASCO Registry data, manuscript development, and dissemination of findings into high-impact scientific, peer-reviewed manuscripts. Each study will be led by a principal investigator who will work with a United States–based research team that includes an oncology clinician and a data scientist/biostatistician.
"We are excited to support these three innovative projects that will harness the power of this national registry to understand the impact of the COVID-19 pandemic on cancer care delivery and outcomes," said Gabrielle Rocque, MD, Chair, ASCO Registry Research Grant Review Committee.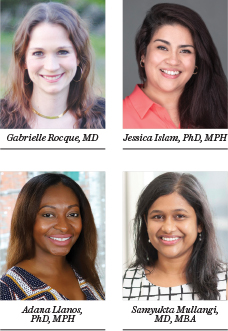 Each 1-year grant provides research funding of $30,000 and access to de-identified ASCO Registry data for the purpose of conducting the recipient's research project. Funding for this program is provided by Conquer Cancer's COVID Impacts Cancer Fund.
The 2021 recipients of the ASCO Registry Research Grants are:
Jessica Islam, PhD, MPH, of H. Lee Moffitt Cancer Center & Research Institute, "Evaluating Disparities in Cancer Care and Treatment Disruptions Among Cancer Patients With COVID-19 in the United States"
Adana Llanos, PhD, MPH, of Rutgers School of Public Health and Cancer Institute of New Jersey, "Evaluating Inequities in COVID-19 Severity and Long-Term Health Outcomes Among Cancer Survivors in the ASCO Registry"
Samyukta Mullangi, MD, MBA, of Memorial Sloan Kettering Cancer Center, "Impact of COVID Diagnosis on Cancer Treatments."  
Disclosure: The ASCO Registry Grants are supported by Amgen, AstraZeneca, BeiGene, Blueprint Medicines, Boehringer Ingelheim Pharmaceuticals, Bristol Myers Squibb, Daiichi Sankyo, Deciphera Pharmaceuticals, EMD Serono, Epizyme, Exelixis, Genentech BioOncology, Gilead Sciences, Helsinn, Incyte Corporation, Janssen Pharmaceutical Companies of Johnson & Johnson, Lilly, Merck & Co., Natera, Nebraska Oncology Society, Novartis Oncology, Novocure, Pfizer Oncology, Sanofi Genzyme, Seagen, Taiho Oncology, and Takeda Oncology.
© 2021. American Society of Clinical Oncology. All rights reserved.
---