Three Scientists at Johns Hopkins Tapped to Join Exclusive Research Network

Among the first 45 members selected to join the 10x Genomics Visium Clinical Translational Research Network are 3 scientists from Johns Hopkins Kimmel Cancer Center. The organization is aimed at advancing translational research in some of the world's leading health problems, including oncology, immuno-oncology, neuroscience, infectious disease, inflammation and fibrosis, and COVID-19. The new members are:
Elizabeth Jaffee, MD, the Dana and Albert "Cubby" Broccoli Professor of Oncology and Deputy Director of the Kimmel Cancer Center
Elana Fertig, PhD, Associate Professor of Oncology, with secondary appointments in the Departments of Applied Mathematics and Biomedical Engineering
Luciane T. Kagohara, PhD, Instructor in Oncology.
They will partner in this new collaborative network to advance spatial gene-expression technology and explore immunotherapy in gastrointestinal cancers, including liver and pancreatic cancers. Using single-cell and spatial technologies on tumor samples from patients participating in clinical trials, the scientists will attempt to understand the effect of immunotherapies on tumor cell and immune cell populations.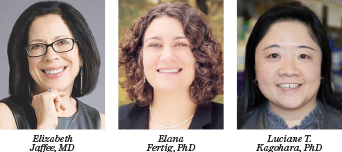 Detecting Responses to Immunotherapy
Single-cell sequencing technology offers a detailed view of tumor composition and enables measurement of all cell types in the tumor and their function. With recent advances, it's possible to "zoom in" on spatial features and identify how the cells interact with one another without dismantling the tumor samples. This approach can help scientists and clinicians discriminate between treatment resistance built into the tumor and resistance acquired during and after treatment.
"Essentially, it gives researchers the ability to reveal and understand the instruction manual for every single cell in the tumor and immune cells and how their distribution in space is driving cancer development and response to immunotherapies," said Dr. Kagohara. The researchers hope to learn why immunotherapy often works well in one patient but not in another. "If we can understand these mechanisms, we can choose therapies better," she noted.
The researchers also expect to uncover biomarkers of response that will guide therapy, from immunotherapies aimed at immune checkpoints that will release restraints on the immune system to the addition of targeted drug therapies that could work in combination to break through cancer's resistance to treatment.
Bringing Experts Together
Dr. Jaffee is Director, Dr. Fertig is Associate Director, and Dr. Kagohara is a member of the new Convergence Institute at the Johns Hopkins Kimmel Cancer Center. The organization unites experts from disciplines throughout The Johns Hopkins University to push the boundaries of collaboration across disciplines, such as astronomy and mathematics, to look at cancer in new ways, to advance understanding of the disease, and to ultimately improve treatment options.
"The 10x Genomics Visium Clinical Translational Research Network gives us the opportunity to expand these collaborations to a global scale," said Dr. Fertig. "These technologies and added fields help us understand how tumors respond to therapy in a new way."
---