Study Indicates Delaying Antiviral Treatment May Boost Immunity in Stem Cell Transplant Recipients

A team of cellular-therapy specialists from Roswell Park Comprehensive Cancer Center has found that patients who develop cytomegalovirus (CMV) infections after allogeneic stem cell transplantation may be able to develop an immunity against the virus, strengthen their immune system, and reduce reliance on strong antiviral medications. These findings have been published in the journal Biology of Blood and Marrow Transplantation.1
A Roswell Park team led by George Chen, MD, Theresa Hahn, PhD, and Philip McCarthy, MD, studied 315 patients who received hematopoietic stem cell transplants from an allogeneic donor between 2008 and 2015 to determine how many experienced CMV reactivation and developed anti-CMV immune responses following their transplants.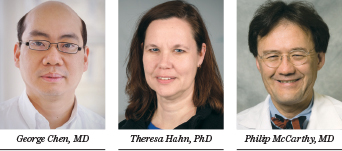 Allogeneic stem cell transplant is a common treatment for several leukemias and other blood cancers. Many patients undergoing allogeneic bone marrow transplant will experience CMV. CMV reactivation, which can occur in about 25% to 30% of transplant recipients, is associated with few clear symptoms. Unchecked, it can develop into a more serious infection that can damage the lungs, colon, liver, or retina.
Study Details
The research team examined the immune responses of patients to CMV reactivation in the first 365 days after transplantation. They found that those who reactivated CMV and developed three or more CMV-specific T cells per microliter of blood were less likely to subsequently reactivate CMV.
By testing patients for the presence of CMV antigen-specific T cells, the authors concluded, medical teams can determine whether CMV could be controlled by the patient's immune system alone without medication.
"Some patients are always reactivating CMV because they haven't developed immunity and need to continue taking anti-CMV drugs," said Dr. Chen, an Associate Professor of Oncology in the Department of Medicine at Roswell Park. "At some point, they have to come off the drug. To determine when they can come off, we can measure the number of CMV-specific T cells in the blood to establish whether they have CMV immunity. Once they develop immunity, they have a greater chance of not reactivating the virus again and can come off the drug." 
Although further research in this area is needed before clinical practice is routinely changed, the team's findings show that it may be beneficial to allow patients, under careful supervision, to develop a low-level viral infection without immediately providing medication.
Disclosure: The study was supported by research funding from Immudex and by Roswell Park's core grant from the National Cancer Institute (project no. P30CA016056). For full disclosures of the study authors, visit www.bbmt.org.
Reference
1. Chen GL, Wallace PK, Zhang Y, et al: Low-level cytomegalovirus antigenemia promotes protective cytomegalovirus antigen-specific T cells after allogeneic hematopoietic cell transplantation. Biol Blood Marrow Transplant. July 25, 2020 (early release online).
---