Art in Oncology: How Patients Add Life to Their Days

The ASCO Post is pleased to reproduce installments of "Art of Oncology" as published previously in the Journal of Clinical Oncology. These articles focus on the experience of suffering from cancer or of caring for people diagnosed with cancer. They include narratives, topical essays, historical vignettes, poems, and photographic essays. To read more, visit ascopubs.org. The following article originally appeared in the April 1, 2011, issue of the Journal of Clinical Oncology.
Meet Mike. He's a bright, middle-aged man who is living with advanced lung cancer. His journey, like those of most patients with cancer, has been a roller coaster of successes and setbacks—therapies that have worked for a time and then failed, promising treatments that have fallen short, good days, lousy days, and everything in between. Through it all, he has battled his disease with an iron determination. When things turn sour, Mike gets right back up to fight another day. He also has done some interesting, meaningful things along the way, including traveling to the Grand Canyon, taking steel drum lessons, and building a stone patio in his backyard.

"For some patients, art is a way to leave behind something tangible, a palpable reminder, perhaps. For others, art is an escape, a brief vacation from the roller coaster."

— Evan J. Lipson, MD




Tweet this quote



Having a patio installed was something he and his wife had discussed previously, but once Mike was diagnosed, he decided he wanted to do the work himself. In discussing his decision, Mike remarked, "You start thinking about things that you have been putting off or planning to do 'someday,' and you realize that 'someday' may not come and you better get on with it."
In addition to being an outlet for his creativity and a symbol of his strong, positive attitude toward life, Mike felt that the patio project was "therapeutic, physical, and something that I could control and have a sense of accomplishment about."
Illness Inspires Creativity
In getting to know my patients, I have learned about the unique and remarkable ways that people living with cancer make the most of their time. Several themes have emerged: exercising, leaving a legacy, activism, building relationships, and giving are among them. One theme in particular—creating something—seems for many patients to be especially powerful.
For some patients, illness inspires creativity. Saddled with the reality of a foreshortened or cruelly altered life, patients channel emotions into myriad forms of expression, some of which they have never tried before. Some creations would be easily recognized as art—painting, pottery, music, poetry, and sculpture, for example. Other endeavors are less commonly called "art" but are equally inspired. That list might include cooking, gardening, yoga, meditation, or, in Mike's case, building a patio.
For many patients, art, as a form of personal expression, satisfies a need. People living with a serious illness develop novel, often overwhelming feelings that defy expression by the usual means. For them, art is the chance to get out what is inside: feelings that simply cannot be relayed with words alone. For some patients, art is a way to leave behind something tangible, a palpable reminder, perhaps. For others, art is an escape, a brief vacation from the roller coaster.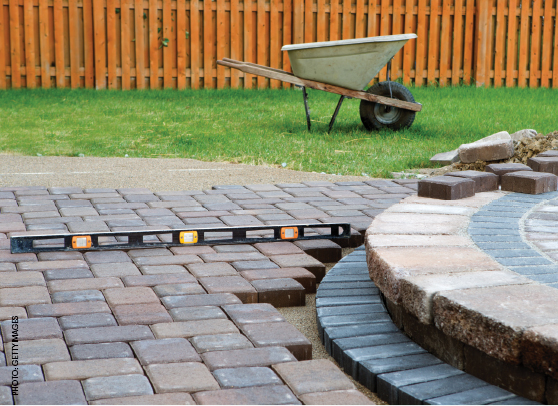 PHOTO: GETTY IMAGES
We have just scratched the surface in terms of how involvement in various artistic endeavors can help patients. In 2004, about one-quarter of U.S. hospitals offered some sort of arts programming for their patients. That number will likely rise, given the results of several studies showing the powerful, and sometimes unexpected, effect art can have on a sick person's well-being.
Early Research
A 1999 report by Smyth et al1 showed that expressive writing can have profound and surprising effects on two chronic and debilitating conditions: asthma and rheumatoid arthritis. The authors of the study recruited about 100 patients, each with one of those two diseases. Each patient was examined to evaluate the severity of his or her disease at baseline. Participants were randomly assigned to one of two groups: the first group was "assigned to write about the most stressful experience that they had ever undergone." The second group was "asked to describe their plans for the day." Each participant was put in a private room and asked to write for 20 minutes each day for 3 consecutive days. Patients were evaluated three times following the assignment: at 2 weeks, 2 months, and 4 months after writing.
Among the patients with asthma, those who wrote about a stressful experience experienced a 19% average improvement in their lung function. The improvement in the patients who wrote about their plans for the day was negligible—around 2%. Of patients with rheumatoid arthritis, the pattern was similar. The "stressful experience" group showed symptomatic improvement, whereas the "plans for the day" group did not change.
A study published in 2006 looked at the effect of art therapy on relieving symptoms of cancer, such as pain, fatigue, nausea, depression, anxiety, drowsiness, lack of appetite, and shortness of breath.2 Fifty patients with cancer rated the severity of nine symptoms before and after participating in a 1-hour art therapy session. In eight of those nine categories, patients experienced significant improvement after the session. Additionally, the authors noted that patients "overwhelmingly expressed comfort with the process and desire to continue with therapy."
Several similarly designed studies of patients with cancer revealed comparable results. A 2011 review of the literature examined 12 studies wherein researchers assessed the effect of art therapy on the "emotional, physical, social, and global functioning, and existential/spiritual concerns" of patients with cancer.3 The authors of the review found that the "symptoms most frequently improved by art therapy were psychological, with accompanying improvements to global quality of life and coping." However, the authors concluded, "research in this area is still in its infancy."
The benefits of creativity are not limited to the creators. Being on the receiving end of art therapy also has its benefits. One particularly interesting study published in 2005 involved about 60 pediatric patients who needed electroencephalography.4 The evaluation of seizure activity can be lengthy and arduous—electrode placement, sleep deprivation, and more—so kids often require sedation during testing. One commonly used sedative, chloral hydrate, is generally well tolerated but can cause vomiting, diarrhea, confusion, dizziness, and, ironically, agitation.
The study authors hypothesized that "soothing music using voice, guitar, and soft percussion," administered by a licensed music therapist, would provide comfort and encourage relaxation in pediatric patients that would be equivalent, and therefore a viable alternative, to medications like chloral hydrate. To test their theory, the researchers assigned each study participant to receive either chloral hydrate or music therapy in preparation for an EEG. Thirty minutes after initiation of either therapy, an EEG was performed. Investigators recorded the length of time the sedation lasted and whether or not the EEG could be completed after the assigned therapy.
The results were statistically significant: 30 minutes after initiating the sedating intervention, only half the patients who received chloral hydrate were sufficiently relaxed. However, 97% of patients who received music therapy were adequately sedated. Music beat out medicine by nearly 2 to 1.
Practitioners, too, may be helped by the creative process. A 2003 study examined how a -"creative-project assignment" helped medical students "explore various aspects of their professional development."5 Researchers asked students during their third-year internal medicine clerkships to complete a creative project "reflecting on a particularly problematic or meaningful illness-related incident." The students explored relationships of medical students to patients, issues of death and dying, illness from a patient's perspective, and handling stress.
After qualitative analysis of the projects, the educators concluded that "a creative-projects course component can be a valuable adjunct to traditional clerkship activities in helping students to reflect on the process of becoming a physician." Likewise, in a 2005 essay, two palliative care physicians opine that "reading and writing poetry can help physicians, especially those who care for dying patients, become more reflective, creative, and compassionate practitioners."6
The Value of Art
My patients who, at some point in the course of fighting their disease, have been moved to pursue some form of artistic expression have found relaxation, solace, calm, catharsis, and healing. Some of their works have survived them, and, in an "art-as-legacy" phenomenon, many of my patients live on through their creations.
My recommendations to patients about their own creative expression are simple:
What you end up creating is not important. What matters is that the process feels good, perhaps because it lets you express an emotion, creates a sense of accomplishment, helps with relaxation, or works toward an established goal.
Do not judge what you create against a standard. A project is worthwhile because it comes from inside you. By the same token, it is okay to try something and decide you do not like it. Move on to something else.
As we strive to give our patients the best quality of life for as long as possible, perhaps examining the ways in which they themselves add meaning to their days will guide us in counseling them at various stages of illness. Whatever form creative expression takes—painting, pottery, poetry, prose, or patios—it has benefits we are just beginning to understand. 
DISCLOSURE: Dr. Lipson reported no conflicts of interest.
REFERENCES
1. Smyth JM, Stone AA, A Hurewitz A, et al: Effects of writing about stressful experiences on symptom reduction in patients with asthma or rheumatoid arthritis: A randomized trial. JAMA 281:1304-1309, 1999.
2. Nainis N, Paice JA, Ratner J, et al: Relieving symptoms in cancer: Innovative use of art therapy. J Pain Symptom Manage 31:162-169, 2006.
3. Wood MJ, Molassiotis A, Payne S: What research evidence is there for the use of art therapy in the management of symptoms in adults with cancer? A systematic review. Psychooncology 20:135-145, 2011.
4. Loewy J, Hallan C, Friedman E, et al: Sleep/sedation in children undergoing EEG testing: A comparison of chloral hydrate and music therapy. J Perianesth Nurs 20:323-332, 2005.
5. Rucker L, Shapiro J: Becoming a physician: Students' creative projects in a third-year IM clerkship. Acad Med 78:391-397, 2003.
6. Coulehan J, Clary P: Healing the healer: Poetry in palliative care. J Palliat Med 8:382-389, 2005.
Dr. Lipson is Associate Professor of Oncology at the Sidney Kimmel Comprehensive Cancer Center, The Johns Hopkins University School of Medicine, Baltimore.
---