Oncology Organizations Remember Senator John McCain

U.S. Senator from Arizona John McCain passed away on August 25, 2018. The cause of death was glioblastoma multiforme. A number of medical societies issued statements remembering Senator McCain, a few of which are reprinted below. The ASCO Post shares in remembering Senator McCain for his service to the United States and his commitment to funding for medical research. We extend our condolences to Senator McCain's family.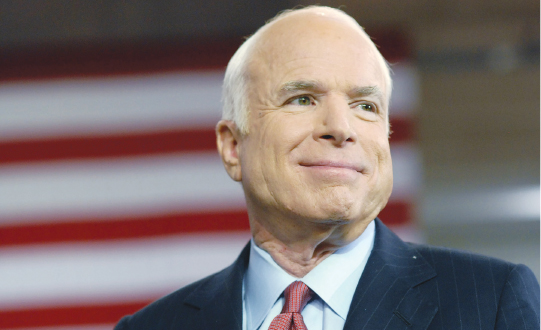 Photo courtesy of Office of the Arizona Governor
ASCO
ASCO President Monica M. Bertagnolli, MD, FACS, FASCO, issued the following statement:
"The American Society of Clinical Oncology (ASCO) mourns the passing of Arizona Senator John McCain from glioblastoma multiforme. During his more than 30 years in Congress, Senator McCain represented a bipartisan spirit and a commitment to his country that will be truly missed.
"Senator McCain advocated for many issues of importance to ASCO and its members, including U.S. Food and Drug Administration regulation of tobacco products, interoperability of electronic health records, and medical research supported by the National Institutes of Health. A survivor of recurring melanoma, he was also steadfast in raising awareness on the importance of wearing sunscreen to prevent skin cancer whenever he could. His struggle with [glioblastoma multiforme], an aggressive form of brain cancer, is a painful illustration of the need for critical research that will accelerate progress against this disease.
"ASCO extends its deepest sympathy to Senator McCain's family and will continue to work with Congress to carry out his legacy of building consensus on issues impacting our nation."
National Cancer Institute
National Cancer Institute (NCI) Director Norman E. Sharpless, MD, issued the following statement:
"The passing of Senator John McCain is a moment of true sadness for our country. Few have served this country for so long and with such commitment and distinction.
"Even as he underwent treatment for an aggressive brain cancer, Senator McCain continued to play an active role in Congress—something that comes as no surprise, given his lifelong legacy of dedication and service.
"Shortly after his diagnosis in July 2017, Senator McCain received treatment at the [National Institutes of Health (NIH)] Clinical Center, under the care of NCI physicians and nurses. In November of last year, in a kind and gracious speech on the Senate floor, he thanked those at NCI who directly provided that care.
"During that speech, he also took the time to thank all of those engaged in cancer research and care, hailing what he called the 'patient forms of bravery exemplified by our doctors and nurses and research scientists.'
"To be called brave by a courageous and upstanding man like Senator McCain is very high praise. Senator McCain, and his upholding of the ideals of commitment to a greater good, will be dearly missed."
American Medical Association
Barbara L. McAneny, MD, President of the American Medical Association, issued this statement:
"Few people have served our country with as much distinction as Senator John McCain. His remarkable impact on health care was in keeping with the way he lived his life and served his nation—doing what he felt was right, even when it was not easy—putting his fellow citizens above politics. Today, we honor Senator McCain's life, mourn his death, and wish condolences to his family."
American Association for Cancer Research
The American Association for Cancer Research (AACR) issued the following statement:
"On behalf of the board of directors of the AACR and the 40,000 laboratory researchers, physician-scientists, other health-care professionals, and patient advocates who constitute our national and international membership, we are deeply saddened by the loss of Senator John McCain, who passed away [August 25, 2018] after battling one of the most lethal cancers, [glioblastoma multiforme].
"Senator McCain was an extraordinary leader in Congress for more than 30 years, which included a steadfast commitment to and support for the medical research that is funded by the [NIH]. Senator McCain consistently recognized the extraordinary public health benefits of the medical research that Congress and America's taxpayers make possible each year through the NIH, and he talked frequently about how research extends, improves, and saves the lives of so many Americans." ■
---