ASCO Answers Palliative Care: A Resource for Your Patients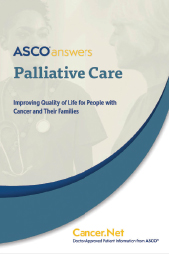 THE ASCO ANSWERS Palliative Care booklet shares how palliative care or supportive care is used to manage symptoms and side effects; help with practical concerns; address spiritual questions; and support caregivers, family, and friends. Your patients will find:
Practical advice on how to access palliative care services
Questions to ask the health-care team
A list of national organizations that can provide further assistance
A dictionary of important terms in palliative care.
Help your patients better understand their prognosis and goals of treatment, clarify their expectations, and maintain their quality of life. Download a free printable PDF of the booklet at www.cancer. net/palliative, or visit www.cancer.net/estore to order a pack of 50 booklets for $20 ( just $0.40 each) and give your patients the support they need. Free domestic shipping, and ASCO members save 20%. ■
© 2018. American Society of Clinical Oncology. All rights reserved.
---