Fever Therapy for Cancer
Fifth Avenue Hospital, New York City, 1931

The text and photograph on this page are excerpted from a four-volume series of books titled Oncology Tumors & Treatment: A Photographic History, by Stanley B. Burns, MD, FACS. The photo below is from the volume titled "The Radium Era 1916–1945" by Stanley B. Burns, MD, FACS, and Elizabeth A. Burns. The photograph appears courtesy of Stanley B. Burns, MD, and The Burns Archive. To view additional photos from this series of books, visit burnsarchive.com.
Fever therapy became firmly established as a significant therapeutic modality during the first decades of the 20th century. Physicians in this era believed the heat of a fever assisted in the control of numerous infections by killing the infective organism as it traveled through the bloodstream. Various methods were employed to artificially raise the body temperature, referred to as "burning out." This therapy sometimes included infecting a patient with typhoid or malaria products. Syphilis, one of the greatest scourges of all time, was actually treated successfully by this means. 
"Burning out" was also a term used for the external application of caustic chemicals to destroy disease. It seemed a good idea, as caustic chemicals were already a mainstay of cancer therapy, but the biologic methods proved hazardous and could not be used in all conditions. A modulated electrical-based device of some kind was thought to offer greater potential, so various "fever machines" were engineered.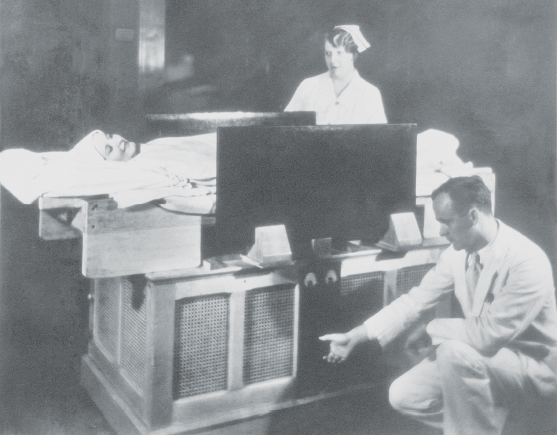 In 1880, Pierre and Jacques Curie discovered the phenomenon of piezoelectricity, a form of electric polarity in crystals, and in the 1920s, these materials were used by Paul Langévin in developing ultrasound. Albert Szent-Gyorgi, MD, published the first report recommending the use of the therapeutic heating effect of ultrasound as a therapy for cancer in 1933. He won the 1937 Nobel Prize for his discovery of the biologic combustion mechanisms, especially of vitamin C, which he had also isolated. Large ultrasonic heating machines were soon produced for this treatment, and by the end of the 1930s, full-body–encasing fever machines were built to treat infectious disease and cancer patients in major American medical centers. These machines physically resembled the iron lungs of this era. 
Fever Machines in Action 
THIS IS A PHOTOGRAPH of a newly installed fever machine at the Fifth Avenue Hospital in New York City. The press release noted: "The machine induces artificial fever into the human body by the means of short radio waves.... The radio waves in oscillating between the black plates heats the bloodstream and body tissue, much as does nature, thus killing off the alien germ." 
Although the new treatment theories were genuine, the public presentation of these devices fostered a large group of quackery machines used by unscrupulous individuals to fraudulently treat cancer patients. Fever machines were discarded when antibiotics were developed in the 1940s. About the same time, in 1942, a new door in cancer treatment was opened when Cornelius Rhoads, MD, created the first successful chemotherapeutic agent using nitrogen mustard. ■
---