FDA Pilot Program Aims to Encourage Students to Pursue STEM Careers


Richard Pazdur, MD
When I was in high school, I spent summers working as a restaurant dishwasher, grocery store stock boy, and gardener in northwest Indiana. The idea of spending those weeks learning about science and medicine would not have been an option for me at that time. Yet it is precisely those students who may not have access to specialized learning opportunities we need to attract to science, technology, and medicine to continue progress in these fields and ensure the diversity of our scientific workforce. 
In particular, oncology and hematology are falling behind other areas of medicine in the adequate representation of racial and ethnic minorities in the physician workforce. Only 2.3% of practicing oncologists self-identified as black or African American, and 5.8% self-identified as Hispanic in a 2016 survey by ASCO. According to census figures, 13% of the U.S. population is black or African American, and 18% is Hispanic.
Dr. Pazdur is Director of the Oncology Center of Excellence and Acting Director of the Office of Hematology and Oncology Products. This report originally appeared as a blog post on FDA Voice, July 2017. https://blogs.fda.gov/fdavoice/index.php/tag/ oce-summer-scholars-program/
That's part of the reason why the Oncology Center of Excellence recently launched its pilot Summer Scholars Program, designed to introduce students to oncology drug development and career opportunities in government, regulatory medicine, and cancer advocacy. With the cancer incidence expected to increase 45% by 2030, according to the National Cancer Institute, we will need the talents of many more tech-savvy students from diverse backgrounds furthering their studies in our medical schools and university science labs. 
Summer Program for High-School Students 
WE RECENTLY welcomed 11 Washington, DC, area high school students to the U.S. Food and Drug Administration (FDA)'s main campus in Silver Spring for 6 weeks—from June 26 to August 4. The group included students with a variety of backgrounds and experiences, including some who are part of a STEM (Science, Technology, Engineering, and Math) program at their schools and two who are childhood cancer survivors interested in biomedical careers. Students were required to be in good academic standing and at least 16 years old. 
CURRICULUM OVERVIEW
The FDA's Summer Scholars Program curriculum included basic and translational science, drug manufacturing, clinical trials, regulatory review, patient advocacy, and marketing.
Lectures were augmented by field trips to the National Institutes of Health, the National Cancer Institute, Howard University College of Medicine, and ASCO.
Students were introduced to patient advocacy lobbying with Kids v. Cancer and accompanied that group on a trip to Capitol Hill. They also attended a workshop at AstraZeneca.
Sara Horton, MD, a breast cancer clinical reviewer and one of three staff members in the FDA Office of Hematology and Oncology Products who collaborated to develop the program, said that partnering with the DC-area public schools was the first thing that came to her mind in planning this program. 
She told me that the objective was to focus on students who may never have had an opportunity like this, as well as childhood cancer survivors. Dr. Horton reminded me that high school is a very special stage of development, when students typically start thinking about where they fit in the world, what they should do, and who they should be. We were excited to introduce these young people with STEM aspirations to professions in science and medicine they may have never known existed. 
Curriculum Overview 
GREGORY REAMAN, MD, Associate Director for Oncology Sciences in Office of Hematology and Oncology Products and one of the program organizers, said the program was as interactive as possible for this age group. Most of the students did not have much, if any, exposure to the field of oncology, other than the survivors of childhood cancer.
Dr. Reaman, a pediatric oncologist, worked at a state mental hospital one summer. He says it confirmed his interest in medicine. We hope this experience will be as transformative for these students. 
The lecture curriculum covered what we called the "Basics of Oncology," including cancer treatments, endpoints for clinical trials, data analysis, statistics, pharmacy, microbiology, genetics, genomics, drug promotion, and patient advocacy. Students also had the opportunity to work on skills such as writing, networking, and communication and meet regularly with their mentors from the FDA staff. 
One-of-a-Kind Experience 
ALICE KACUBA, RN, MSN, Chief of the Regulatory Project management staff in the Office of Hematology and Oncology Products, and one of the program organizers, told me she hopes the agency's diverse staff will have left a lasting impression on the students. The Oncology Center of Excellence Summer Scholars Program was a pilot this year but could be expanded next year to high school students nationally. To learn more, visit FDA.gov. ■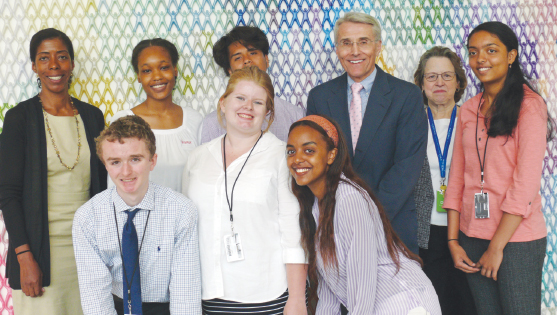 Oncology Centers of Excellence (OCE) Summer Scholars Program. Back row, left to right: Project Lead Sara Horton, MD, Diamond McCoy, Esteban Mejia, OCE Director Richard Pazdur, MD, Project Coordinator Alice Kacuba, RN, Pranusha Amencherla. Front row, left to right: Camden Wiseman, Serena Lommasson, Rahel Mideksa. Photo courtesy of FDA/Raymond Formanek Jr.
---