Addressing the Challenges of Intimacy After Cancer

BOOKMARK
Title: Sex and Cancer: Intimacy, Romance, and Love After Diagnosis and Treatment
Authors: Saketh R. Guntupalli, MD, and Maryann Karinch
Publisher: Rowan & Littlefield Publishers
Publication Date: June 2017
Price: $33.00, hardcover, 182 pages
The literature has documented the stress and damage that intimacy problems cause among women undergoing cancer treatment and during survivorship. A new book, Sex and Cancer: Intimacy, Romance, and Love After Diagnosis and Treatment, by Saketh R. Guntupalli, MD, and Maryann Karinch tackles the problem of intimacy and cancer in a short but dense narrative filled with tough case histories and solid suggestions on coping and moving forward. And the book never veers from or sugar coats this extremely difficult subject.
Sex and Cancer is divided into two parts: Part 1: Understanding the Impact and Part 2: Overcoming the Impact. There is also a helpful appendix and a glossary.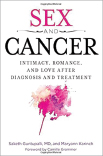 The authors come well prepared to tackle this tough territory. Dr. Guntupalli is Vice Chairman for Clinical Affairs and Quality, University of Colorado School of Medicine. He's also the principal investigator for the Gynecologic Oncology Group. His coauthor, Ms. Karinch, has published 26 books, mostly on human health and behavior. 
The impetus for their book was a study on sexual function that originated at the University of Colorado. The authors write: "When we saw the study results, we knew we had to do two things: tell women who had experienced breast or gynecological cancers that they had a lot of company if they had big disruptions in intimate relationships and tell them how to establish the 'new normal' in sexual functioning—one that could be even better than before cancer entered their life." 
The authors contend there is a large body of data showing that patients who are in intimate, strong relationships have better survival rates than patients who are not. Readers will have to take that good news on face value because it is not backed up in the endnotes. 
A chapter called "What Happens Next?" does a nice job in explaining how normal female sex works and how it will work during and after treatment, going through each gynecologic cancer. There have been many book chapters on this subject, but these authors are refreshingly detail-oriented. They follow up with examples of measurement tools that establish a baseline for what was normal intimacy prior to diagnosis. This section is jam-packed with information doctors will find useful. 
Finding a New Normal 
PROBABLY THE BEST chapter in the book is "The New Normal." It follows a third-grade teacher named Allis, who had what would be described as a good life until she was diagnosed with stage III ovarian cancer. The trip through the medical system for Allis and her husband, both medically naive, is nothing short of harrowing. To their credit, the authors resist the temptation to tug the readers' heartstrings, and their straightforward depiction of the ordeal hits home. Mistakes were made by Allis and a couple of her doctors. The list of surgeries performed is staggering. 
"Warts and all, Sex and Cancer has value-added content and frank discussions, which make it a worthwhile book for readers of The ASCO Post."

— Ronald Piana




Tweet this quote



At one point she and her husband attempt and fail at intimacy, leading to this gut-wrenching exchange. "You have a wife who is 49 years old and has no vagina, no way to have normal sex. You don't deserve this. You need to be able to find somebody who can satisfy you because I can't." 
The authors follow up Allis' drama with "Your New Normal," which digs deep into the intimacy crises that thread through the book and offers nuts-and-bolts suggestions, all backed by evidence, on how to confront and deal with cancer and intimacy. Most of the content is worthwhile, although some is a bit too long or a bit too hokey. A bit about instructing women to find an arousing place to have sex like the backseat of a car may grate readers' nerves. However, warts and all, Sex and Cancer has value-added content and frank discussions, which make it a worthwhile book for readers of The ASCO Post. ■
---