A New Manual for the Expanding Field of Bone Marrow Transplantation

BOOKMARK
Title: Clinical Manual of Blood and Bone Marrow Transplantation
Editors: Syed A. Abutalib and Parameswaran Hari
Publisher: Wiley Blackwell
Publication Date: June 2017
Price: $100.00, paperback, 424 pages
The first hematopoietic stem cell transplant was pioneered by E. Donnall Thomas, MD, and published in The New England Journal of Medicine in September 12, 1957. Although the six patients on his trial all died by 100 days post transplantation, Dr. Thomas remained undaunted, continuing his groundbreaking work in transplantation. In 1979, Dr. Thomas reported a 50% cure rate in patients with acute myeloid leukemia who were transplanted in first remission. Considered the "Father of Bone Marrow Transplantation," Dr. Thomas received the Nobel Prize in 1990 for his paradigm-changing work.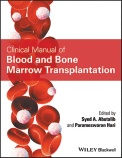 And after more than 50 years of tireless investigations, this procedure has become standard treatment of hematologic malignancies. Despite major advances, bone marrow transplantation is still a difficult and evolving field. A newly published clinical resource called Clinical Manual of Blood and Bone Marrow Transplantation is a valuable addition to the literature on transplantation. 
Well-Organized Format 
EDITED BY Drs. Syed A. Abutalib and Parameswaran Hari, the book provides a concise practical expert review in a well-organized format of 42 chapters, each annotated with numerous practical headings to enhance focused learning. Stem cell transplantation is highly specialized, and this book is targeted for teachers and clinicians in the field. Each of the 42 chapters focuses on a particular topic and provides numerous reference tables and figures. The structure provides a neat and handy compendium for daily work caring for bone marrow transplant patients. It also offers a complete set of instructions on how to set up a functioning transplant center. 
Before getting into the disease-specific science, the editors wisely use the first few chapters to bring readers up to speed on issues such as donor and graft selection strategies and human leukocyte antigen typing and the related implications. Although this book is specifically targeted for the transplant community, chapter 4, which offers a painstaking look at donor and recipient pretransplant evaluation, is meaty content for all oncologists and medical students in that it instructs clinicians in the crucial aspects of patient evaluation. 
For Nontransplant Readers 
TOWARD THE END of the book, there are even more chapters with crossover value for the nontransplant reader. In chapter 39, the authors provide detailed analyses on the prevention and treatment of infection, a huge issue in the hospital setting across the country. Moreover, since many of cancer patients are immunocompromised by their treatment, this chapter, with its clear tables and guidelines on infection and antifungal prophylaxis, is worth the read. 
Survivorship Issues 
SINCE THE FIRST successful allogeneic hematopoietic cell transplant in 1968, the number of these procedures performed annually has increased steadily, now surpassing 8,000 a year in the United States. Due to advances in the field, such as seen in graft-vs-host disease and less toxic treatments, posttransplant survival is also increasing. Currently, more than 30,000 transplant recipients are surviving beyond 5 years. 
"This book is recommended for The ASCO Post readers, especially residents and fellows who are interested in pursuing a career in blood cancers."

— Ronald Piana




Tweet this quote



Not surprisingly, the book's final chapter is devoted to survivorship issues after transplantation. However, it deals strictly with the medical challenges faced by transplant survivors, such as posttransplant risk factors and late infectious complications. Given this manual offers strictly clinical instruction, readers won't find here survivorship issues dealing with the psychosocial needs of cancer patients. In the book's last paragraph, the authors write: "As the number of [hematopoietic cell transplantation] survivors increase, care modeling focusing on collaboration with nontransplant physicians will become increasingly important." It certainly will. 
The expert authors of each chapter in the Clinical Manual of Blood and Bone Marrow Transplantation are part of that success story, and their up-to-date contributions to the field are elucidated in the clearest of terms in this worthy addition to the literature. This book is recommended for The ASCO Post readers, especially residents and fellows who are interested in pursuing a career in blood cancers. ■
---