The Best Oncology Lesson
My patient's comment, "Doctor, you have 400 patients, but I have only 1 doctor," changed my approach to the practice of oncology.

The following essay by Jimmie Harvey, MD, is adapted from The Big Casino: America's Best Cancer Doctors Share Their Most Powerful Stories, which was coedited by Stan Winokur, MD, and Vincent Coppola and published in May 2014. The book is available on Amazon.com and thebigcasino.org.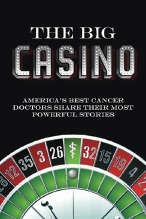 I was 2 months into my first-year fellowship at Georgetown Lombardi Comprehensive Cancer Center in Washington, DC, when I learned the best oncology lesson of my career. I owned a copy of DeVita, Hellman, and Rosenberg's Cancer: Principles and Practice of Oncology and had read Cancer Treatment Reports weekly since arriving at the cancer center and thought I knew everything. I knew I was an oncologist and had all I needed to know about taking care of patients with cancer. All this knowledge was predicated on my having been in the clinic with patients and their family members maybe 20 times during those first 2 months. What I thought I needed to learn was to understand how clinical trials are designed and recognize what protocols and new drugs would be effective, and, of course, on whom to use them and when.
A Patient With Lung Cancer
One Saturday evening, I was on call for the oncology service. I felt confident enough I wouldn't be needed to accept an invitation to a black-tie dinner given by a patient's husband at a diplomat's home on nearby Embassy Row. Around 7:00 PM, I was paged to the emergency room at Georgetown University Hospital. A patient I'd met a few weeks before was complaining of severe shortness of breath. The patient, a 60-year-old man from Eastern Europe, had recently been diagnosed with lung cancer. He'd had one treatment with the well-known chemotherapy regimen FAM (fluorouracil, doxorubucin, and mitomycin).
I could not fathom why this patient would choose to go to the emergency room on a Saturday evening. I'd seen how excitable he was in the clinic. I knew he was overly somatic (sensitive to his body) and his entire review of symptoms was positive. I was not the least bit happy, as I walked down the street to the emergency room to see him. I knew I would be late for the dinner and that my tardiness would be conspicuous.
I walked into the emergency room and inquired where the patient's room was and whether he'd had a chest x-ray. The x-ray was in his room, and I proceeded there, hoping to find a stable x-ray image and a nervous but essentially well patient. I walked into the room to find both the patient and his wife terrified. He was sitting bolt upright on the bed and was breathing at least 30 times per minute. I didn't need to look at the x-ray to see what was wrong because I knew he had a large pleural effusion (fluid in the space between the lungs and the chest wall).
Learning to Listen to Patients
By now my plans for the formal dinner were down the drain. Looking back, I am sure the patient and his wife read me like a book, because they both complimented me on my tuxedo and apologized profusely in haltingly accented English for interrupting my plans. It took a while to get set up for a thoracentesis, so I had a chance to sit and talk with the patient and his wife. They told me about their life in Eastern Europe, their struggles living under a harsh Communist regime, and the joy of finding political asylum in the United States. He'd brought his wife and five children with him; they'd been in the United States less than 2 years. An accountant in his former country, he was now reduced to working as a doorman in an apartment building.
In less than half an hour I had learned so much about this man and his family, far more than I had learned in our consultation a few weeks earlier. Now I understood the source of his anxiety. It was from having a frightening and debilitating disease, being in a strange country, and facing a very uncertain future. But his greatest anxiety was for the welfare of his family.

Every time I get an after-hours phone call or have a patient or family member say, 'Can I ask you one more question?' I remember that lesson given to me by a frightened patient nearly 30 years ago.

— Jimmie Harvey, MD




Tweet this quote



After the thoracentesis, he felt much better. I really believe he thought a medical intervention like this would make his cancer disappear every time it reared its head. We talked a few more minutes, and when I got up to leave, he asked me if I was still planning on going to my important dinner. It was 9:15 PM, so with a sigh I said, "No, but it's not a problem."
Again, he read me like a book and said, "I am sorry that I caused you such an inconvenience, but I really needed you." He then asked me, "Doctor, how many patients do you have to take care of in your practice?" As I put on my cufflinks, I answered, greatly exaggerating my position, "Around 400 patients." This was likely a tenfold exaggeration, but it inflated my sense of self-worth.
His reply changed my life and my approach to the practice of oncology: "Doctor, you have 400 patients, very good. I have only 1 doctor."
Being There for My Patients
Every time I get an after-hours phone call or have a patient or family member say, "Can I ask you one more question?" I remember that lesson given to me by a frightened patient nearly 30 years ago. I may be busy; I may have other things to do, but that person or family member, facing the most horrible problem in his or her life, has only me.
We live in an era when every day seems to bring a breakthrough in oncology care. I've known many great oncologists and have had many great mentors over my career, but my greatest lesson was given to me that Saturday night in 1982. My patient died later that fall.
In one evening, he had shaped me into the type of oncologist I likely would not have been without him. I am thankful to this day for his wisdom. ■
---