New: ASCO Answers Guide to Small Cell Lung Cancer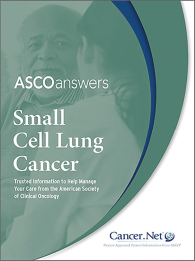 The new ASCO Answers Guide to Small Cell Lung Cancer can help people better understand their diagnosis and treatment options. Patients will find helpful, ASCO-approved information on treatment, follow-up care, and palliative care. The guide includes questions that patients can ask their health-care team; space to write down answers and make other notes; and checkboxes to help patients keep track of the tests, procedures, and treatments they will be receiving. The ASCO Answers Guide to Non–Small Cell Lung Cancer is also available.
To purchase copies of this guide, visit the ASCO University Bookstore at www.cancer.net/estore. ASCO members receive a 20% discount and free shipping. ■
© 2016. American Society of Clinical Oncology. All rights reserved.
---