This September, Triple Your Impact


Nancy R. Daly, MS, MPH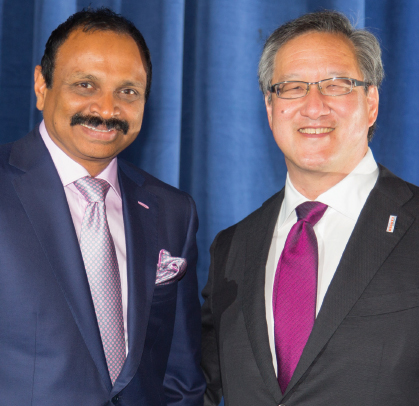 Raj Mantena, RPh, and ASCO Past President Peter Paul Yu, MD, FASCO, at the ASCO Annual Meeting.
At the 2015 ASCO Annual Meeting, the Conquer Cancer Foundation (CCF) launched The Campaign to Conquer Cancer—a comprehensive, $150 million fundraising campaign supporting breakthrough research and sharing vital knowledge with physicians, patients, and families. In support of The Campaign, CCF Board Member Raj Mantena, RPh, announced his intention to match individual donations to CCF dollar-for-dollar, up to $1 million, for the coming year.
This September, Mr. Mantena is raising the stakes: He will match all donations two-to-one, tripling the impact of gifts made between September 1 and September 30. In light of this, CCF has set a goal to raise $50,000 by September 30.
As with regular gifts, matching gift funds will support the Foundation mission area each donor selects. Options include the CCF Grants and Awards Program, Cancer.Net and ASCO's patient information program, CancerLinQ™ (ASCO's rapid learning system), and more. If a donor does not have a particular mission area in mind, he or she can always give to CCF's "Area of Greatest Need," supplying triple the support where it is needed most.
No matter which mission area a donor selects, all gifts count toward The Campaign to Conquer Cancer's $150 million goal. While Mr. Mantena's challenge means each donation goes three times as far, it also means that each gift brings the Foundation three times closer to realizing its vision: a world free from cancer.
 "We cannot thank Raj Mantena enough for his tremendous demonstration of support at this landmark moment in the Foundation's history," said CCF Executive Director and Chief Philanthropic Officer Nancy R. Daly, MS, MPH. "His generosity has a powerful impact on programs and resources advancing cancer prevention, treatment, and cures. We sincerely hope his matching gift challenge will inspire others to come together and give in the name of conquering cancer."
History has shown we can—and have—made progress: The cancer death rate has dropped 20% in the past 20 years thanks, in part, to the hard work of dedicated oncology professionals. But it is critical we continue this momentum, which cannot be maintained without the support of generous donors. Thanks to Mr. Mantena, your gift this September will triple the impact advancing progress against cancer.
Donors can participate in this matching gift challenge at conquercancerfoundation.org/match, or by mailing a check to the Conquer Cancer Foundation at P.O. Box 896076, Charlotte, NC, 28289-6076. Mail donations must be postmarked by September 30, 2015 to qualify for the two-to-one match period.
Will you step up to the challenge? ■
Originally printed in ASCO Connection. © American Society of Clinical Oncology. "This September: Triple Your Impact." ASCO Connection, September 2015. All rights reserved.
---