#WeConquerCancer: Creative Fundraisers From Committed Conquerors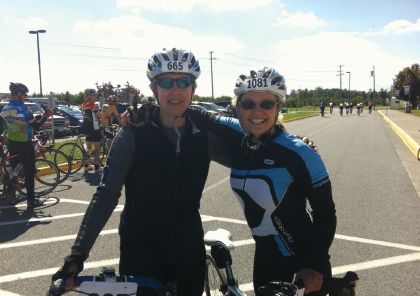 ASCO staff members Kirsten Goldberg (left) and Kristin Ludwig (right) biked a combined 150 miles and raised more than $5,600 for the Conquer Cancer Foundation.
Conquer Cancer Foundation donors are a consistently creative bunch when it comes to encouraging others to help conquer cancer: Tyler invited his friends and family to a charity spin class; elementary school students in Malibu, California, sold bracelets in honor of their principal; Steve competed in a half-Ironman and asked loved ones to donate in memory of his father; Jennifer and Sean asked that their guests give donations instead of china at their wedding.
The Conquer Cancer Foundation has recently adopted a set of online tools to make it easy for donors to create an online home for their creative fundraising efforts and share it with friends and family. Through the #WeConquerCancer program, fundraisers and event leaders can create a personalized website for their campaign through a simple, step-by-step process, recruit others to join their team, e-mail friends and family about their efforts, track donations, and send personal thank-yous to donors.
By creating and sharing an online campaign, fundraisers help to raise awareness and vital support for the Conquer Cancer Foundation's mission to fund breakthrough research and share cutting-edge knowledge.
Elizabeth's Story
Elizabeth Ralls had been fortunate not to experience cancer directly, but noted that as a member of the ASCO staff, "I work every day with people who fight to cure and treat it."
"I had read about folks shaving their heads for cancer research, which got me thinking: What can I do? I've had long hair for years—it's time it was put to good use!" Elizabeth said, and her choice of charity to support was simple. "I can tell you that the Conquer Cancer Foundation makes a real difference in the lives of both researchers and patients," she said.
Elizabeth created a website as part of a graduate school project, and challenged her family and friends to come together and donate $100 per inch of hair cut, ultimately raising a total of $500 and donating 10 inches of her hair to an organization that provides wigs for women with cancer.
Jeff's Story
Like so many families, Jeff Sear's family wasn't a stranger to cancer, but it wasn't until his uncle passed away from brain cancer early in 2013 that "it finally hit home."
"Growing up, I didn't get to know my uncle as well as I would have liked," Jeff said. "Even when I was old enough to make my own choices, I always figured 'once I really start to succeed in life, that's when we'll be close.' But I waited too long."
"It's hard not to experience loss without wanting to do something," he continued. "The loss made me reexamine my lifestyle and my priorities. It made me look at my own health, and I decided to do something about it."
Jeff had heard about others running distance for charity, but found that for him it didn't seem like that would be enough. "I wanted a change that people could see," he said. "Weight is something I, like many of us, struggle with. Making it a challenge about losing weight seemed ideal."
Jeff set a challenge for himself and shared it with family and friends asking that they pledge a $1 donation to the Conquer Cancer Foundation for every pound he lost. "It gave me motivation to work hard. It got the support of not only those affected by cancer, but also tied in people with interest in my health," he said.
Jeff's challenge led to great results, both for him and for the Conquer Cancer Foundation.
Amy's Story
On the occasion of her 29th birthday, Amy Smith wanted to make her party a "Celebrate Life Soiree." She created an online fundraiser via #WeConquerCancer to encourage her friends and family to donate $29 to the Conquer Cancer Foundation rather than bringing a gift.
She chose to ask her friends to support the Foundation's Women Who Conquer Cancer program in honor of the women in her family that had faced cancer. "I just said, 'I'm almost 30, let's celebrate and put some money towards a good cause!" she said.
Amy provided the party, and her friends enthusiastically answered her call to Celebrate Life—contributing $679 to cancer research.
A Common Cause
They come from all different points of view and cancer experiences, but #WeConquerCancer fundraisers have something in common: they find ways to explore their passions, challenge themselves, and have fun all while raising support and awareness for the vision of a world free from the fear of cancer.
During September, Raj Mantena, RPh, will be matching all donations two-to-one, making it the perfect time to set up a personalized online fundraising campaign in honor of a loved one, special event, or athletic endeavor.

Visit support.conquercancerfoundation.org to get started! ■
---