My Priorities for the Year Ahead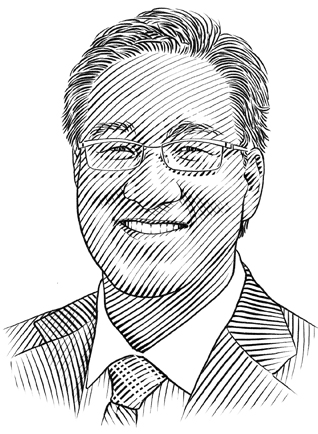 Peter P. Yu, MD, FASCO
The initiatives we are undertaking to study new models of providing high-quality, high-value cancer care will hold us in good stead during these challenging times and enable us to continue to be at the forefront of innovation.

—Peter P. Yu, MD, FASCO
I am honored and privileged to lead ASCO during its 51st year, a year that promises to bring both challenges and opportunities to our members and our patients. As the theme for my Presidential term, I've chosen Illumination and Innovation: Transforming Data Into Learning, because we are positioned to reap the benefits of the accelerating transformation of data into knowledge. Now, we have to take the next step by applying that knowledge and learning how to move our health-care delivery and research systems forward.
Although we have generated more effective  therapies in the treatment of cancer through the knowledge we have gained in clinical trials, we have not always focused as much attention on how to apply that knowledge to individual patients to realize the goal of personalized medicine. I believe the best clinical results are achieved for each patient when the patient's personal values and goals are met. That is really what quality of care is all about: achieving outcomes that matter to patients.
I plan to focus on several areas this year, but they all center on strengthening our Society and supporting members in their daily work. One of the goals I would like to achieve this year is to use our accumulating knowledge base in the application of more effective patient-centered care to achieve the goals the patient desires.
Another important priority of mine is to meet and exceed the needs of our membership to ensure that ASCO remains a leader in the oncology community. I have been traveling in the United States, Asia, and Europe to meet with domestic and international members (who now make up 30% of ASCO membership) as well as our sister professional societies, to learn about their needs and concerns.
I'm finding that the problems confronting them are not that different from practice to practice or country to country and that we all share common goals and values. Overly bureaucratic health-care systems, unaffordable cancer care, and the challenges of financing medical education and ongoing professional development are issues every ASCO member is confronting. Although many of the solutions will be different depending on the local resources and political realities of each country, many will be the same and we can learn from each other.
Membership Diversity
Domestically, I am concentrating on the diversity between our members at academic centers and in community practices to understand the challenges they face. Although their career goals are somewhat different—academic oncologists are generally more focused on discovering new therapies for cancer, whereas community oncologists tend to be more focused on learning how to apply those discoveries in the clinic—they are really based on one principle: to generate new knowledge and apply that knowledge to improve patient care.
Recently, we have seen a dramatic shift in the size and number of many community practices as smaller practices merge with another practice, an academic medical center, or a community hospital, or have to shutter their doors completely. This is a particularly troubling trend since these practices see more than one-third of new patients and play a critical role in the nation's cancer care system.
ASCO is dedicated to supporting the viability of community practices and finding solutions to help them remain solvent. This issue will be a main focus of mine this year.
Harnessing Big Data
After several years of development, in 2015, ASCO through its subsidiary, the ASCO Institute for Quality, will launch its rapid learning health informatics system called CancerLinQ™. ASCO is developing CancerLinQ to monitor, coordinate, and improve the quality of care provided to cancer patients through the collection, aggregation, and analysis of data extracted from electronic health records of patients from participating oncology practices. The system will revolutionize how we care for people with cancer—improving quality and value and accelerating research.
The initial launch of CancerLinQ will take place in a small group of 12 or more "vanguard practices," which will vary from small community practices to major academic cancer centers to capture the diversity of different models of care delivery. The initial version of CancerLinQ will be followed by rapid releases with expanding functionality into the larger oncology ecosystem.
We anticipate that CancerLinQ will provide insights into the design of new models of cancer care delivery that are sustainable and that address societal objectives, provide supportive mechanisms to sustain a thriving community practice base, and allow the voice of the physician to be resonant, while speeding progress in the development and delivery of better treatment options for patients.
High-Value Cancer Care
The drive for health-care reform in the United States has led ASCO to examine the complex concept of value in cancer care. The rising prices of cancer drugs are creating a difficult situation for patients and oncologists, and ASCO is investigating the integration of cost of care into evidence-based medicine, policy, and research.
We know our members have a difficult enough task dealing with medically complex cancer patients. To have to discuss with patients not only the scientific evidence that shows which treatments are most likely to improve survival and enhance quality of life, but also issues regarding cost of treatment and the impact it may have on their financial security, raises the demands on already limited time available for patient interaction. But these are the factors that define high-quality oncology care.
Ultimately, what is of value to one patient may not be the same for another, and we have to take that factor into account when attempting to define value. We are not proposing that the determination of value is the same for all patients, but we believe that we need to start having this conversation with our patients.
Currently, ASCO's Value in Cancer Care Task Force is developing a value algorithm to help define and assess the value of cancer treatment options. Once the prototype is completed, we will share it with our members and others in the oncology community and get their input.
Palliative Care Endeavors
Providing our patients with optimal oncology care and improving their quality of life at every stage of their disease and survivorship is of such critical importance to ASCO, the Society is launching a Palliative Care in Oncology Symposium this fall. The scientific meeting will be held October 24–25, 2014, in Boston, and will focus on innovative strategies in the management of treatment- and disease-related symptoms and models of integrated health-care delivery during every stage of disease.
Together with the Academy of Hospice and Palliative Care Medicine, ASCO is working on defining the palliative care skill set every oncologist needs to be familiar with to manage patients' symptoms. Another initiative is a virtual learning collaborative that brings together 25 community and academic oncology practices from around the country to design, execute, present, and evaluate quality improvement projects with the goal of optimizing palliative care delivery. The program, which began earlier this year, will be in place for 2 years.
Common Ground and Diversity
All of the goals I have outlined here relate to one overarching focus of my presidential term, and that is to address the needs of all our members—domestic and international, in private and academic practices—and to look for common ground and common solutions to the issues confronting all of us.
That said, it is our members' diversity that makes our Society strong and will define our place in the global effort to improve the lives of patients with cancer. The initiatives we are undertaking to study new models of providing high-quality, high-value cancer care will hold us in good stead during these challenging times and enable us to continue to be at the forefront of ­innovation. ■
---