Increased Use of Hospital Services Boosts Oncology Spending

For our ongoing series on the rising costs of cancer care, The ASCO Post spoke with Lee N. Newcomer, MD, Senior Vice President of Oncology for UnitedHealthcare. Dr. Newcomer is responsible for improving cost-effective cancer care at the nation's largest health insurer. He shed light on areas of costs that are less transparent than drug prices, but are just as much a part of the problem of the untenable rise in health-care costs.
Not Just About Drugs
High-priced cancer drugs tend to get the most press when it comes to rising cancer care costs. Are we missing something that could better inform the debate?
Yes. Hospital care costs are inflating as quickly as drug costs. Our cancer costs at UnitedHealthcare are driven largely by the dramatic rise in unit costs of hospital services. Even though the hospital day census for cancer cases is dropping, our overall hospital costs are increasing in double digits because each hospital day costs more each year. With all the attention drugs are getting, this point has been lost in the debate.
How does that apply to the overall debate over costs?
It is a universal problem for all diseases that require hospital care. Sure, the skyrocketing prices of cancer drugs are a real concern, but people have lost sight of other—perhaps more difficult to quantify—areas of spending, such as hospital care and overutilization of services.
Seeking Solutions
How do we tackle the problem of rising hospital costs?
In today's environment, I'd say that the hospital industry has unfettered pricing ability. In most communities, due largely to consolidation of the hospital industry, the market has become an oligopoly, which diminishes our leverage to negotiate for better, more competitive pricing. Simultaneously, the Centers for Medicare & Medicaid Services (CMS) is continuing to underpay hospitals for their services, so quite naturally the hospitals are turning to us to make up that deficit.
I sit on the board of directors for Park Nicollet Health Systems, a 700-physician, 400-bed fully integrated service. We know from our data that anytime a Medicare patient enters the Park Nicollet system, we are reimbursed at about 70% of what our costs are for that individual. The only way we can make up that shortfall is by doing what every other hospital in the United States does: We go to the private commercial insurers and overcharge them.
Park Nicollet's dilemma is an illustration of what hospitals across the nation face. And don't forget, the Patient Protection and Affordable Care Act is going to further decease payments to hospitals. So the fiscal pressure on hospitals is going to escalate.
Is there someway to reverse this trend?
UnitedHealthcare's solution to the problem of rising hospital costs is to get more services back into community oncology practices so we do not have to pay these hospital subsidies. The more services we redirect from the hospital setting to the community practice, the more cost-effective the care becomes. For example, you don't have to do an infusion in a hospital clinic. Unfortunately, the current trend is exactly opposite—hospitals are acquiring oncology practices—and that trend contributes to the escalating costs of cancer care.
We need to create a payment system that encourages physicians to work with us in a collaborative way to deliver cost-effective medicine. The payment system should share some of those savings with physicians, rather than have it all go to hospitals.
Evidence of Value
The term "value over cost" has become one of the mantras in health-care reform. Is there a direct way to determine the clinical value of one therapy over another that will satisfy providers, payers, and patients?
There is, but you need high-quality evidence. At UnitedHealthcare, we are currently working on clarifying our coverage of therapy with bevacizumab (Avastin). We looked at the National Comprehensive Cancer Network (NCCN) guidelines and found that about 44% of the bevacizumab therapy we were paying for did not comply with the guidelines and recommendations. Those data prompted a claims review program that examines whether bevacizumab is being given with other recommended drugs, whether it is given for only one line of treatment, and if it is being given for the correct diagnoses. Treatments that ignore those recommendations are a waste of valuable resources and do not provide clinical benefit to patients with cancer.
Tying Payment to Outcome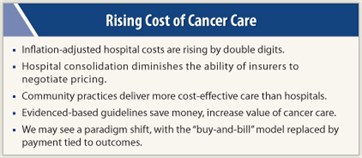 Fee-for-service tends to incentivize overuse of services. On the drug side, some contend that the buy-and-bill model of community oncology creates perverse incentives. Do we need to move away from that payment model?
Yes, but first we need to dispel the myth that without the buy-and-bill system, community practices will no longer be economically viable. Our challenge is to find a way that compensation is not tied directly to drug margins.
At UnitedHealthcare, we have launched a pilot program to incentivize oncologists for delivering complex, comprehensive care regardless of the drugs they need to use for therapy. We are closely monitoring the quality of care we pay for and are collecting patient outcomes data to determine where we are getting the best results—think of this as real-time comparative effectiveness research. Essentially, we are asking physicians to standardize their care, measure the results, and make changes to improve the outcomes. Their payments will be based on better outcomes and reductions in the total costs of care.
How will you evaluate the treatment regimens to determine best practices?
Over the course of the pilot, the various treatment strategies will be evaluated by the program's physician leaders to identify the most effective regimens for a range of clinical presentations. UnitedHealthcare will play no role in determining which treatment plan the oncologists choose, but we hope the pilot will identify and reduce unnecessary drug administration that does not improve the patient's health outcomes.
Embracing Change
Do you feel that community oncologists will embrace such a sea change in the way they do business?
Absolutely. Oncologists never liked having their livelihood tied to drugs; they want to be paid for the multiple complex areas of care they deliver. We need those private practice oncologists to be able to sustain their practices in the face of changing economic times so they can continue to deliver high-quality, accessible, personalized care for our patients with cancer. ■
Disclosure: Dr. Newcomer is an employee and shareholder of UnitedHealth Group.
---