Fixing the Drug Shortage: It's About Time

I have spent the past 30 years trying to improve the results of treatment for advanced cancer. I had the privilege of working with Sir Michael Peckham when the late Professor Tim McElwain and he were evolving variants of the PVB (cisplatin, vinblastine, bleomycin) and PEB (cisplatin, etoposide, bleomycin) regimens for testicular cancer in the United Kingdom. This occurred soon after Drs. Larry Einhorn, John Donohue, Mel Samuels, and others had developed the final modifications of the vinblastine/bleomycin regimen with the addition of cisplatin, creating for the first time a regimen that achieved cure in more than 70% of patients with metastatic testicular cancer (as compared to the previous > 70% death rate). We took some missteps along the way, including attempts to reduce toxicity by the introduction of carboplatin into the regimen and the deletion of bleomycin. Both of these measures resulted in significant reductions in response rate, increase in relapse rate, and reduction in eventual cure.1,2
Epidemic of Avoidable Deaths
Timing is crucial, and some members of ASCO will recall the untimely death of Dr. Jeff Gottlieb, a pioneering medical oncologist who succumbed to advanced testicular cancer, which had presented just before the routine use of the PVB regimen. We lost Dr. Gottlieb because of our lack of knowledge… but something worse is happening now. The gains in the curable malignancies have resulted from a hard-fought war, and now it is particularly galling to see the slow, steady, and continued emergence of a national travesty—the shortage of cytotoxic drugs, which will certainly lead to an epidemic of avoidable deaths.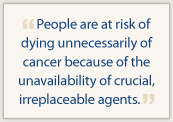 This has been going on for years, but at an insidious, almost leisurely pace. On ward service 2 to 3 years ago, I remember being warned by our senior oncology pharmacist that we might run out of methotrexate, and to keep an eye on the indications for prescription. That didn't bother me too much, as I believed there were situations where methotrexate was sometimes used unnecessarily. For example, the use of high-dose methotrexate in the management of brain metastases from lung cancer is not really supported, in my view, by level 1 data. The decision not to expend high doses of this agent in a pointless exercise caused me little concern, and I was easily able to preserve methotrexate for the tumors where it really makes a difference.
However, in the ensuing months—and now years—it has become increasingly clear that we have a major problem, and that very little has been done to fix it. More to the point, people are at risk of dying unnecessarily of cancer because of the unavailability of crucial, irreplaceable agents. This is an urgent situation that requires immediate attention. Just to be clear, some of the agents in shortage supply include asparaginase (Elspar), bleomycin, busulfan (Busulfex, Myleran), cytarabine, daunorubicin, doxorubicin, liposomally encapsulated doxorubicin (Doxil), paclitaxel, and thiotepa. Frankly, I don't know how the hematologists who treat blood cancers can sleep at night.
Legislative Measures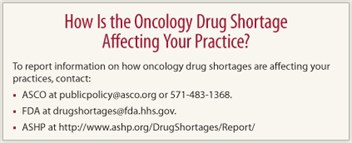 A meeting convened in Washington, DC, last fall, with input and leadership from ASCO, concluded the following:
There is an urgent need to improve rapid communication between the pharmaceutical supply chain and providers, so providers have more advanced notice and better understand and manage shortages.
There is a crucial need to remove the barriers faced by drug manufacturers and the FDA to minimize the impact of drug shortages, such as establishing processes for potentially extending the expiration date of a drug in short supply if it still meets safety requirements.
The definition of "medically necessary," the term that prompts advance notifications to the FDA related to drug shortages, must be clarified to ensure the FDA is aware of pending shortages like those the oncology community is experiencing.
To their credit, Senators Amy Klobuchar (D-MN) and Robert Casey (D-PA), and Representatives Diana DeGette (D-CO) and Tom Rooney (R-FL) have introduced a bill into both houses—the Preserving Access to Life-Saving Medications Act (S.296)—which begins to cover some of the issues, and requires the pharmaceutical industry to notify government of impending shortages. As is so often the case, this now has to work its way through both houses, with a time limitation of 1 year. How many patients will die of cancer in the meantime?
The Challenge of Prioritizing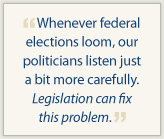 I work in the Carolinas HealthCare System, with its 33 hospitals, and we see more than 11,000 new cases of cancer a year. This gives us negotiating power for acquisition of drugs, as well as the ability to move medications around the system, to areas of greatest need. Our chief pharmacist, Steve Jarrett, and his team, have been outstanding in riding shotgun over this issue, watching supplies, negotiating to get drugs, warning the oncology staff of impending shortages… and hoping that someone in authority out there will fix the problem. He and I have convened a system-wide committee that is able to help prioritize and manage available supplies of agents.
However, how does one prioritize between a patient with Hodgkin disease who is due to receive ABVD (doxorubicin, bleomycin, vinblastine, dacarbazine) and a patient with metastatic testis cancer who is due to receive PEB (cisplatin, etoposide, bleomycin) chemotherapy? Sometimes there are other options—in germ testis cancer, one could insert ifosfamide in place of bleomycin, but that introduces an added potential carcinogen, and involves meddling with a regimen that works (and works well). For acute leukemia, there are many options, although most of the available regimens are heavily compromised by the extant drug shortages.
Step Up the Pace
As usual, we sit by, passively grumbling, worrying about our patients, and concerned about the challenging decisions we need to make to compensate for an industry that is behaving irresponsibly. Because of the current legislation (or lack thereof), this is one issue that the FDA just cannot fix.
The pharmaceutical industry has had years to find a solution to this problem, and has failed. It's time for ASCO, and our other professional organizations, as well as the various patient advocacy groups, to step up the pace. Whenever federal elections loom, our politicians listen just a bit more carefully. Legislation can fix this problem. ■
References
1. Horwich A, Sleijfer DT, Fosså SD, et al: Randomized trial of bleomycin, etoposide, and cisplatin compared with bleomycin, etoposide, and carboplatin in good-prognosis metastatic nonseminomatous germ cell cancer: A Multiinstitutional Medical Research Council/European Organization for Research and Treatment of Cancer Trial.  J Clin Oncol 15:1844-1852, 1997.
2. Levi JA, Raghavan D, Harvey V, et al: The importance of bleomycin in combination chemotherapy for good-prognosis germ cell carcinoma. Australasian Germ Cell Trial Group. J Clin Oncol. 11:1300-1305, 1993.
Dr. Raghavan is President, Levine Cancer Institute, Carolinas HealthCare System, Charlotte, North Carolina.
---