Cancer on the Global Stage: Incidence and Cancer-Related Mortality in Austria

The Republic of Austria is a high-income, landlocked country in south-central Europe and has been a member of the European Union since 1995.1 Vienna, the capital city of nearly 2 million people, is regularly ranked among the most livable cities in the world.2 The total population of Austria is more than 8.8 million people, with a growth rate of about 0.3%.3 The median age of the Austrian population is 44.5 years, and the life expectancy at birth is about 82 years (Table 1). Although primarily consisting of ethnic Austrians, the country is also made up of small groups of German-speaking Swiss, ethnic Germans, and other ethnic minorities. The majority of Austrians (about 75%) are Christian, though Islam is also practiced, primarily among ethnic minorities, including the Bosniak and Turkish populations.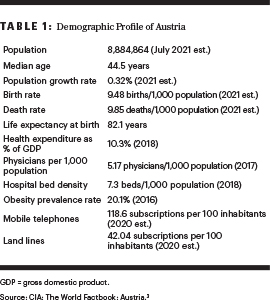 With its social health-care system, Austria is ranked among the top countries for health care globally.4 The World Health Organization (WHO) places the Austrian health-care system as ninth in the global ranking and among the top five countries with regard to quality of living.4 Through a cooperation between the federal government, provinces, and social insurance system, health care is provided through a social model grounded in compulsory insurance. As such, the health system in Austria guarantees all citizens free access to high-quality care.5 This system provides near-universal population coverage, with 99.9% of the population of Austria covered by Social Health Insurance in 2017.6 Individuals are also offered the opportunity to purchase additional health insurance if needed or offered by their employer. About one-third of the population in Austria also purchase private insurance, which typically offers the same medical care with greater comfort, access, or selection of doctors.6
In 2018, health expenditure as a percentage of the gross domestic product was more than 10%.3 Per capital health-care spending in Austria is high compared with other countries in the region. Despite high spending and performance standards, systemic issues in the health-care system in Austria remain (such as lack of primary care coordination and aftercare support) and may contribute to negative patient outcomes. For example, Austria has some of the lowest scores in rankings of primary care coordination in the European Union.7 Some argue this poor coordination is due in part to a lack of clear delineation between primary care and specialist doctors, making access points challenging for patients.8
Hope Craig, MSPH

Chandrakanth Are, MBBS, MBA, FSSO, FRCS, FACS
Ms. Craig is Research Support Specialist at Cornell University, Ithaca, New York. Dr. Are is the Jerald L & Carolynn J. Varner Professor of Surgical Oncology & Global Health; Associate Dean for Graduate Medical Education; and Vice Chair of Education Department of Surgery, University of Nebraska Medical Center, Omaha.
Cancer Profile
The largest hospital in Vienna is the Vienna General Hospital, Medical University campus.9 The Vienna General Hospital and the Medical University of Vienna serve the tripartite mission of patient care, research, and training. Clinical activities at the hospital almost exclusively focus on patients with cancer in general, particularly those with lung and gastrointestinal cancers. Research activities emphasize end-of-life situations and palliative care.9 Services at the Vienna General Hospital focus on helping patients with cancer improve their quality of life in addition to supporting patients and their family throughout the course of the disease.
After cardiovascular diseases, cancer is the second most common cause of death in Austria, with about 42,000 people diagnosed with cancer each year.10 In 2020, the top five cancers by incidence in Austria were prostate (6,088 cases), breast (5,918 cases), lung (5,256 cases), colorectum (4,499 cases), and melanoma of the skin (2,043 cases). The same year, the top five cancers by mortality in Austria were lung (4,235 deaths), colorectum (2,299 deaths), pancreas (1,940 deaths), breast (1,685 deaths), and prostate (1,378 deaths).
Over the past decade, the number of people living with a prior cancer diagnosis increased over 30%.10 This steady rise in cancer prevalence highlights the aging population in Austria, increased life expectancy, and overall improved survival of individuals affected by cancer. Women in Austria who are affected by cancer tend to survive longer than men. This may be due in part to the high prevalence of breast cancer in women, which is characterized by favorable survival.
Cancer diagnosis is rare among children and adolescents in Austria. In 2019, about 200 children younger than age 14 and 100 adolescents (aged 15–19 years) were diagnosed with cancer, representing less than 1% of all cancer diagnoses in the country.10 Leukemia, lymphomas, and central nervous system tumors were most common. About 30 children and 15 adolescents die of cancer each year in Austria. The 5-year survival rates in Austria, for some of the common cancers such as colon, lung, breast, and prostate, are above European Union averages.9
Free preventive health activities, such as cancer screening and early detection programs, are included in Austria's health-care system. Such activities contribute to Austria's high cancer screening rates, which are among the highest in the European Union. In 2014, about three in four women between the ages of 50 and 69 were screened for breast cancer in the past 2 years, and more than 85% of women between the ages of 20 and 69 were screened for cervical cancer.9
Tobacco Control and Cancer Registries
Despite wide access to cancer screening programs and declining tobacco use worldwide, behavioral risk factors, particularly smoking and tobacco use, remain high in Austria.11 The Austrian tobacco control policy is also limited, ranking the lowest in the European Union based on the 2013 Tobacco Control Scale.12 Furthermore, until 2015, smoking indoors and in outdoor eating areas was permitted, and the price of tobacco is among the lowest in the European Union. Such political and behavioral factors contribute to lung cancer as a major health problem in the country. Like other Central European nations, more than 80% of lung cancers in Austria are directly related to smoking.13
More recently, measures for stricter tobacco control are now accepted by much of the general population in Austria, particularly health professionals. Several universities and hospitals, for example, including the General Hospital of Vienna have become completely smoke-free. In addition, after heavy calls for action both domestically and internationally, the government of Austria banned smoking in bars, cafes, and restaurants effective in 2019.11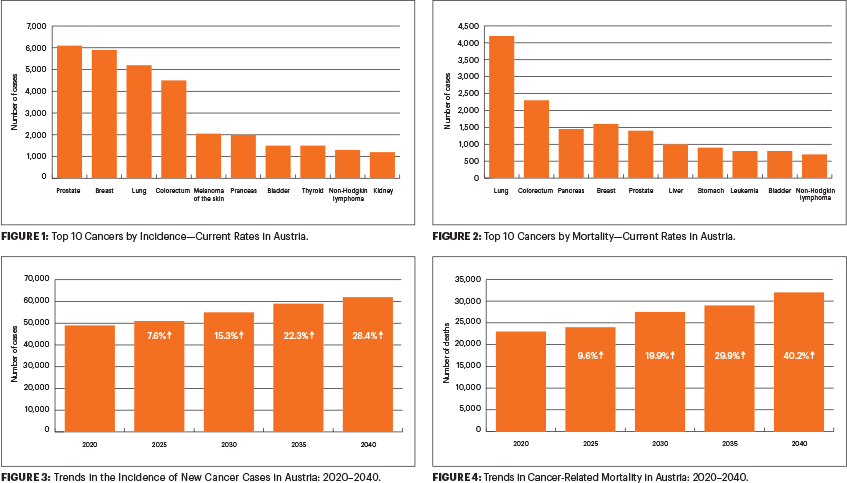 Local registries monitor cancer trends in Austria, including the Tyrol Cancer Registry; however, a national cancer registry has yet to be implemented in Austria.13 Discussion on the importance and demand for a national registry is growing. By providing more reliant information on routine care of patients, a national registry would also define areas for future improvement and research. Together with an existing robust and well-funded health-care infrastructure, these changes have great potential to continue strengthening cancer care in Austria. 
DISCLOSURE: Ms. Craig reported no conflicts of interest. Dr. Are has a patent with the University of Nebraska Medical Center for laparoscopy instrument.
REFERENCES
1. The World Bank: World Bank Country and Lending Groups. Available at https://datahelpdesk.worldbank.org/knowledgebase/articles/906519. Accessed October 3, 2022.
2. Mercer: Quality of living city ranking. Available at https://mobilityexchange.mercer.com/insights/quality-of-living-rankings. Accessed October 3, 2022.
3. CIA: The World Factbook: Austria. Available at https://www.cia.gov/the-world-factbook/countries/austria/. Accessed October 3, 2022.
4. Bachner, F, Bobek, J, Habimana, K, et al: Austria: Health systems review. Health Syst Transit 20:1-254, 2018.
5. City of Vienna: Health insurance. Available at https://www.wien.gv.at/english/health-socialservices/insurance/. Accessed October 3, 2022.
6. Organisation for Economic Cooperation and Development: State of Health in the EU: Austria, Country Health Profile 2019. Available at https://ec.europa.eu/health/system/files/2019-11/2019_chp_at_english_0.pdf. Accessed October 3, 2022.
7. Detollenaere J, Hanssens L, Vyncke V, et al: Do we reap what we sow? Exploring the association between the strength of European primary healthcare systems and inequity in unmet need. PLoS One 12:e0169274, 2017.
8. Hoffmann K, George A, Jirovsky E, et al: Re-examining access points to the different levels of health care: A cross-sectional series in Austria. Eur J Public Health 29:1005-1010, 2019.
9. ESMO: Department of Internal Medicine I (Part of Comprehensive Cancer Center, Medical University of Vienna). Available at https://www.esmo.org/for-patients/esmo-designated-centres-of-integrated-oncology-palliative-care/esmo-accredited-designated-centres/department-of-internal-medicine-i-part-of-comprehensive-cancer-center-medical-university-of-vienna. Accessed October 3, 2022.
10. Statistics Austria. Cancer. Available at https://www.statistik.at/en/statistics/population-and-society/health/cancer. Accessed October 3, 2022.
11. Celermajer D, Nasir-Ahmad S: Cigarette smoking in Austria: A call for action. Wien Klin Wochenschr 129:864-865, 2017.
12. Muttarak R, Steiber N, Gallus S: Smoking ban in Austria: A long overdue step but still a lot to be done. Lancet 385:941-942, 2015.
13. Pirker R, Prosch H, Popper H, et al: Lung cancer in Austria. J Thorac Oncol 16:725-733, 2021.
---