Having Stage IV Lung Cancer Has Refocused My Life
I'm an optimist, but also a realist, and that awareness is a great kick in the pants to get in the game of life.

The first indication I had stage IV lung cancer was a persistent cough during the beginning of the cold-and-flu season in the fall of 2013. I was 35 years old, never smoked, and in otherwise excellent health, so I ignored the cough for several months until I noticed my breathing had also become more labored. A chest x-ray showed a partial collapse of the lower lobe of my left lung, which my primary care physician said could be the result of pneumonia. He recommended deep breathing exercises over the next month to increase my lung capacity and then took another chest x-ray to monitor my progress. The second image showed the condition was worsening, and I was sent to a pulmonologist for additional testing.
By now, the coughing had been going on for 6 months and was becoming disruptive. Finally, a computed tomography (CT) scan of my chest detected a mass in my left lung. A bronchoscopy later confirmed the presence of a tumor, although the surgeon made the decision not to biopsy it because there was high microvascular density in the tumor and instead referred me to a thoracic surgeon.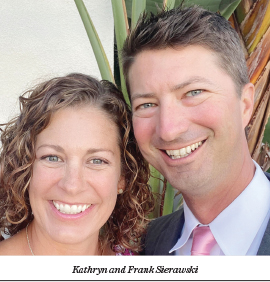 Going for a Cure
After meeting with the surgeon, my wife and I decided to get a second opinion. We knew that despite my age and otherwise good health, we were probably facing a lung cancer diagnosis and wanted to know exactly what our options might be if the tumor was malignant. After getting feedback from a friend of ours at the Mayo Clinic, insisting we should not waste any time getting a second consult, we made the trip to Rochester, Minnesota, for an evaluation at the medical center. I believe that decision may have saved my life.
Following a series of imaging scans, another bronchoscopy, and finally a biopsy of the tumor and cancer genome sequencing, I was diagnosed with anaplastic lymphoma kinase (ALK)-mutated non–small cell adenocarcinoma, which is associated with specific clinical features, including a nonsmoking history and younger age. A full battery of tests later, including positron-emission tomography scans to identify areas of suspected metastases, CT-guided biopsies to verify metastases, and magnetic resonance imaging of my brain and spine, it was determined that the cancer had spread to a rib, the T7 vertebra, and several lymph nodes, although, thankfully, not to my brain.
My wife, Kathryn, is a nurse, so we knew what stage IV lung cancer meant and that the prognosis is pretty grim, with a meager 5-year survival rate of just 7%.1 But I'm an optimist and have a positive attitude that keeps me from imagining the worst-case scenario, so I didn't see the grim reaper looming over my shoulder. I was just thinking, okay, what are our next steps? What do we have to do to fix this problem?
It also helped to hear my oncologist say, "We are going for a cure. You are 35, with no other risk factors. We are considering every treatment to get you cancer-free."
Because the tumor harbored ALK rearrangements, my initial treatment was with the first-generation tyrosine kinase inhibitor crizotinib, which reduced the size of the tumor in my lung; that enabled me to have a lower lobectomy to remove the primary cancer and completely resolved the metastases in my bones and lymph nodes. The cancer did, however, eventually spread to my brain, which was successfully treated with radiation therapy; to prevent recurrence, I was treated with the second-generation ALK inhibitor alectinib, which I've been taking for 5 years, and, so far, I remain cancer-free.
Staying in the Moment
As I've already stated, I'm an optimist, but also a realist, and I know I may have a shorter life span than my healthy peers, and that awareness is a great kick in the pants to get in the game of life. Cancer has been a reminder to live my life to the fullest because I don't know when it will end or whether death will be from cancer, another disease, an accident, or old age.
I'm comforted by the fact that my wife has a great family support system and is a strong human being, so I don't worry about her ability to carry on without me. I do have three young sons, aged 13, 11, and 9, would like to see them grow into adolescence and adulthood, but I'm not thinking that far ahead. I'm just enjoying being with them and staying in the moment.
Living Fearlessly
Being a cancer survivor has given me an appreciation for the tremendous work researchers are doing in finding more effective treatments to keep patients with advanced-stage disease like mine living longer, high-quality lives. It has also introduced me to a whole new way to impact the lives of others going through what I've gone through.
When I was first diagnosed, I remember saying to my wife that I have led a charmed life. I never really had a cross to bear and if cancer is my cross to bear, let's make the most of it. So, I've become a member of LUNGevity's Survivor Advisory Council and a mentor to other lung cancer survivors. The LUNGevity Foundation (lungevity.org) had been a great resource for me when I was first diagnosed and looking for reliable information about my type of lung cancer. I want to give back to this community of researchers and survivors who have given so much to me.
Although I don't want cancer to define who I am now, I can't deny that the disease has changed my life and refocused it. I live more fearlessly and fully now. I'm a survivor. 
Mr. Sierawski lives with his wife, Kathryn, in Omaha, Nebraska.
Editor's Note: Columns in the Patient's Corner are based solely on information The ASCO Post received from patients and should be considered anecdotal. 
REFERENCE
1. American Cancer Society: Lung Cancer Survival Rates. Available at www.cancer.org/cancer/lung-cancer/detection-diagnosis-staging/survival-rates.html. Accessed September 22, 2021.
---