Your Stories: 'The Family Business'

International business leader Riccardo Braglia has experienced great losses due to cancer. In "The Family Business," he shares with ASCO Chief Executive Officer Clifford A. Hudis, MD, FACP, FASCO, how the perspective he gained inspires what he gives to help patients everywhere.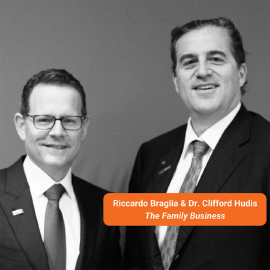 "My grandmother, my grandfather, my mother, my two uncles, my aunts," said Mr. Braglia. "My family has definitely been affected by this terrible disease."
From the village near Milan where he was raised, work has always been a family affair for generations of Braglia entrepreneurs. As his family conquered cancer together, Mr. Braglia discovered caregiving is also a team job.
"You need people that give you love and support through this journey," he explained. "If you don't have a strong family or family close by, identify a couple of good friends to support you through this journey."
Honoring Mom
Shocked by watching his best friend suffer from multiple myeloma and his mother deal with ovarian cancer, Mr. Braglia redirected the focus of his pharmaceutical company to help patients with cancer.
"The bad news is she passed away. The good news is she inspired me to do what I'm doing every day in fighting against cancer," he said.
In his beloved mother's honor, Mr. Braglia gives generously to fund cancer research. He wants to help cure all cancers and improve the treatment process for all patients.
"We have to put the patients in focus," he concluded.
For more on his story, listen to the full episode at CONQUER.ORG, iTunes, or Google Play. 
© 2020. American Society of Clinical Oncology. All rights reserved.
---