Remembering Patrick H. Beauregard: 'Selfless in His Efforts to Raise Awareness' of Colorectal Cancer in Young Adults

The editors of The ASCO Post are sad to report the death of Patrick H. ­Beauregard on September 6, 2020. The cause was colorectal cancer. Diagnosed with stage IV disease in 2017 at the age of 29, Mr. Beauregard dedicated the last 3 years of his life to raising awareness of colorectal cancer in young adults, a cancer he admitted to not knowing anything about prior to his diagnosis.
In his Patient's Corner column, originally published in the July 25, 2019, issue of The ASCO Post, Mr. Beauregard said that when he received the diagnosis, he couldn't believe it. He remembered thinking that many primary care physicians and patients alike may tend to assume that colorectal cancer is unlikely to develop in young people.
Unfortunately, the statistics on the rate of incidence of colorectal cancer in young adults tell a different story. Although the disease has declined in both incidence and mortality among older adults (> age 65) by 3.3% and 3% annually, respectively, among individuals younger than age 50, the incidence rate has increased by about 2% annually, and death rates have increased by 1.3% annually. Colorectal cancer is the second most common cause of cancer death in the United States; in 2020, approximately 147,950 people will be diagnosed with colorectal cancer, and 53,200 will die of the disease, including 17,930 cases and 3,640 deaths in individuals younger than age 50.1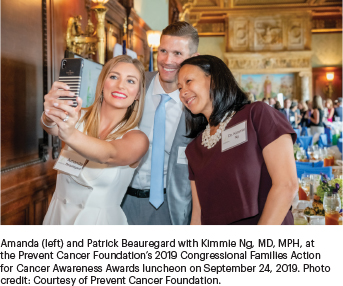 "It was really impactful for Patrick to come forward with his diagnosis and talk about colorectal cancer in young adults because he was a person who had no risk factors and no family history of this cancer," said Kimmie Ng, MD, MPH, Director of the Young-Onset Colorectal Cancer Center at Dana-Farber Cancer Institute, Associate Professor of Medicine at Harvard Medical School, and Mr. Beauregard's oncologist. "Like so many other young and healthy people, he didn't even know what colorectal cancer was. The fact that he was willing to talk about his diagnosis, including on national television, resulted in educating millions of young people about the possibility of developing this cancer and the importance of being aware of the symptoms."
A Life Well Lived
No stranger to public service prior to his diagnosis, Mr. ­Beauregard had served as an intelligence analyst in the United States Marine Corps for 6 years. His patient advocacy included working with Conquer Cancer®, the ASCO Foundation, to increase funding for colorectal cancer research; meeting with ­representatives on Capitol Hill to raise awareness about young-onset colorectal cancer; and partnering with the Prevent Cancer Foundation to lobby for increased prevention strategies, research, treatment, and care for young adults with the disease.
"Patrick was a remarkable person all around and a hero even before his diagnosis. He battled his disease with a unique combination of being realistic about what he was up against, but also never losing hope for a cure in the future," said Dr. Ng. "Even as he was going through difficult treatments, he remained selfless in his efforts to raise awareness. It was noble of him, as he was going through the hardest time in his life, to want to do all this extra work as a patient advocate, so other young people would not have to go through what he was going through."
A Life Interrupted
Although coping with a cancer diagnosis at any age can be difficult, the long-term physical and emotional ramifications of the disease are arguably more consequential in younger adults. Such individuals may be just starting out in their career or making plans to start a family and have to confront a host of treatment-related side effects, including infertility, sexual dysfunction, cardiovascular disease, and other future cancers—as well as the possibility of an early death.
"As Patrick was going through the hardest time in his life, it was noble of him to want to do all this extra work as a patient advocate."

— Kimmie Ng, MD, MPH




Tweet this quote



When we spoke with Mr. Beauregard in the spring of 2019, he talked about how the toughest part of his diagnosis was being a newlywed and being unsure of how the cancer would impact his career and life with his wife, Amanda. "Obviously, we have future plans, and, unfortunately, with this kind of diagnosis, I'm well aware of the survival statistics and everything that is against me. We chose to remain optimistic, and I think I'm going to be here for many years to come, but it's something that is always in the back of my head. What if I'm not here 2 years from now, 3 years from now?" asked Mr. Beauregard.
"I really hope we find the underlying cause of young-onset colorectal cancer, so we can reverse the alarming trends that we are seeing. We must do the research," commented Dr. Ng. "It's not easy to get cancer when you are older, but it's so different and emotionally challenging in other ways when the person is in the prime of his or her life."
Mr. Beauregard is survived by his wife, Amanda; his infant son, Noah; his parents, George and Kathleen Beauregard; his brothers, Daniel and Brendan Beauregard; and his sister, Kaylin Nimblett. 
REFERENCE
1. Siegel RL, Miller KD, Sauer AG, et al: Colorectal cancer statistics, 2020. CA Cancer J Clin 70:145-164, 2020.
---