Emmanuelle Charpentier, PhD, and Jennifer A. Doudna, PhD, Honored With Nobel Prize in Chemistry 2020

On October 7, 2020, The Royal Swedish Academy of Sciences announced that the Nobel Prize in Chemistry 2020 would be awarded to Emmanuelle Charpentier, PhD, and Jennifer A. Doudna, PhD, "for the development of a method for genome editing," the CRISPR/Cas9 genetic scissors.
"There is enormous power in this genetic tool, which affects us all. It has not only revolutionized basic science, but also resulted in innovative crops and will lead to ground-breaking new medical treatments," said Claes Gustafsson, PhD, Chair of the Nobel Committee for Chemistry.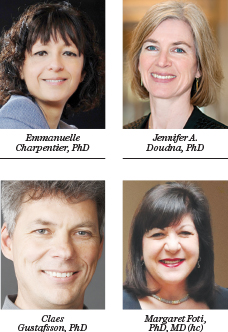 Dr. Charpentier is the Director of the Max Planck Unit for the Science of Pathogens in Berlin. Dr. Doudna is a Professor at the University of California, Berkeley, and Investigator at the Howard Hughes Medical Institute. The Laureates will jointly share the prize of 10 million Swedish kronor (approximately $1,126,000).
A Serendipitous Finding
The discovery of these genetic scissors was unexpected. During Dr. Charpentier's studies of Streptococcus pyogenes, she discovered a previously unknown molecule, tracrRNA. Her work showed that tracrRNA is part of bacteria's ancient immune system, CRISPR/Cas, which disarms viruses by cleaving their DNA.
Dr. Charpentier published her discovery in 2011. The same year, she initiated a collaboration with Dr. Doudna, a biochemist with vast knowledge of RNA. Together, they succeeded in recreating the bacteria's genetic scissors in a test tube and simplifying the scissors' molecular components so they were easier to use.
In an epoch-making experiment, they then reprogrammed the genetic scissors. In their natural form, the scissors recognize DNA from viruses, but Drs. Charpentier and Doudna proved that they could be controlled so that they can cut any DNA molecule at a predetermined site. Where the DNA is cut, it is then easy to rewrite the genetic code.
Since Drs. Charpentier and Doudna discovered the CRISPR/Cas9 genetic scissors in 2012, their use has exploded. This tool has contributed to many important discoveries in basic research. Further, in medicine, clinical trials of new cancer therapies are underway to explore the potential for cure of inherited diseases by genetic editing.
A statement from the American Association for Cancer Research (AACR) noted:
AACR congratulates [Drs. Charpentier and Doudna], both Fellows of the AACR Academy and renowned for their contributions to cancer science, for receiving the 2020 Nobel Prize in Chemistry for the development of the CRISPR/Cas9 genome-editing system.
"With the development of the CRISPR/Cas9 system, Drs. Charpentier and Doudna established a groundbreaking genome-editing mechanism that has contributed to monumental progress in molecular biology and genetics and is advancing our understanding of tumor initiation and progression," said Margaret Foti, PhD, MD (hc), Chief Executive Officer of the AACR. "This year's Nobel Prize in Chemistry is richly deserved, and we offer our deepest congratulations to these esteemed scientists. We celebrate the spectacular achievements of these scientists, whose work is being applied to all aspects of cancer research for the benefit of cancer patients worldwide." 
---