Dana-Farber/Harvard Cancer Center Wins Federal Grant to Accelerate Ovarian Cancer Research

Dana-Farber/Harvard Cancer Center (DF/HCC) has been awarded a $12 million grant from the National Cancer Institute (NCI) to bring promising ovarian cancer research from the laboratory to clinical practice. The highly competitive Specialized Programs of Research Excellence (SPORE) grant will help fund research to overcome the problem of treatment resistance in ovarian cancer and enable DF/HCC-affiliated institutions to build on recent therapeutic advances in this disease. The principal investigators of the SPORE grant are Alan D'Andrea, MD, Director of the Susan F. Smith Center for Women's Cancers at Dana-Farber; Ursula Matulonis, MD, Chief of the Division of Gynecologic Oncology at Dana-Farber; and David Spriggs, MD, Director of Gynecologic Oncology Program at the Massachusetts General Hospital Cancer Center.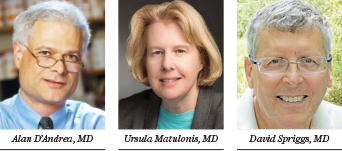 Three Projects
The three research projects supported by the DF/HCC Ovarian Cancer SPORE seek to translate scientists' growing understanding of treatment resistance in ovarian cancer into new therapeutic approaches.
The first project supported by the SPORE grant will include clinical trials of drug combinations designed to extend the effectiveness of PARP inhibitors. These agents hamper cells' ability to repair damaged DNA and are increasingly used to treat women newly diagnosed with ovarian cancer as well as those whose disease has recurred following standard treatment. PARP inhibitors have changed the standard of care for many women with ovarian cancer and represent a major advance in the treatment of the disease. However, many patients eventually develop resistance to PARP inhibitors.
The SPORE funding will also support the development and study of a novel neoantigen vaccine trial for patients with ovarian cancer. The personalized vaccine will be designed to recognize neoantigens, which are present on cancer cells but not on normal cells. Used in conjunction with immune checkpoint inhibitors, such a vaccine could "steer" the immune system to a direct an assault on the cancer cells.
The third project will address patients with recurrent or drug-resistant high-grade serous ovarian cancer or low-grade serous cancer. The SPORE funds will support research into novel drug combinations and will look for biomarkers of drug activity.
---