Support Your Patients With ASCO Answers Fact Sheets

Direct, easy to understand, and in a convenient single-page format, ASCO Answers fact sheets introduce patients and their caregivers to types of cancer and cancer-related topics, including diagnosis, treatment, and side effects. Each fact sheet includes a topic overview, illustration, methods for management of and coping with the topic, important terms to know, and relevant questions to ask the health-care team.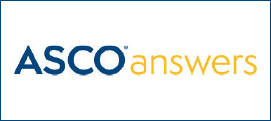 Download free printable PDFs of more than 65 titles (including some in Spanish) at cancer.net/factsheets or visit the ASCO Store at cancer.net/estore to order high-quality copies for your office. ASCO members save 20% and receive free domestic shipping. ■
© 2019. American Society of Clinical Oncology. All rights reserved.
---