A Pioneer in Breast Cancer Clinical Trials, Norman Wolmark, MD, FACS, Looks Back on His Practice-Changing Accomplishments

GUEST EDITOR

Jame Abraham, MD, FACP
Dr. Abraham is the Director of the Breast Oncology Program at Taussig Cancer Institute, and Professor of Medicine, Lerner College of Medicine, Cleveland Clinic.
For this installment of the Living a Full Life series, guest editor Jame Abraham, MD, FACP, spoke with breast cancer researcher Norman Wolmark, MD, FACS, who is Professor of Surgery at the University of Pittsburgh and Chairman and Principal Investigator for the National Surgical Adjuvant Breast and Bowel Project (NSABP). Among other work, Dr. Wolmark is leading studies to develop a novel model based on tumors from patients with HER2-positive/hormone receptor–positive breast cancer.
NORMAN WOLMARK, MD, FACS

On joining Dr. Bernard Fisher's team in 1973: "I wasn't completely sure how things would evolve, but I was confident that at the end of the day, we would change the standard of care in breast cancer."
On the practice-changing B-06 trial: "This was the definitive study that ultimately convinced the medical and lay communities that breast-preserving surgery was now a standard of care, offering women a retreat from the disfiguring radical mastectomy."
Advice for young oncologists: "Pursue your passion, and even through difficult times, you will not regret your decision."
Career Decision Came Late
Dr. Wolmark grew up in Montreal and attended McGill University, a public institution situated in downtown Montreal at the foot of the small volcanic mountain, Mount Royal. "When I entered McGill, a great place that offered an almost free education, I did not envision pursuing a career in medicine. My interest in undergraduate school was biochemistry, and I was enrolled in the school's "honours" program. My decision to go into medicine came very late in my educational journey," he said.
"In fact, even when I'd received my acceptance to graduate school, I still don't think I'd made up my mind. But my father suggested that becoming a doctor would offer me a good trade and the opportunity to go into research as well, instead of going directly into the lab. That's the condensed version of my road to medicine," Dr. Wolmark explained.
Intrigued by Surgery's Clinical Quest
After completing his undergraduate work at McGill University, Dr. Wolmark remained there to earn his medical degree. Asked about his decision to become a surgeon, Dr. Wolmark responded, "McGill was not an institution that particularly encouraged its medical students to pursue a career in surgery, but early on in my residency, I came to realize that every patient in surgery represented its own clinical quest."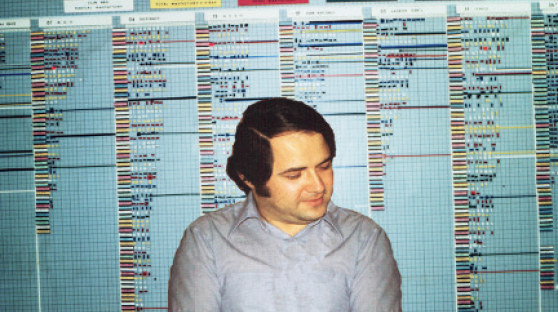 Dr. Wolmark in 1974, in front of the magnetic boards used to depict the data from clinical trials in real time.
Dr. Wolmark did a surgical fellowship at the National Cancer Institute and a clinical fellowship at Memorial Sloan Kettering Cancer Center. "I encountered surgeons who, from my perspective were atypical with regard to the scientific method, which stimulated my interest in clinical trials and led me to what I thought was going to be a year working in clinical trials with Dr. Bernie Fisher in Pittsburgh," said Dr. Wolmark. He added, "That year turned into a career move, and I've been in Pittsburgh ever since."
Towering Mentors
When asked about mentors who helped shape his career, Dr. Wolmark responded, "I've been fortunate to have had many mentors, such as Richard Margolese, who intervened early on in my training in Montréal. Mark Ravitch, my surgical mentor at the University of Pittsburgh, was a figure of compelling scholarship who influenced my entire approach to medicine. But unquestionably, the person who had the greatest impact on my career was Bernard Fisher. He instilled in me a passion to conduct clinical trials with a determination to challenge the status quo."
He continued, "I joined Bernie Fisherin 1973, and I wasn't completely sure how things would evolve, but I was confident that at the end of the day, we would change the standard of care in breast cancer. It was so exciting because, for one, back then we were able to see the data in real time—there were no data monitoring committees. Our first trial, which looked at radical mastectomy vs total mastectomy, challenged the very basis of surgical dogma in an atmosphere filled with acrimony bordering on hostility at times. Mainstream surgeons were uncomfortable that we were rocking their boat."
Firm Belief in the Clinical Mission
Dr. Abraham asked Dr. Wolmark how he maintained his conviction, given the scope of support for the Halsted radical mastectomy at the time. "It was partly due to a firm belief in evolving therapy using the scientific method. I concluded early in my career that the driving force for many surgical interventions was based on empiricism or the charisma of an exalted individual who would determine which procedure should be performed from his perch on the professorial pulpit rather than on scientific data. I knew that approach was fraught with danger, so I embraced clinical trials as the optimal way to evolve therapeutic strategies. Our work proved that our hypothesis was correct (at least in this particular instance). And in the process, it completely changed the direction of the treatment of breast cancer and other solid tumors," he said.
Left to right: Bernard Fisher, MD, Norman Wolmark, MD, and Dr. Wolmark's daughter Deborah in Bal Harbor, Florida, 1990.
Dr. Wolmark stressed that the biggest contribution of the early clinical trial days was establishing the standard of care by scientific data-driven methodology over the anecdotalist approach and the undue influence of an individual who would dictate how a specific disease should be treated. He bolstered his point by noting that an 1885 publication in the Annals of Surgery established the mandated operative procedure in breast cancer for the next 75 years in the United States. "My experience in Canada, where there was a less authoritarian approach to mastectomy, also helped shape my receptiveness to less invasive surgery."
Paradigm-Changing Trial
Dr. Wolmark said that the results of Protocol B-04 reported in 1977—which demonstrated that there was no difference in outcome between radical mastectomy or simple mastectomy where positive lymph nodes were left behind untreated—were met with scorn. "However, B-04 provided the rationale to move forward to B-06, which was the lumpectomy trial comparing modified radical mastectomy vs breast-preserving surgery with an axillary node dissection and radiotherapy. Those results were published in 1985 in TheNew England Journal of Medicine, but it took a solid year before the paper was reviewed and accepted, due to the underlying resistance from the elite surgical societies," he explained.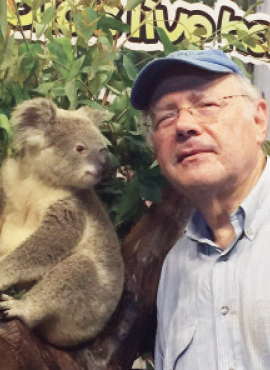 Dr. Wolmark in Guangzhou, China, 2016.
"In the end, this was the definitive study that ultimately convinced the medical and lay communities that breast-preserving surgery was now a standard of care, offering women a retreat from the disfiguring radical mastectomy," he continued. "Lumpectomy also provided the evidence that 'more wasn't better,' and supported the rationale that treatment failures were a result of micrometastases that were present at the time of surgery. The retreat from radical mastectomy and the ascent of systemic therapy are inextricably intertwined. This trial was the harbinger for systemic therapy and subsequently for targeted therapy."
Saving NSABP Career Highlight
Dr. Abraham asked Dr. Wolmark what practice-changing event stood out during his illustrious career. "It was being part of the grand retreat from the Halsted radical mastectomy and onward, from lumpectomy to systemic therapies and trastuzumab, to the introduction of neoadjuvant therapy, and so on," said Dr. Wolmark.
He added: "But what I'm most proud of is not a single clinical trial; it was rescuing the NSABP in the aftermath of the congressional subcommittee investigation of 1994. [Editor's note: In 1994, the NSABP reported that data had been falsified in several breast cancer trials by one of its investigators. After extensive press coverage of the event and congressional investigations, Dr. Fisher was forced to step down as head of the NSABP, but he was exonerated by the federal Office of Research Integrity 3 years later.] We were able to pick up the pieces and fight another day. If you believe in what you're doing, you can survive in a hostile environment, and we certainly were ardent believers in our work."
Follow Your Passion
Asked what advice he'd give to a bright young oncologist thinking about pursuing a career in clinical research, Dr. Wolmark said, "There are no simple answers to complex questions, but one thing stands out: pursue your passion, and even through difficult times, you will not regret your decision."
How does a super busy researcher wind down? "Well, I have a son and daughter and five grandchildren, of whom I am very proud, and I cherish what little time I can spend with them. I recently remarried after being a widower for 10 years and I'm currently experiencing a geriatric marital bliss," Dr. Wolmark said.
He then offered a closing thought: "I'm at the stage of my career where I realize that the majority of my accomplishments are in the past, and I don't delude myself about my shelf life. Not that I'm getting ready to retire, but we all have to be ready to pass the baton. So, I'll close with an admonition to the generation waiting to inherit the legacy: Go forth, do better than we did, and we will rejoice in your glory." ■
DISCLOSURE: Dr. Wolmark has received institutional research funding from AstraZeneca/MedImmune, Lilly, Merck, and the NSABP Foundation and has been reimbursed for travel, accommodations, and other expenses by Genentech.
Living a Full Life: Let Us Hear From You
We encourage you to contact us if you would like to be interviewed about your own experiences and interests or would like to nominate a candidate. We are seeking to learn what motivates and inspires you and how you manage to achieve balance in your own life.
Write to editor@ASCOPost.com and reference Living a Full Life.
---