The Sontag Foundation: Turning a Difficult Diagnosis Into Action to Benefit Patients With Brain Cancer

When Frederick B. Sontag's wife, Susan, was diagnosed in 1994 with grade III astrocytoma, the couple was understandably overwhelmed to hear that her expected survival was 3 years. At that time, there were few organizations providing resources to patients with brain tumors and their families. While Mrs. Sontag has survived the disease for more than 20 years, its effects continue to impact her and those close to her. It has led the family to take a lead role in effecting change for those diagnosed with brain cancer.
In 2002, Mr. Sontag sold Unison Industries, a company he had owned and managed for 22 years. That sale gave Mr. Sontag the means and opportunity to found The Sontag Foundation and fulfill his desire to help patients afflicted by brain cancer. The Ponte Vedra Beach, Florida–based private foundation primarily sponsors research related to primary brain tumors. Mrs. Sontag serves as Emeritus Director; Mr. Sontag serves as President; and the couple's children, Cindy Sontag Hudgins and Frederick T. Sontag, serve as Director and Vice President, respectively.
We intentionally stay close to these investigators...[we] stay in touch over the years to see how they're doing with their careers and research.

— Frederick B. Sontag




Tweet this quote



"We wanted to do something different from other foundations," shared Mr. Sontag. "Rather than focus just on the quality of the research, we are equally interested in the potential of the researcher for long-term personal success. We want to sponsor young people just getting started in this field, so we can help them accelerate their careers. We also want to pick the best." 
The Sontag Foundation joined forces with ASCO's Conquer Cancer Foundation to support a 2018 Young Investigator Award (YIA) for Hong Ha Rosa Nguyen, MD, of St. Jude Children's Research Hospital. The goal of Dr. Nguyen's project, -"Optimizing Immunotherapy in Neuroblastoma and Understanding the Role of NK Cells," is to optimize immunotherapy for neuroblastoma to overcome therapy-related toxicities while maximizing disease response and survival. The Sontag Foundation has also committed to support a 2019 YIA. 
"With the generous support from The Sontag Foundation, I am able to study the therapeutic effect of different immunocytokines for the treatment of childhood neuroblastoma and determine in the laboratory if and how these agents can be brought back to the patients and incorporated into future clinical trials," shared Dr. Nguyen.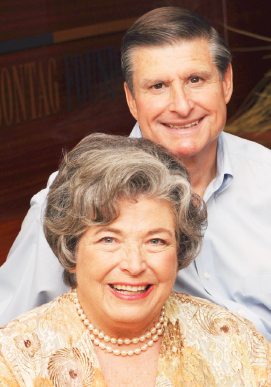 Susan T. and Frederick B. Sontag. Credit: The Sontag Foundation
In 2002, The Sontag Foundation established its Distinguished Scientist Award (DSA), a grant awarded to two to five scientists each year. This $600,000 award, given over 4 years, is granted to MD or PhD scientists in the United States or Canada who are within the first 5 years of faculty appointment and "who demonstrate outstanding promise for making scientific and medical breakthroughs in the field of brain cancer research." Decisions are made through a rigorous peer-review scoring process modeled after that of the National Institutes of Health. To date, the foundation has awarded DSAs to 43 scientists. It also partners with the Society of Neuro-Oncology to sponsor a Quality of Life Award for scientists.
"We intentionally stay close to these investigators," explained Mr. Sontag. "We don't just hand over a check and disappear. We visit the researchers' facilities at the beginning of the grant and stay in touch over the years to see how they're doing with their careers and research."
Every year, the foundation holds a 2.5-day scientific and career development retreat for its grantees and scientific advisors. Mr. Sontag estimates that 15 to 20 major collaborations have resulted from these retreats. 
In keeping with the Sontags' goal of providing patient support, in 2007, the couple launched a brain tumor support group in northeast Florida for local patients and family members. That group continues to meet on a monthly basis.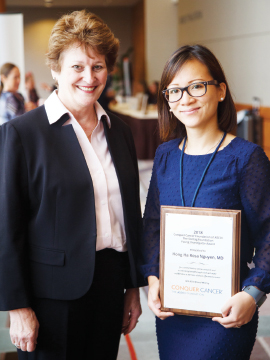 Kay W. Verble, Executive Director, The Sontag Foundation, and Hong Ha Rosa Nguyen, MD, 2018 YIA recipient. Photo by ©ASCO/Brian Powers 2018
"Over the years, patients with brain tumors and their caregivers would seek us out to help them find their way to clinical trials, second opinions, and the like," said Kay W. Verble, The Sontag Foundation's Executive Director. "…It became clear there was a major need for this kind of service to be provided on a broader basis." 
This led to the establishment in 2014 of the Brain Tumor Network (BTN), a public charity that offers a navigation resource for adult patients and caregivers throughout the United States seeking information about treatment options for primary brain tumors. The BTN is staffed by a mix of -navigators that include nurses, social workers, and a retired neurosurgeon—and has served 600 patients to date. 
"There's a crying need for this service," said Mr. Sontag, recalling that there was no such referral service when his wife was diagnosed. 
The BTN receives calls from patients and caregivers and occasionally gets referrals from major institutions such as Memorial Sloan Kettering Cancer Center, the Mayo Clinic, and the Dana-Farber Cancer Institute. They welcome referrals of patients from ASCO members. 
The Sontag Foundation is a leading supporter of research to make an impact in this devastating set of diseases.

— Nancy R. Daly, MS, MPH




Tweet this quote



While brain tumor research is The Sontag Foundation's primary focus, it also contributes to the northeast Florida community and has provided financial support to 58 local nonprofits, as well as funding an oral health initiative focused on providing dental care to lower-income individuals. The foundation also partners with the Arthritis National Research Foundation by sponsoring an annual research grant related to rheumatoid arthritis.
"We are enormously grateful for The Sontag Foundation's support for Young Investigator Awards in brain cancer research," said Nancy R. Daly, MS, MPH, Conquer Cancer's Executive Vice President and Chief Philanthropic Officer. "The Sontag Foundation is a leading supporter of research to make an impact in this devastating set of diseases, and it is an honor to partner with the organization to encourage early investigators to pursue clinical research in this critical area of need." ■
© 2018. American Society of Clinical Oncology. All rights reserved.
---