Help Your Patients Manage Their Weight With This ASCO Answers Resource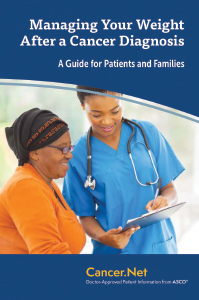 Do your patients know that being overweight slows recovery and lowers cancer survival? 
Address this sensitive topic with the help of the "Managing Your Weight After a Cancer Diagnosis" booklet from ASCO Answers. This resource will help patients manage their weight by providing practical resources and methods. A pack of 50 booklets costs $20 (only $0.40 per booklet), and ASCO members save 20%. ASCO Answers products ship for free inside the United States. 
Order a copy today on shop.asco.org. ■
© 2018. American Society of Clinical Oncology. All rights reserved.
---