AMA Awards Research Grants to Honor Women in Medicine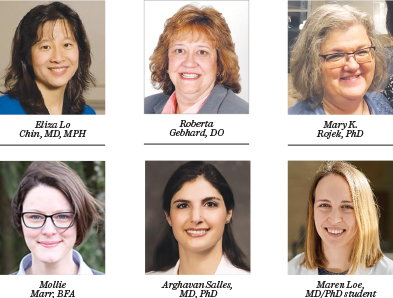 Each September, the American Medical Association (AMA) recognizes influential female physician leaders in honor of Women in Medicine Month. To showcase the accomplishments of these leaders, the AMA Women Physicians Section (WPS) and the AMA Foundation announced the winners of the 2018 Joan F. Giambalvo Fund for the Advancement of Women research grants program.
The AMA-WPS and AMA Foundation awards scholarships of up to $10,000 to health-care researchers to identity and address issues that affect female physicians and medical students. Since 2006, 25 research grants have been awarded on topics such as flexible work options, gender differences in the practice patterns of obstetricians/gynecologists, and the promotion and retention of diversity in medical education.
"During Women in Medicine Month, the AMA is honored to recognize exceptional members of the medical community whose work will shed light on the issues facing women in medicine today," said AMA President Barbara L. McAneny, MD. "Through this grant program the AMA is reaffirming its commitment to further propel the advancement of women in medicine and advocate for women's health issues."
2018 Awardees
One of the winning 2018 projects focuses on "Fixing the Leaky Pipeline–Attrition of Women During Medical Training." It will be led by four members of the American Medical Women's Association (AMWA), including Eliza Lo Chin, MD, MPH, AMWA Executive Director; Roberta Gebhard, DO, AMWA President-Elect and Gender Equity Task Force Co-Chair; Mary K. -Rojek, PhD, AMWA Chair of the Sex and Gender Health Collaborative; and Mollie Marr, BFA, AMWA Student President-Elect and Oregon Health and Science University MD/PhD Candidate.
The second awarded project, "Investigating Gender Bias in Medical Student Evaluations," will be led by Arghavan Salles, MD, PhD, Assistant Professor of Minimally Invasive Surgery at the Washington University School of Medicine, and Maren Loe, MD/PhD student, of Washington University School of Medicine.
---