For Your Patients: ASCO Answers Managing Cancer-Related Pain Booklet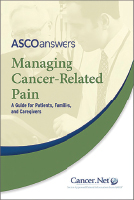 ASCO'S BOOKLET on Managing Cancer-Related Pain helps you work together with your patients to develop an individualized plan for pain management before they start treatment. Patients and their caregivers will learn about the importance of pain relief, including its causes, how it is diagnosed, and types of pain relief strategies. Pain medications are covered extensively, including: 
Types of medications 
Safe handling 
Common concerns 
Managing multiple prescriptions 
Self-care and support methods. 
This booklet also includes a pain tracking sheet to help patients record how pain affects them.
Visit www.cancer.net/estore to order copies for your practice, which are available in packs of 50 or 125 booklets. Enjoy free domestic shipping; ASCO members save 20%. ■ 
© 2017. American Society of Clinical Oncology. All rights reserved. 
---