A Cancer Diagnosis Brings Two Sisters Back Together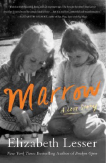 Bookmark
Title: Marrow: A Love Story
Author: Elizabeth Lesser
Publisher: Harper Wave
Publication date: September 2016
Price: $15.48, hardcover, 320 pages
Elizabeth Lesser is an award-winning writer and co-founder of the Omega Institute, the largest adult education center in the United States focusing on health, wellness, spirituality, and creativity. She is the author of several acclaimed books including Broken Open: How Difficult Times Can Help Us Grow and A Seeker's Guide: Making Your Life a Spiritual Adventure. In her latest book, Marrow: A Love Story, Ms. Lesser confronts her estranged sister's cancer diagnosis. The result is a highly personal look at what it means to confront the meanings of our deepest relationships within the context of mortality.
From Diagnosis to Remission to Recurrence
The book begins on an August day above Flathead Lake in Montana. The author, an ordained minister, was minutes away from marrying two childhood friends when her cell phone rang. It's her sister Maggie, and her voice immediately signals she's about to deliver bad news. Ms. Lesser depicts the drama in a brief, heart-rending exchange: "What's the matter?" I ask.
"I'm sick."
"What kind of sick?"
"Cancer," she whispers. "I'm very sick."
After Ms. Lesser's breath returned, she asked her sister what happened and in a jumbled tale of having weird, vague symptoms, her sister tells her she's been diagnosed with lymphoma, "The kind she will die of soon if she doesn't start treatment." This human medical saga is made all the more gut wrenching by Maggie's life situation. She'd married her high school sweetheart, had two children, and had pretty much a storybook life until things went terribly wrong. At the time of her cancer diagnosis, Maggie was divorced, her children were off at college across the country, and she was essentially homeless, house sitting for friends.
True to its name, Marrow moves briskly across the 7 years of Maggie's lymphoma remission and takes root at the point of recurrence, when she was told her only chance for survival was a bone marrow transplant. Fortunately, the author was the perfect donor match. During the period between Maggie's first cancer diagnosis, she lived a remarkably full life, recreating a home and a new romantic relationship, making her recurrence all the more difficult.
A Few Missteps
Marrow is constructed in six parts, and although it is a linear tale for the most part, the author takes the reader on occasional diversions, much of which adds to the texture of the overall narrative. There are, however, a few missteps, such as Ms. Lesser's discussion about the origin of chemotherapy. She incorrectly states: "I've never liked the way war jargon is applied to cancer treatment, but in this case it seems appropriate…. I learned that chemotherapy was developed after WWI when changes were observed in the bone marrow cells of soldiers exposed to mustard gas."
This is a cancer memoir about the struggles and intimacy of bone marrow transplantation and the challenging clinical struggles patients and caregivers undergo.

—




Tweet this quote



In fact, the therapeutic possibility of chemotherapy was discovered when a ship carrying mustard gas was bombed while at harbor in Italy, and the troops, who were exposed to the gas, were found to have significantly reduced white blood cell counts. This finding led researchers to investigate whether mustard agents could be used to halt the growth of rapidly dividing cells such as cancer cells. It's a relatively slight miscue, but important to note nevertheless.
Part one gives the reader a brief but solid foundation of the two sisters. They are as different as night and day, which also adds to their medical drama. The stories of their youthful dalliances and struggles to "find themselves" run a bit too long. This is a cancer memoir about the struggles and intimacy of bone marrow transplantation and the challenging clinical struggles patients and caregivers undergo.
A Testament to the Author's Skill
Part two gets the ball rolling. "And then, quite suddenly, after 7 years of remission, the cancer comes back," writes the author. The shock of recurrence is handled with power and grace, a testament to the author's skill.
At first, Maggie refuses the pretransplant chemoradiation treatment, even when her doctors tell her that without it she will live only a few weeks. This section is one of the book's most telling, in that Ms. Lesser plumbs the depths of her sister's fear, of both the treatment's side effects and her own death if she refuses. Moreover, the author captures the emotions of Maggie's family, as they try to be thoughtful caregivers—not an easy job.
Although the book is written for the lay public, there is much for the readers of The ASCO Post here to enjoy. For instance, in a chapter called "The Harvest," the author breaks down the transplant process, not only the medical procedure itself, but also the travails of negotiating our challenging health-care system.
Compelling Ending
The last few chapters of this book are difficult. Maggie's cancer has ravaged her body, and the dying process is long and brutal. "That night, Maggie suffers the kind of pain that morphine can't touch and the terror of near drowning in her waterlogged lungs." Maggie is a Vermonter, one of four U.S. states that have legalized physician-assisted suicide, which Maggie opts for.
The pages detailing her suicide are compelling and thought-provoking. "'Help me do this,'" she whispers to us, arms around each other, helpless with love for her…. Oliver [her partner]hands her the first of the liquid and pills, and she takes them."
At times, the author reaches too far into the language of allegory, but that is a small gripe for such a well-written and powerful book. The team of nurses and doctors who cared for Maggie are exemplars to the profession of medicine. Marrow is recommended for readers of The ASCO Post, especially those in end-of-life care. ■
---