Glimpses of the Human Condition Through Lively, Medically Themed Short Stories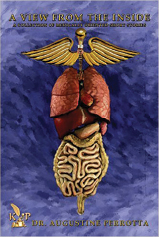 A View From the Inside: A Collection of Medically Oriented Short Stories
It's obvious that Dr. Perrotta has had a rich and exciting life. These fine medical stories are a testament to that. It is also obvious that he is a man of faith and compassion who understands that each human being, no matter what his or her station in life, has a story. Understanding that is essential to the delivery of good medical care.


Bookmark

Title: A View From the Inside: A Collection of Medically Oriented Short Stories
Author: Augustine L. Perrotta, DO
Publisher: Keith Publications, LLC
Publication date: March 31, 2015
Price: $14.95, paperback; 246 pages
The field of medicine, ripe with dramatic tension, offers an endless array of material for books about the life-and-death issues of health care—the shelves of local libraries sag under their weight. The short story, however, is rarely used in the medical genre. For one reason, it's difficult. Within several pages, an author must spin a yarn that captures the imagination of the reader and leaves the reader satisfied at its conclusion. But in its brevity, a well-told short story has a certain instant gratification and punch that is harder to find in a 300-page novel. Now, a recently published book of short stories titled A View From the Inside, by Augustine L. Perrotta, DO, makes a strong case for this often-neglected genre.
Dr. Perrotta, a board-certified hematologist-oncologist, is Clinical Professor of Medicine Emeritus at Michigan State University College of Osteopathic Medicine, among other distinguished positions. His book is organized into 15 chapters, with enticing names like "Babe Ruth's Cancer" and "The Deadly Dentist." But clever chapter titles aside, a book needs a purpose, and the author needs to be able to answer a simple, straightforward question: Why should I read your book? Dr. Perrotta answers it eloquently in his preface, writing:
In this collection of medically oriented short stories, I have attempted to describe characters and events derived from personal experiences in my life and my connection with them.… I have tried to fill the stories with trivia relevant and pertinent to the subject matter, while providing a glimpse of human nature and the human condition in a real-world context.
Commanding Style
Dr. Perrotta accomplishes his goal, and does so with commanding style in this thoroughly enjoyable read. He leads off with "Babe Ruth's Cancer," a cleverly woven story that begins at the Gate of Heaven cemetery in Mount Pleasant, where Dr. Perrotta's father, mother, and sister are interred along with a host of celebrities—one of whom is Babe Ruth. 
Following his mother's burial in 1995, Dr. Perrotta asks the family funeral director to show him where "The Sultan of Swat" was laid to rest. While looking at the massive gravestone, he reminisces about Babe Ruth's battle with cancer. "The first symptoms of the cancer that took Babe Ruth's life began in the late summer of 1946. His voice became progressively hoarse and he experienced severe pain behind the left eye.… Ruth would describe the sound of his voice 'like somebody gargling ashes.'"
Following superb colorful details that transport the reader back to the days of Ruth, Dr. Perrotta deftly describes Babe Ruth's diagnosis of nasopharyngeal cancer and the treatment modalities that ensued, including an experimental chemotherapy called teropterin. "Ruth responded dramatically to the experimental drug. The mass in his neck disappeared. Not only did he gain weight, but he also experienced substantial reductions in his hoarseness and face pain," writes Dr. Perrotta.
Unfortunately, Ruth's remarkable remission to the experimental drug was short-lived, and the baseball legend died in 1948 at Memorial Hospital (now Memorial Sloan Kettering Cancer Center), where Dr. Perrotta did his fellowship 22 years later. The then-and-now contrast in cancer diagnosis and treatment proves fascinating, giving an otherwise fun read the gravity it deserves.
Rich Life Experiences
Leading with an interesting chapter like "Babe Ruth's Cancer" will certainly draw readers into the book, eager for more. However, an author then runs the risk of reader letdown if he doesn't continue to fulfill that initial promise. Dr. Perrotta delivers the goods chapter after chapter. His rich life experiences have been a wellspring for lively stories, told in tightly constructed prose; he writes using strong nouns and verbs as his tools, never dipping into the ornate.
For sheer reading pleasure, two chapters stand out in a field of standouts. The chapter "Snakebite!" opens in a towering cathedral in Tulsa, Oklahoma, where Dr. Perrotta and his wife of 6 months are listening to a priest's passionate sermon when Dr. Perrotta's pager goes off and the hospital operator's voice reverberates through the church: "Dr. Perrotta! Dr. Perrotta! Emergency room! Stat! Snakebite victim!"
To the astonishment of the priest and the crowded church, Dr. Perrotta leapt from his pew and "ran the length of the center aisle toward the large oak doors…. The priest was speechless for what seemed like the entire time I was sprinting toward the exit. He must have been stunned that I had just destroyed his eloquent sermon, which had been delivered with the cadence and rhythm of a Southern evangelist."
It was May 1971, and Dr. Perrotta was a resident in internal medicine at Oklahoma Osteopathic Hospital in Tulsa. Adding to the comic setup, as Dr. Perrotta drove to the hospital, he realized that since they only had one car, he'd left his young wife stranded at the church. Moreover, Dr. Perrotta, a native of New York, had no experience with snakes, except for seeing them in the reptile house of the Bronx Zoo.
What follows is an exciting trip into the emergency room. There, a laid-back "good old boy" physician calmed the excited intern down and, with the help of a surgeon, saved the leg of the snakebite victim—a ranch hand who was bitten by an often-deadly cottonmouth. In this unusually charming vignette, Dr. Perrotta handily uses a medical emergency to highlight what good doctoring is all about.
The reader is also treated to a few pages of interesting medical care, coming away educated about snakebites and think-on-your-feet doctoring. Of course, there is humor:
I turned to the ER doctor and asked, "How did you know it was a cottonmouth?" Instead of answering, he reached into a water basin that was on a stand near where the gurney had been. Then he turned and handed me a dark—almost black—snake about 4 feet long…. The prankster pried open the snake's mouth to show me its white interior … hence, the name cottonmouth."
Vital Medical Theme
In "The Leper on the Bus," Dr. ­Perrotta details the compelling medical case history of a man who immigrated to Seattle, Washington, from São Paulo, Brazil. After about a year, he developed a series of complicated medical conditions, and during one of his hospital stays, a dermatology resident noticed a bump over the temporal nerve.
A biopsy was performed, and several days later, the dermatologist received the results. "In a state of utter shock and amazement, she read that the submitted tissue was teeming with Mycobacterium leprae…. The patient had leprosy."
The patient subsequently becomes the subject of a lecture given by a haughty Harvard-educated infectious disease specialist, who gets a well-deserved comeuppance from an old doctor in the audience. This story has several layers, all built upon one vital medical theme: Arrogance diminishes wisdom. It is a terrific story, handled with the care it deserves.
It's obvious that Dr. Perrotta has had a rich and exciting life. These fine medical stories are a testament to that. It is also obvious that he is a man of faith and compassion who understands that each human being, no matter what his or her station in life, has a story. Understanding that is essential to the delivery of good medical care.
This book is highly recommended to readers of The ASCO Post.  ■
---