First Photographs of Breast Surgery, New York City, 1886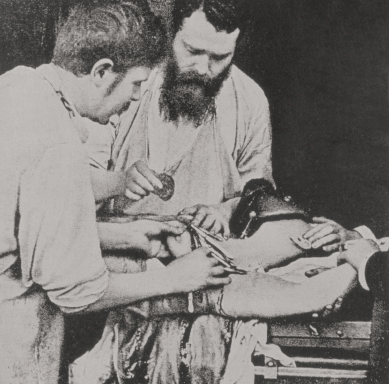 Photo courtesy of Stanley B. Burns, MD, and the Burns Archive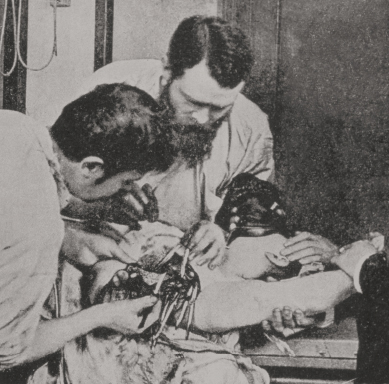 Photo courtesy of Stanley B. Burns, MD, and the Burns Archive
Antiseptic principles delivered the promise of safe surgery, while asepsis allowed safe major dissections and invasion of body cavities. The physicians who were using these techniques recognized the amazing difference in their surgical results and corresponding mortality rates and proselytized to their colleagues.  Arpad Gerster, MD, described his aseptic operative procedure and philosophy of management for breast cancers in his Rules of Aseptic and Antiseptic Surgery:
Whenever amputation of the breast is performed for malignant tumor, the operation must be radical, or at least as radical as possible. No regard whatever should be paid to cosmetic considerations, the object of the measure being the extirpation of deadly disease, which if not eliminated, is sure to kill.
These are the first photographs taken of breast surgery in progress (probably at Mt. Sinai Hospital in New York City). In the top photograph, "the mammary gland is being detached from below, the surgeon (Dr. Gerster) inserts his left hand under the breast to complete the upper section."
The lower photograph shows the "removal of the axillary content. The surgeon holding the detached breast serving as a handle" to keep tension on the tissue for ease of dissection. He removes the breast and its axillary content in one piece. The wound was closed with sutures and a tube placed through the latissimus for drainage.
By the mid-1880s most of America's major surgeons had adapted the aseptic technique, although surgeons still wore their gowns over their street clothes. The lack of hats, gloves, and masks were a portal of infection and the adoption of their use was a major step in prevention. In this photograph, the anesthesiologist holding the patient's arm is wearing street clothes. It is interesting to note that anesthesiologists were the last to don gowns, hats, and masks in the operating room. ■
Excerpted from Oncology: Tumors & Treatment, A Photographic History, The Antiseptic Era 1876-1900 by Stanley B. Burns, MD, FACS.
---
Related Articles
In his powerful 2010 best-seller, The Emperor of All Maladies: A Biography of Cancer (Scribner), Siddhartha Mukherjee, MD, chronicles the evolution of cancer from the oldest known description of the disease written on a papyrus from about 1600 BC to the present day's understanding of the biology of ...