Choosing Wisely® Campaign Identifies Five Radiation Treatments Not for Routine Use


Colleen A.F. Lawton, MD

Bruce Haffty, MD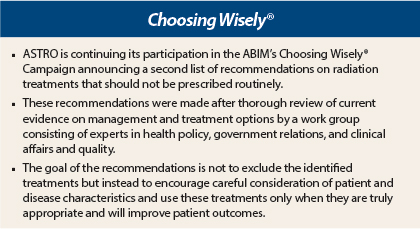 Choosing Wisely®
Both of ASTRO's lists provide evidence-based recommendations that will foster detailed patient-physician conversations so that patients receive appropriate, high-quality radiation oncology care.

—Colleen A.F. Lawton, MD
We believe the Choosing Wisely campaign will have an impact on reserving resources for when they are appropriate. This is so important because of the current cost of health care.

—Bruce Haffty, MD
The American Society for Radiation Oncology (ASTRO) reported a second list of five radiation oncology treatments that should not be used routinely in clinical practice on day 1 of the Society's 56th Annual Meeting.1 These five treatments should be discussed in depth with patients prior to being prescribed. The new list follows on the heels of the first list of five radiation treatments to question, released in 2013.
The newly identified treatments considered not for routine use are part of the Choosing Wisely® initiative of the American Board of Internal Medicine (ABIM), which is aimed at having medical specialties implement appropriate, high-quality care, thereby using resources more wisely and reducing costs of care.
Procedures to Consider Prudently
"We are proud to continue our commitment to this campaign and to release our second list of five radiation oncology treatments that we recommend physicians and patients discuss in more detail prior to treatment. Both of ­ASTRO's lists provide evidence-based recommendations that will foster detailed patient-physician conversations so that patients receive appropriate, high-quality radiation oncology care," said Colleen A.F. Lawton, MD, Chair of ASTRO's Board of Directors. Dr. Lawton is Vice-Chair of the Department of Radiation Oncology at the Medical College of Wisconsin in ­Milwaukee.
ASTRO noted that there are situations where all 10 items on the two lists are advisable, and that the lists are not meant to exclude use of these procedures. Rather the goal of the recommendations is to encourage careful consideration of patient and disease characteristics and use the identified treatments only when they are truly appropriate and will improve patient outcomes.
2014 Choosing Wisely Recommendations
Don't recommend radiation following hysterectomy for cancer patients with low-risk disease.
Don't routinely offer radiation therapy for patients who have resected non–small call lung cancer (NSCLC), negative margins, N0-1 disease.
Don't initiate noncurative radiation therapy without defining the goals of treatment with the patient and considering palliative care.
Don't routinely recommend follow-up mammograms more often than annually for women who have had radiotherapy following breast-conserving surgery.
Don't routinely add adjuvant whole-brain radiation to stereotactic radiosurgery for limited brain metastases.
ASTRO's Choosing Wisely® list was based on a thorough review of current evidence on management and treatment options by a work group consisting of experts in health policy, government relations, and clinical affairs and quality. Nine potential items were identified, and ASTRO's membership was surveyed to rate the value and relevance of these items. The survey included an option for members to provide comments on these items. ASTRO's Board of Directors selected the final five items using the survey results. The text for the final recommendations includes selected references for each topic. 
ASTRO President for 2014, Bruce Haffty, MD, said that the first list of tests released in 2013 has already had an impact. "We believe the Choosing Wisely campaign will have an impact on reserving resources for when they are appropriate. This is so important because of the current cost of health care," he said at ASTRO's Annual Meeting. Dr. Haffty is Chairman of Radiation Oncology at the Cancer Institute of New Jersey at Rutgers Robert Wood Johnson Medical School, New Brunswick, New Jersey.
2013 Choosing Wisely Recommendations
Don't initiate whole-breast radiotherapy as a part of breast conservation therapy in women age ≥ 50 years with early-stage invasive breast cancer without considering shorter treatment schedules.
Don't initiate management of low-risk prostate cancer without discussing active surveillance.
Don't routinely use extended fractionation schemes (> 10 fractions) for palliation of bone metastases.
Don't routinely recommend proton beam therapy for prostate cancer outside of a prospective clinical trial or registry.
Don't routinely use intensity-modulated radiotherapy (IMRT) to deliver whole breast radiotherapy as part of breast-conservation therapy.
For more information, visit choosingwisely.org. ■
Disclosure: Drs. Lawton and Haffty reported no potential conflicts of interest.
Reference
1. Innovative payment models and the future of radiation oncology: Impact on quality, payment reform, and patient care. 2014 ASTRO Annual Meeting. Presented Sunday September 14, 2014.
---