Aron Goldhirsch, MD, Receives 2014 Gianni Bonadonna Breast Cancer Award


Aron Goldhirsch, MD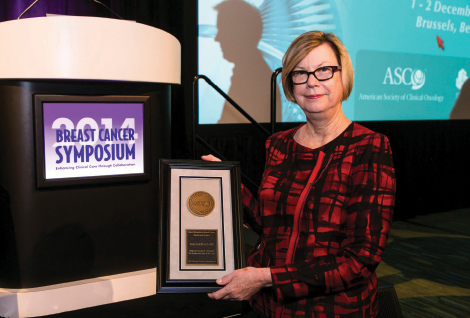 Dr. Sandra M. Swain holds the 2014 Gianni Bonadonna Award presented to Dr. Aron Goldhirsch during the 2014 Breast Cancer Symposium. Photo by © ASCO/Todd Buchanan 2014.
Aron Goldhirsch, MD, was presented with the 2014 Gianni Bonadonna Breast Cancer Award and Lecture during the 2014 Breast Cancer Symposium, held recently in San Francisco. Dr. Goldhirsch is Director of the Multidisciplinary Program of Senology and Deputy Scientific Director at the European Institute of Oncology, Milan, Italy.
For his award lecture, Dr. Goldhirsch discussed adjuvant therapies developed over the past several decades.
Dr. Goldhirsch is also Professor of Medical Oncology at the University of Bern, Switzerland. He is an international leader in the field of breast cancer. His areas of research include new adjuvant treatments for breast cancer, definition of biologic features that predict responsiveness or resistance to anticancer treatments, and quality-of-life–oriented approaches.
Dr. Goldhirsch's commitment to international cooperation and clinical trials led him to chair the Update Committee of the Early Breast Cancer Trialists' Collaborative Group, which conducts large-scale meta-analyses of breast cancer treatments. He is also Vice-Chair of the Breast International Group, a consortium of cooperative groups around the world for conducting clinical trials for breast cancer therapies.
ASCO Past President Sandra M. Swain, MD, FACP, presented the award to Dr. Goldhirsch during the 2014 Breast Cancer Symposium. ■
---